Research article
Open Access
Open Peer Review
This article has Open Peer Review reports available.
A worked example of "best fit" framework synthesis: A systematic review of views concerning the taking of some potential chemopreventive agents
BMC Medical Research Methodology
2011
11:29
Received: 13 December 2010
Accepted: 16 March 2011
Published: 16 March 2011
Abstract
Background
A variety of different approaches to the synthesis of qualitative data are advocated in the literature. The aim of this paper is to describe the application of a pragmatic method of qualitative evidence synthesis and the lessons learned from adopting this "best fit" framework synthesis approach.
Methods
An evaluation of framework synthesis as an approach to the qualitative systematic review of evidence exploring the views of adults to the taking of potential agents within the context of the primary prevention of colorectal cancer.
Results
Twenty papers from North America, Australia, the UK and Europe met the criteria for inclusion. Fourteen themes were identified a priori from a related, existing conceptual model identified in the literature, which were then used to code the extracted data. Further analysis resulted in the generation of a more sophisticated model with additional themes. The synthesis required a combination of secondary framework and thematic analysis approaches and was conducted within a health technology assessment timeframe.
Conclusion
The novel and pragmatic "best fit" approach to framework synthesis developed and described here was found to be fit for purpose. Future research should seek to test further this approach to qualitative data synthesis.
Keywords
Included StudyHealth Technology AssessmentEvidence SynthesisPreliminary ModelReview Team
Background
While the potential limitations of qualitative data synthesis are frequently articulated, so is the utility of conducting such analysis[1]. Framework synthesis is one of several methodologies currently being developed for synthesising qualitative data [2]. This type of synthesis is based on framework analysis[3] and "offers a highly structured approach to organising and analysing data (e.g. indexing using numerical codes, rearranging data into charts etc.)" [2]. It involves the preliminary identification of a priori themes against which to map data from included studies. In contrast to such methods as meta-ethnography[4], framework synthesis is primarily a deductive approach. As such it carries certain pragmatic advantages which might prove beneficial within the constraints of a health technology assessment where effectiveness review, economic evaluation and qualitative evidence synthesis are conducted together within tight time constraints. Thus a framework may not simply be an instrument for analysis but may also represent a scaffold against which findings from the different components of an assessment may be brought together and organised. Limited numbers of published examples of "framework synthesis" exist, among which the most prominent have been produced by the same team at the Institute of Education, University of London[5–7]. The present synthesis therefore represents an early worked example of this approach, the only one originating from outside of the team who developed the method, and offers an opportunity for further methodological advances. It is also the first to explore the strengths and limitations of a pragmatic "best fit" approach using an existing conceptual model as a starting point to identify a priori themes.
This qualitative evidence synthesis was originally designed to complement a systematic review and economic evaluation on the prevention of colorectal cancer by reviewing evidence relating both to the attitudes of adults concerning the taking of named chemopreventive agents and factors that may inform the related, perceived risk-benefit balance[8]. The agents of interest were non-steroidal anti-inflammatory drugs (NSAIDs, including aspirin), vitamins, minerals, folic acid or folate, selenium, calcium and dietary supplements generally. No previous evidence synthesis was identified regarding people's views about taking these agents, especially for primary prevention of colorectal cancer. The effectiveness of any agent is moderated by levels of compliance with the proposed regimes. For those contemplating taking such agents, for example to protect against cancer, the decision-making process can be seen as complex, due to the uncertainty of the "trade-off" between efficacy of the agent, i.e. the likelihood of getting the cancer, and its possible long-term side effects [9]. It has also been pointed out that people may find it difficult to incorporate a regular pattern of chemoprevention into the demands of day-to-day life. On the other hand research points to the successful use of low-dose aspirin in reducing the risk of heart attack and stroke[10].
The aim of the current paper is to summarise key results of this synthesis of qualitative studies within the context of describing the application of a "best fit" method, and to consider the lessons learned from adopting such an approach to framework synthesis.
Results
Quantity and quality of included studies
The literature search identified 1,805 unique citations, 15 of which satisfied the inclusion criteria. Five further studies were identified by the "berry picking" approach described above[8]. In total, twenty studies were included. No study failed to describe clearly at least two of the following: the question and study design, and the methods of sampling, data collection or analysis. Study quality, in terms of how well or how poorly studies were described, was therefore not a potential moderator of the findings; a sensitivity analysis was not performed.
Data synthesis and development of model
A combination of coding against pre-existing themes and the generation of and assignment of data to new, agreed themes, generated the model presented in Figure
2
. A full description of the evidence supporting this model is published elsewhere[
8
]. The model describes the processes involved in an individual's decision about whether or not to take possible chemopreventive agents. The process runs from the first stages of perceived need, on the left, through the decision-making process itself, to final non-use or use, and maintenance of use, on the right. External agents, such as health professionals and family members, and internal factors, such as a person's own experience or health, were all found to impact both on an individual's perceived need for an agent or supplement, as well as their subsequent decision about whether or not to take it.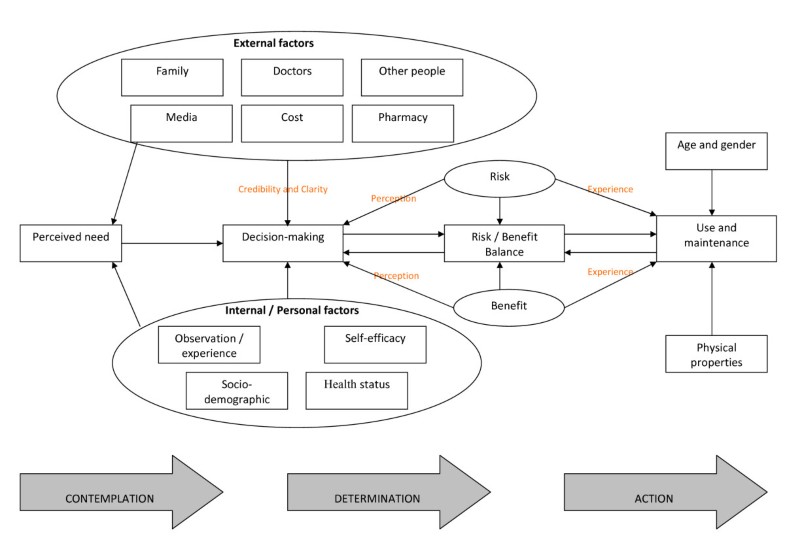 Usefulness of the preliminary conceptual framework in assigning data to themes
Since the source of the preliminary framework was a single published model, the manner in which new themes built-on, developed and altered this preliminary conceptual framework is quite transparent. In this review, this may be assessed in part by comparing Figure 1 with Figure 2. The principal procedural elements of the preliminary model also held true for this sample of studies and their population, i.e. the transition through the stages of perceived need, decision-making, risk versus benefit and use or non-use. These elements also reflect the three key stages of Contemplation, Determination and Action in Prochaska and Velicer's model (1997) of the development of health behaviours, which was later found to be relevant[24]. The a priori identification of these key constructs therefore enabled the rapid coding of study data from this review against these tested and highly relevant components of health behaviour decision-making. The preliminary framework also provided "themes" that informed the "perceived need" and "decision-making" stages of the model (see numbers 1-9 in Figure 1). Once clear definitions had been applied to each of these themes, the study data were coded rapidly against them. Very little study data were coded against the themes of "Spending capacity" (or "Costs") and "Access: obtaining the agent", which may reflect differences in the cultural context of the preliminary conceptual model (a low-income country in South America) compared with the studies included in the review (principally UK, Europe and North America). However, relatively more substantial amounts of data were coded against the remaining themes.
Extension of the preliminary conceptual framework to generate the final model
Despite these helpful overlaps, which permitted rapid and reliable coding of much data from the included studies, the preliminary model lacked sufficient depth or complexity to explain all the data in the included studies. As with the preliminary model, some factors influenced both need and decision-making. For example, the influences of family and the media were present at both of these stages, but the categorisation of these factors was re-specified in the new model. Family, media, physicians, other people and pharmacy were all designated in the new model as external factors having input into perceived need and decision-making. The "personal factors" theme from the original model was re-specified as "internal or personal factors" to include an individual's own observations or experience, their health and socio-economic status, age and gender, and their sense of self-efficacy. All of these characteristics were found in the included studies to affect perceived need and decision-making. It was felt that the pre-existing theme of "personal factors" alone was insufficient to illustrate the complexity of factors at play. The role of age, gender and the physical properties of agents were new factors identified by the synthesis affecting the a priori theme of use, which were absent from the original conceptual model.
Relationships between the themes were not well-developed in the preliminary model. The synthesis found that not only did family, physicians and others affect decision making, but also that this relationship was moderated by the credibility of the source and the clarity of the information being given. Perceived risks and benefits were key pre-existing themes shaping use, but the moderating role of personal experience was an additional element identified by the synthesis for the new model. Furthermore the risk/benefit balance theme was also found to have an ongoing, potentially recursive influence on decision-making and agent use. Indeed, unlike the existing models, which appear to be exclusively linear, the model that resulted from this synthesis was potentially more recursive: the decision-making stage might still be revisited on the basis of side-effects ("risks") experienced at the stage of use. This new model can therefore be seen not only to validate, but also to build upon, extend and contextualise existing, relevant published models. The a priori boxes of Contemplation, i.e. perceived need; Determination, i.e. decision-making; and Action, i.e. use and maintenance, have been opened to reveal the complexities of the factors therein, their relationships and moderators.
Discussion
The model generated by the framework synthesis describes the processes involved in an individual's decision about whether to initiate and keep taking potential chemopreventive agents. External agents, such as health professionals and family members, and internal factors, such as a person's own experience or health status, combine to impact on an individual's perceived need for an agent or supplement, and their subsequent decision about whether or not to take it. Decision-making was strongly influenced by perceived risks and benefits associated with an agent or supplement. Firstly, perceived risks and benefits directly influence an individual's decision to take an agent. Secondly, they may inform a personal assessment of the trade-off between risk and benefit, thus affecting the decision-making process. It has been reported elsewhere that decision-making regarding agents for chemoprevention or symptom management may be affected both by health status, for example, a cancer diagnosis[25, 26], and by people's perceived need for an agent and perceived risks associated with that agent[27–29]. The model generated by this review highlights the complex influences at work in this decision-making process.
This review applied a form of framework synthesis to analyse the data, based on a single "best fit" model identified in the literature. This approach differs from other published versions of framework synthesis in which the a priori framework was developed from a range of sources, including familiarisation with and consultation around the published background literature, both theoretical and empirical, and personal experiences[5, 6]. The approach taken here is of potential value for systematic reviewers as it does not require such extensive literature review, consultations or topic expertise to develop an a priori framework before embarking on the review itself. This may be of particular value when undertaking a synthesis of qualitative evidence within the limited timeframes of a health technology assessment, for example. Projects such as Health Technology Assessments, produced in multidisciplinary centres with contractual obligations, with a six-month or one-year span, and which also involve reviews of effectiveness, cost-effectiveness, mathematical modelling and, in some cases, qualitative evidence synthesis, often present challenges in relation to timeliness and the availability and expertise of members of research teams[30]. In this particular case study, the qualitative evidence synthesis was conducted after the effectiveness synthesis, which required the qualitative synthesis to be fairly quick within the project's required timeframe. However, a temporal dependency between the two types of synthesis will not always exist, and so a more in-depth qualitative approach may be possible for some projects. However, if a framework of related, relevant concepts already exists, then the approach used here permits a far more rapid identification of the a priori framework; it also permits more rapid and structured coding and synthesis of data from the review's included studies than grounded-theory techniques. In this way, where existing theories or models exist, they can be tested against the evidence for the review's own particular criteria and evidence. This approach is therefore potentially more pragmatic than other forms of qualitative data synthesis. The identification and use of a model that was overtly "best fit", and therefore carried shared acknowledgment within the team that it was contingent on emerging data also empowered the reviewers to resist the inclination to "slot" study findings into a generic framework. This potentially enabled individual team members to privilege context-specific insights that emerged from this review over the generic observations already present within the pre-existing model. Furthermore it provided a mechanism for flagging up and explicitly communicating divergent findings or themes within the review team. The resultant synthetic product is expressed as an enhanced model recording each key dimension identified; the nature of the concepts under study; and associations between themes and tensions between them[6].
The method is however dependent on the identification of an appropriate existing conceptual model. The review team sought to identify such a model by combining a sensitive string of search terms (e.g. model$ OR framework$ OR theoretical OR theory OR concept OR conceptual) with terms representing the health-related behaviour of interest. This approach was employed firstly on a bibliographic database (PubMed MEDLINE) but was found to be limited by poor coverage of theoretical aspects in published abstracts. A more productive approach proved to be using Google Scholar with the same string of search terms, and certainly the potential for this approach to be used with other collections of full-text documents remains to be further explored. This strategy was conceived as iterative and purposive: it required search strategies that aimed to maximise the likelihood of retrieving a model of pragmatic utility to the project; the aim was not the systematic identification of all such models.
Furthermore the approach used for this particular case study was predicated on the review team's belief that the key criterion of the appropriateness of such a model most likely related to the health-related behaviour of interest, i.e. attitudes to the long-term taking of particular dietary supplements or similar agents. The population and the agents themselves may be less critical in such cases, although the closer the fit to the population and intervention of interest, the better. This is why we describe it as a "best-fit" approach. In this case study, young women and vitamins or micro-nutrients formed a sub-set of the populations and agents of interest. The conceptual model therefore had limited external validity but was still externally valid.
Some issues were encountered when piloting this "best fit" framework synthesis method. When initially seeking to code the extracted data from the included studies using the themes derived from the relevant model, the two reviewers were not always coding the same data against the same themes. It therefore became apparent that each of the a priori themes had to be clearly defined in order to facilitate the coding process. The subsequent provision of clear consensual definitions not only enhanced the reliability of the coding, but also strengthened the rigour of the synthesis. It should be recognised, however, that while consensus between reviewers strengthens internal validity this does not necessarily ensure congruence with the original meanings intended by the author of the framework (external validity). In this sense a form of "reciprocal translation" is taking place but via use of a conceptually rich "index paper" (many-to-one), rather than across all included studies (many-to-many), as intended by the originators of meta-ethnography[31]. Such considerations have been neither identified nor articulated in previous studies.
It further became apparent that additional analysis was needed to interpret and analyse data which could not be reliably assigned to any of the pre-existing, a priori themes, or, in the case of "personal factors", for which the pre-existing theme was inadequate. In this sense the usefulness of a particular framework is not only determined by "conceptual fit" but also by pragmatic concerns of what proportion of the study data can be accommodated within it. Further thematic analysis of data from the included studies was therefore required. This was completed by the first author using standard thematic analysis techniques, and the results examined critically by the other two reviewers. The resulting, agreed new themes were then incorporated with the pre-existing themes into a new conceptual model that captured the data and reflected a possible network of relationships between those data-driven themes. The existing published descriptions of the framework synthesis method do not detail particular techniques for analysing data that are not captured by the preliminary framework, how any such new themes are to be incorporated into the final model, or how the relationships between these themes may be expressed.
Finally, this review did not exclude studies on the basis of quality, thereby deviating from one element of the published description of framework synthesis[2]. The internal validity of a review depends in part on the quality of included studies and the reliability of their findings. Currently there is much debate and little consensus around the feasibility and usefulness of quality assessments of qualitative studies in evidence synthesis[18]. Some techniques, such as meta-ethnography[4], and the previously published form of framework synthesis, actively exclude studies on the basis of the quality assessment. The quality assessment for this review focused on reporting of study design, sampling strategies and methods used for data collection and analysis. These items were the most frequently reported and easily apprehended elements of study design. They thus offered a reasonable route for identification of potential risk of bias. All twenty included studies were assessed as being of similar, generally satisfactory "quality", so, from this perspective, study quality did not provide a potential explanation for any differences in findings. The issue of the inclusion or exclusion of studies for this type of synthesis, based on their assessed quality, therefore remains unresolved based on this case study.
Methodologically the authors found this "best fit" approach to framework synthesis, as developed and tested in this review, to be a useful, fairly rapid and reliable and, above all, pragmatic method of synthesising qualitative data. This "best fit" approach to synthesis was therefore found to work well overall, particularly within the role previously identified as an existing strength, namely for testing existing potentially generalisable theories and models within a specific context. However, such a "best fit" approach would benefit from further testing and refinement.
Limitations
This is a single case study evaluating the approach described; additional studies testing this approach to qualitative evidence synthesis need to be undertaken. Also, as an approach, it is only viable if an appropriate model already exists in the literature. The other published models for framework synthesis circumvent this problem as the a priori framework is generated by the research team itself. It is also the case that an apparently appropriate a priori model may be found only to accommodate a small proportion of the data from a review's included studies. In such a case, secondary thematic analysis would form the principal approach to synthesis, thus reducing the major potential pragmatic benefits of the best-fit approach described in this paper. Reviewers must therefore exercise careful consideration of the potential external validity of existing models based on the behaviour and population of interest.
Conclusion
This "best fit" method of framework synthesis utilised current methodological developments within qualitative data synthesis for systematic review and the production of accompanying conceptual models and frameworks. The case study was a systematic review of adults' views about taking various potential chemopreventive agents. The "best fit" framework synthesis offered a means to reinforce, critique and develop an existing published model, conceived for a different but relevant population. Being able to start from a priori themes, rather than generating theory grounded in data, produced a relatively rapid process when compared to more interpretative forms of synthesis. However this "best fit" method still requires analysis of data that are not captured by the preliminary model. The authors suggest that this "best fit" approach occupies a pragmatic middle ground between grounded theory-type and framework based syntheses and acknowledge the need for further evaluation.
Appendix
Database: CINAHL - Cumulative Index to Nursing & Allied Health Literature
Search Strategy:
1 vitamin$.tw.
2 mineral$.tw.
3 folate$.tw.
4 selenium.tw.
5 calcium.tw.
6 exp Dietary Supplements/
7 Dietary Supplementation/
8 dietary supplement$.tw.
9 non-steroidal$.tw.
10 non steroidal$.tw.
11 nonsteroidal$.tw.
12 NSAID$.tw.
13 antiinflammator$.tw.
14 anti-inflammator$.tw.
15 anti inflammator$.tw.
16 aspirin$.tw.
17 or/1-16
18 interview$.tw.
19 experience$.tw.
20 qualitative$.tw.
21 exp Qualitative Studies/
22 or/18-21
23 17 and 22
24 limit 23 to yr="2003 - 2008"
Declarations
Acknowledgements
The case study on which this work was based was part of a larger project funded by the UK NCCHTA (06/70/01)
Authors' Affiliations
(1)
Health Economics and Decision Science (HEDS), School of Health and Related Research (ScHARR), University of Sheffield, Sheffield, UK
Copyright
© Carroll et al; licensee BioMed Central Ltd. 2011
This article is published under license to BioMed Central Ltd. This is an Open Access article distributed under the terms of the Creative Commons Attribution License (http://creativecommons.org/licenses/by/2.0), which permits unrestricted use, distribution, and reproduction in any medium, provided the original work is properly cited.