Research article
Open Access
Open Peer Review
This article has Open Peer Review reports available.
"Do I really want to do this?" Longitudinal cohort study participants' perspectives on postal survey design: a qualitative study
BMC Medical Research Methodology
2011
11:8
Received: 3 September 2010
Accepted: 27 January 2011
Published: 27 January 2011
Abstract
Background
Randomised controlled trials have investigated aspects of postal survey design yet cannot elaborate on reasons behind participants' decision making and survey behaviour. This paper reports participants' perspectives of the design of, and participation in, a longitudinal postal cohort survey. It describes strengths and weaknesses in study design from the perspectives of study participants and aims to contribute to the: 1) design of future cohort surveys and questionnaires generally and, 2) design of cohort surveys for people with musculoskeletal disorders (MSDs) specifically.
Methods
In-depth interviews explored the design of postal surveys previously completed by participants. Interviews used open ended questioning with a topic guide for prompts if areas of interest were not covered spontaneously. Thematic data analysis was undertaken based on the framework method. A second researcher verified all coding.
Results
Data from fourteen interviews were analysed within three main themes; participation, survey design and survey content. One of the main findings was the importance of clear communication aimed at the correct audience both when inviting potential participants to take part and within the survey itself. Providing enough information about the study, having a topic of interest and an explanation of likely benefits of the study were important when inviting people to participate. The neutrality of the survey and origination from a reputable source were both important; as was an explanation about why information was being collected within the survey itself. Study findings included participants' impressions when invited to take part, why they participated, the acceptability of follow-up of non-responders and why participants completed the follow-up postal survey. Also discussed were participants' first impression of the survey, its length, presentation and participants' views about specific questions within the survey.
Conclusions
Ideas generated in this study provide an insight into participants' decision making and survey behaviour and may enhance the acceptability of future surveys to potential participants. As well as clear communication, participants valued incentives and survey questions that were relevant to them. However, opinions varied as to the preferred format for responses with some advising more opportunity for open-ended feedback. We also found that some standard format questions can raise quandaries for individual participants.
Keywords
Anatomical SiteMusculoskeletal DisorderBaseline SurveyPostal SurveyLongitudinal Cohort Study
Background
Health researchers, undertaking research amenable to quantitative analysis, once tended to emphasise data collected from clinical records (e.g. numbers of treatments or hospital readmissions) or from observations by health professionals (e.g. participants' abilities performing functional tasks measured on clinician-administered tools). In the latter part of the last century, researchers became concerned that morbidity, mortality and hospital admissions and discharges data, did not always provide sufficient information to determine incidence, prevalence and outcome [1]. Researchers began to include measures which collected data directly from participants (e.g. measures of self-reported function and health outcome). In the 1980s caution was urged to ensure that such self-reported measures were meaningful, valid and reliable [2].
When collecting self-reported data from participants, researchers use a variety of methods including: telephone interviews, in-person interviews, web-based questionnaires and postal paper-based questionnaires. Different modes of data collection, with consequent effects on response proportions, also raise issues about potential bias, particularly in studies assessing exposure to potential risk factors [3–5].
A recent systematic review identified 481 randomised controlled trials (RCTs) which had evaluated 110 different methods aimed at increasing the response rate to postal questionnaires [6, 7]. Factors found to increase participation include: monetary incentives, using potential participants' names when making contact, handwritten researcher signatures on the introductory letter, pre-questionnaire contact, placing more relevant and easier-to-answer questions near the beginning of the questionnaire and having the initial approach coming from a university rather than from a governmental or commercial organisation.
Despite the number of trials already undertaken, further evidence is called for "...that might increase the quality and quantity of the data collected by questionnaire, and of participation in trials more generally" (p. 7) [6]. Reasons underlying participants' decision-making and survey behaviours cannot be sufficiently elaborated in RCTs. Criticism has also been levelled at the lack of theoretical frameworks for understanding study recruitment methods and questionnaire design [8, 9].
Qualitative research offers opportunities to explore with participants the reasons behind survey behaviour. To date, few studies appear to have investigated, in a qualitative manner, the perspectives of participants in postal surveys; although Nakash et al (2008) have reported results of a nested qualitative study which explored reasons for participation, and non-participation, in a clinical trial of mechanical supports for severe ankle sprain [10].
This paper reports study participants' views about the design of, and participation in, a longitudinal postal cohort survey investigating the prevalence and incidence of musculoskeletal disorders (MSDs). The purpose of the research described in this paper is to increase our understanding of the reasons underlying decisions about participation in longitudinal cohort studies. This may help extend theories about participating in longitudinal cohort surveys, and may also contribute practically with the development of new study questions for future RCTs examining study design. This paper describes strengths and weaknesses in study design from the perspectives of study participants and aims to contribute to the: 1) design of future cohort surveys and questionnaires generally, and 2) design of cohort surveys for people with MSDs specifically.
Methods
A longitudinal cohort study was undertaken in 2007 and 2008 to investigate musculoskeletal disorders (MSDs) in New Zealand nurses, postal workers and office workers (n = 443). A postal questionnaire was sent to potential participants and, one year later, a follow-up questionnaire was sent to determine incident MSDs and outcomes one year later. The New Zealand cohort study was undertaken as part of an international study of Cultural and Psychosocial Influences on Disability (CUPID). Most questions within the questionnaires were included as part of the CUPID study; some New Zealand specific additions were also included. The baseline survey was a 36-page A4-size booklet and the follow-up survey was a 28-page booklet. Baseline findings from the New Zealand study have been reported previously [11, 12]. The main study was approved by the New Zealand Multi-Region Ethics Committee (MEC/06/09/096); the qualitative study reported here was approved by the New Zealand Lower South Regional Ethics Committee (LRS/08/06/021).
In brief, the longitudinal cohort study involved the random selection of 911 nurses, office workers and postal workers from throughout New Zealand. Potential participants were invited to participate via a letter sent to their postal address. This had a time-bound opt out option. Two weeks later, those who had not opted out were sent the baseline postal survey. "Non-responders were sent another copy of the questionnaire after two weeks and were given a telephone reminder at four weeks. Those who were not contactable by telephone were sent a third copy of the questionnaire" (p. 438) [12]. The participation rate of eligible participants was 58% (n = 443). One year later, participants were sent a follow-up postal survey. Follow-up of non-responders took the same format as for the baseline survey. The follow-up rate was 87% (n = 384).
For the qualitative study reported here, a pragmatic sample consisting of all participants living in the Otago and Southland regions of New Zealand who had reported an MSD in the follow-up postal survey were invited to participate in a single face-to-face qualitative interview in 2008. Interviews were held at a place that was mutually acceptable to participant and interviewer and were digitally recorded for subsequent verbatim transcription. After obtaining consent, participants' were asked a 'prompt' open ended question about their views of the questionnaires, for example "we are really interested in getting feedback about the survey to help [researchers if they] use it [or similar surveys] again in the future, so anything you can tell us about it would be helpful." Participants were given copies of the questionnaires to look through while responding which elicited spontaneous comments. Interviews used open-ended questioning, and participants were free to lead the interview in directions of importance to them. However, certain topic areas were listed on an interview guide and prompts were used if certain topics were not spontaneously covered by participants (Figure
1
). For example, not all participants spontaneously commented on the method of contact for the postal survey, or the strategies adopted for follow-up of non-return of the questionnaire; these non-spontaneous responders were then asked open-ended questions about these aspects of the study.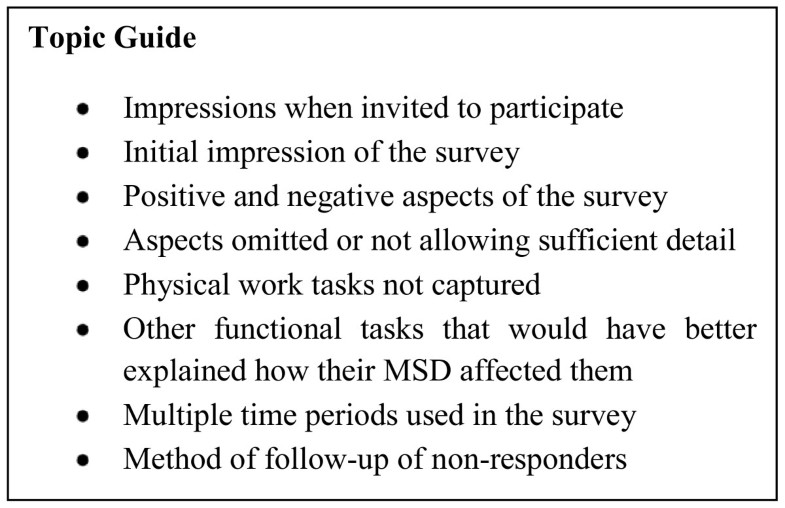 Interview transcripts were analysed using a thematic approach based on the framework method [Ritchie and Spencer, 1994 cited in 13]. NVivo software (version 8) was used to organise the data [14]. Potential themes for analysis were noted during the interviews and when verifying the transcripts. Along with the interview guide, these provided a preliminary thematic framework. The codes in this thematic framework were applied to the interviews one by one. Each piece of text was analysed and grouped into the relevant code. New codes were added, as required, and interviews previously coded were then checked to see if the new code applied. The coding of each interview was checked by a second researcher, with additions made if required. Twenty-eight codes were developed. Following the coding of all interviews these codes were categorised into thirteen areas and then analysed as three main themes. Each piece of data was summarised and the content of each theme considered when developing explanations and implications of the data.
To ensure validity, each stage of the study was discussed closely with a second researcher and two researchers were present at the initial interview. The wider research team comes from a range of clinical and/or research backgrounds. In the interviews, the open question at the start of the interview and having time to browse through the postal surveys meant that participants could discuss aspects that they felt were important. All coding was verified by a second researcher and alternate views were continually sought in the data.
Results and discussion
Twenty-two people were invited to participate in the qualitative study; fourteen participated, eight declined. Participants were predominantly female (one was male). Participants included all three occupational groups, reported a range of anatomical sites of MSD and had a range of response times to the follow-up postal survey; five responded after the first mail-out, seven after the second mail-out and two after being contacted by telephone (Table
1
).
Table 1
Interview participants compared to those who were invited but declined
Participants

(n = 14)

Declined

(n = 8)

n

n

Survey response

   Early

5

5

   Mid

7

2

   Late

2

1

Main MSD

   Upper limb

9

1

   Lower limb

2

2

   Neck

2

0

   LBP

1

3

   Unspecified

0

2

Occupation

   Nurse

6

4

   Postal worker

3

2

   Office worker

5

2

Sex

   Male

1

0

   Female

13

8

Age (years)

   Mean (sd)

45 (7)

41 (13)
The three overarching themes identified from analysis of transcripts were participation, survey design and survey content; within each theme are coded categories directly linked to the theme (Figure
2
). Findings from the fourteen interviews are presented and discussed under each of the three main themes.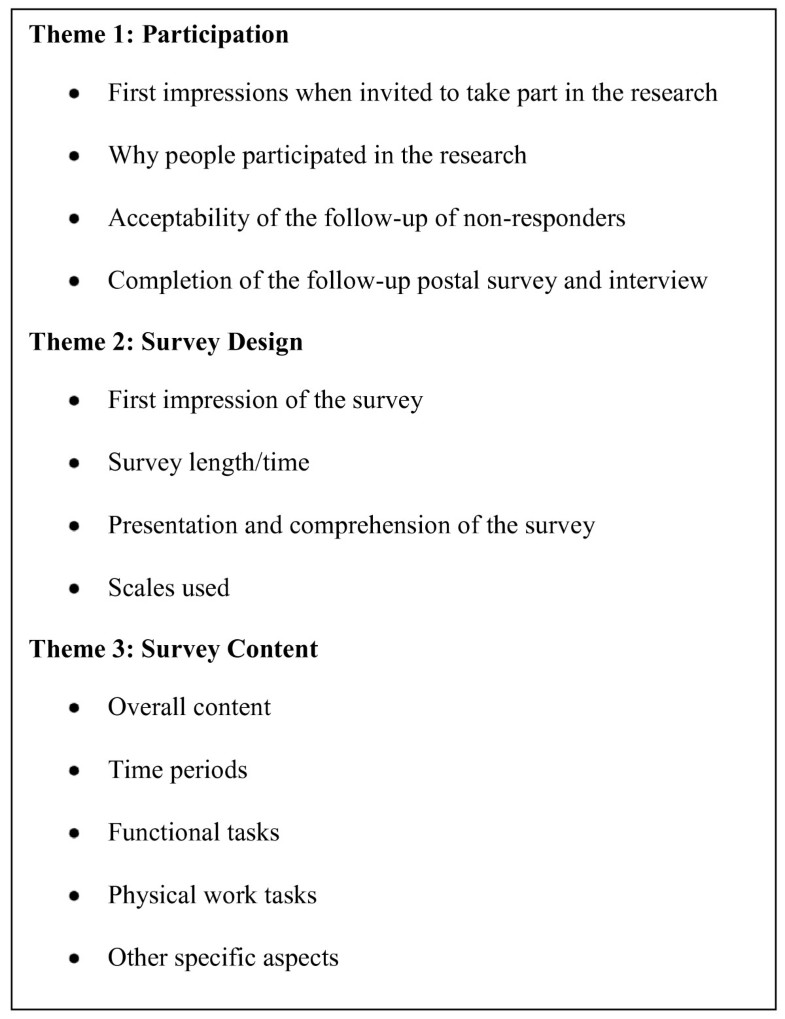 Conclusion
This paper provides an insight into the perspectives of participants completing a postal survey and their reasons for participating in the study. Many concepts related to the need for clear and effective communication. These included the need for understandable and adequate information when inviting people to participate and clear communication within the survey itself. The ideas generated in this study may enhance the acceptability of future surveys to potential participants.
Authors' information
The material in this article is based on work towards HH's PhD Thesis. SD, PH and DM are Helen's PhD supervisors.
Declarations
Acknowledgements
This project was funded by the Department of Preventive and Social Medicine, University of Otago, New Zealand. HH is supported by a STAR (Strategy to Advance Research) PhD Scholarship. The longitudinal cohort study was funded by the Health Research Council of New Zealand. Professor David Coggon, of the UK Medical Research Council Epidemiology Resource Centre, is the central co-ordinator of the CUPID study.
Authors' Affiliations
(1)
Department of Preventive and Social Medicine, University of Otago, New Zealand
(2)
Injury Prevention Research Unit, Department of Preventive and Social Medicine, University of Otago, New Zealand
Copyright
© Harcombe et al; licensee BioMed Central Ltd. 2011
This article is published under license to BioMed Central Ltd. This is an Open Access article distributed under the terms of the Creative Commons Attribution License (http://creativecommons.org/licenses/by/2.0), which permits unrestricted use, distribution, and reproduction in any medium, provided the original work is properly cited.