Research article

Open Access

Open Peer Review
This article has Open Peer Review reports available.
Patient, caregiver, health professional and researcher views and experiences of participating in research at the end of life: a critical interpretive synthesis of the literature
BMC Medical Research Methodology
2012
12:123
Received: 14 September 2011
Accepted: 28 May 2012
Published: 17 August 2012
Abstract
Background
The development of the evidence-base informing end of life (EoL) care is hampered by the assumption that patients at the EoL are too vulnerable to participate in research. This study aims to systematically and critically review the evidence regarding the experiences and views of patients, caregivers, professionals and researchers about participation in EoL care research, and to identify best practices in research participation.
Methods
We searched seven electronic databases, and hand searched three journals and the bibliographies of relevant papers. Inclusion criteria were original research papers on involvement in EoL care research or its impact on participants. Critical interpretive synthesis was used to integrate the whole body of empirical evidence on this topic and generate theoretical categories from the evidence.
Results
Of a total of 239 identified studies, 20 studies met the inclusion criteria, from: the US (11), the UK (6) and Australia (3). Most focused on patients with cancer (12) and were conducted in hospices (9) or hospitals (7). Studies enquired about issues related to: EoL care research in general (5), specific research methods (13), and trial research (2). The studies evaluating willingness to participate in EoL care research showed positive outcomes across the different parties involved in research. Factors influencing willingness were mainly physical and cognitive impairment. Participating in research was a positive experience for most patients and carers but a minority experienced distress. This was related to: characteristics of the participants; the type of research; or the way it was conducted. Participatory study designs were found particularly suitable for enabling the inclusion of a wide range of participants.
Conclusion
The evidence explored within this study demonstrates that the ethical concerns regarding patient participation in EoL care research are often unjustified. However, research studies in EoL care require careful design and execution that incorporates sensitivity to participants' needs and concerns to enable their participation. An innovative conceptual model for research participation relevant for potentially vulnerable people was developed.
Keywords
Research participation
End of life
Palliative care
Evidence
Critical interpretive synthesis
Background
According to projections, the number of people aged 65 and above will increase dramatically by 2030 (one in eight of the global population) [1]. A demographic shift is occurring, with people generally living longer and a smaller number dying from infectious diseases [2]. This brings a different and currently not well-understood scenario - involving older people suffering from chronic illnesses with complex and clinically challenging trajectories. This rapidly changing situation will create substantially greater end of life (EoL) care needs [3].
Within this paper, EoL care is understood in its broadest sense, referring to the care provided to people with advanced, progressing and incurable disease and their families. It covers the therapeutic approaches from diagnosis on, as well as the care provided at the very end of life, during death and the bereavement process.
Deficiencies in EoL care have been reported, such as in the area of pain and symptom management [3]. There is a need for research involving patients at the end of their lives in order to develop and test new treatments and services and to ensure the provision of high-quality and cost-effective care [4–7]. Numerous practical and ethical obstacles to research during the EoL are well documented [8, 9]. Trial research is often hampered by problems of recruitment, high attrition rates, missing data and a lack of outcome measures validated with palliative care patients [10].
The ethical arguments between the value of research and the needs of patients are heavily debated and complex [11].
The debate reflects a community of stakeholders that is polarised between those who argue that research within this population is unjustified and those who argue that the ethical principles that govern medical research are also suitable to safeguard individuals' interests to enable their participation in EoL care research. While it is necessary to consider the concerns of this debate there is little prospect of resolving the existing tensions by argumentation alone. Systematic reviews have appraised the evidence regarding advanced cancer patients' attitudes towards research [12] and on palliative care patients' and carers' views about research in palliative care [13]. This study broadens the scope by undertaking a critical interpretive synthesis (CIS) [14] across this field in order to synthesise existing empirical data on the attitudes and values regarding participation held by all stakeholders involved in palliative care research. Attention has been given to the methodological issues that emerge from these studies.
Aim
The study aims to appraise the evidence regarding all stakeholders' views and experiences regarding involvement in palliative care research and to explore whether there are best practices regarding participation in research.
Research questions
· Which stakeholders' views on participation in research are represented in the evidence and what are the views held?
· Are patients and other stakeholders willing to participate in EoL care research?
· How is participation in EoL care research experienced?
· Are there differences in attitude according to group (patient or other participants' groups)?
· What are the best practices to enable patients' participation in research on EoL care?
Methods
Design
We used CIS [14] to synthesise a diverse and complex body of evidence consisting of both quantitative and qualitative studies. This methodology incorporates procedures of conventional systematic review methodology by applying explicit searching strategies to ensure replicable, specified inclusion criteria, and data extraction procedures to enhance clarity and comparability among studies. This was combined with recent methods for interpretive synthesis which drew on traditions of qualitative enquiry. This combined approach enabled both aggregation of the literature and the generation of theoretical categories that critically demonstrate the assumptions situated within the literature.
Search strategy
The search was conducted in four electronic databases: MEDLINE (1950 – January week 2 2010); EMBASE (1980 – January week 2 2010); PsycINFO (1806 – January week 2 2010); and CINAHL (1982 – January). Additionally the following databases were searched for relevant articles: Cochrane Database of Systematic Reviews, The Cochrane Central Register of Controlled Trials, Cochrane Pain, Palliative and Supportive Care Trials Register.
The combination of search terms was piloted with a number of trial searches to achieve a balance between recall and specificity. A pre-defined search strategy was decided upon, consisting of the following search terms, representing three groups which were combined with AND.
1.

attitude$, OR view$, OR experience$, involv$, partic$, perspect$, concern$, challeng$

2.

3.

palliative care, OR palliat$, OR terminal, OR terminally ill, OR supportive care, OR dying, OR death, OR end of life, OR end-of-life, OR hospice, OR bereavement.
We searched the reference lists of all relevant papers for further references. This was important as this topic concerns a body of evidence, which is not well delineated and is spread over the disparate research areas that address palliative care.
Three journals, in which the debate regarding whether or not to involve palliative care patients in research was conducted, were hand searched. These were:
The Journal of Pain and Symptom Management (from 1999 to February 2010)

Palliative Medicine (from 1989 to February 2010)

Journal of Palliative Care (from 1985 to June 2010)
Inclusion and exclusion criteria
We included original research papers that enquired specifically about involvement in EoL care research or its impact on participants. The participants included a wide variety of stakeholders who come into contact with palliative care research, including: patients, informal caregivers, health professionals, managers, and researchers. We included all research designs and searched across the spectrum of palliative care from disease diagnosis to death.
We excluded studies on oncology patients participating in trials testing curative treatments. We excluded papers on children or adults with learning disabilities as these areas have their own specific issues; and studies on recruitment, informed consent, user involvement or bereavement. Non-English language papers were excluded. We did not include papers that were already included in previous reviews. However, we investigated the individual studies in these reviews and included them if they contributed to our review questions and responded to our quality criteria. Fatally flawed studies were excluded. To identify such low-quality studies we used the following criteria (as specified in [
14
]):
Are the aims and objectives of the research clearly stated?

Is the research design clearly specified and appropriate for the aims and objectives?

Do researchers provide a clear account of the process by which their findings were produced?

Do the researchers display enough data to support their interpretations and conclusions?

Is the method of analysis appropriate and adequately explicated?
Synthesis
First, the identified studies were mapped according to country of origin, setting, participants, patient group, illness stage, and approach. The resultant studies were then counted. Three major categories were identified: studies that addressed issues relating to research in general; research with specific methods; and trials. Within these categories, studies were examined in more detail and the results compared. This revealed areas that were adequately covered and any remaining gaps.
In the second stage the research questions were applied to the literature across the categories. Results and emerging queries were listed. Recommendations from the studies were tabulated and organised inductively, thereby generating information on best practices.
A third stage focused on the normative assumptions underlying the studies and related these to the empirical evidence they generated. The characteristics attributed to 'research' and 'care' – and how these determined their conceptualization – were critically assessed. Whether the interpretation changed with each included study was continually tested. The findings are synthesised as a conceptual model for research participation for potentially vulnerable people.
Discussion
Willingness to participate in EoL research
All of the studies that evaluated willingness to participate in EoL care research showed positive outcomes across the different parties involved [15–20, 22, 25, 28]. The majority of patients were willing to take part in research [15–20, 22, 25, 28] and their informal carers were supportive of this [17, 18]. Also hospice staff and hospice organizations were found to have positive attitudes towards participating in research [15, 16]. The studies that reported on health professionals showed the most equivocal results [15, 34].
The studies illuminate the factors that influence willingness to participate in research. Disability, physical distress and cognitive impairment formed barriers to individuals' participation in research studies. However, some studies showed ways to enable patients to participate by providing assistance to complete questionnaires and to use flexible and responsive approaches to data collection to accommodate patients' physical and cognitive abilities [25]. Participation for patients was often experienced as empowering and this was expressed through gratitude towards those who made it possible to contribute [25].
Experiences of participating in EoL research
All 10 studies providing quantitative results showed that participating in research at the EoL was a positive experience for the majority of patients and their carers [20, 23–27, 29–32]. Benefits of participation were identified as being therapeutic or giving comfort, especially in interviews [23, 24, 26, 27] which provided the opportunity to reciprocate for good care, and to contribute to service improvement. However, there was a minority who experienced involvement in research as distressing and this was related to either, characteristics of the participants, the type of research, or the way it was conducted.
The studies that evaluated actual experiences of research participation provided particularly useful insights on the benefits and risks of working with patients and their carers at the EoL and suggest future directions for research. The studies focusing on attitudes were helpful in identifying participants' beliefs and values about research. Future attitude studies could widen their focus and explore how these values are informed and used. Studies that used hypothetical questions are important in difficult-to-research areas but one needs to be aware that they provide a normative view on reality. Most studies have approached patients with a set of hypothetical questions, particularly those involving trial research. Examining actual experiences as patients go through these trials – what motivated them, and the challenges encountered – is likely to shed a different light on this.
Age appeared to be a factor that influenced attitudes towards participation in research [17, 18]. Differences were found in the motivation to participate by patient groups [27] and individual characteristics [26] and despite the strong associations found in quantitative studies there are no discernable explanations [31]. The identified patterns of views and impacts of research require exploration beyond the typical demographic variables, and designs are needed to capture the complexity of concerns and interactions between those involved in research. A way forward is the development of mixed-methods designs, which offer multiple opportunities to verify data and its interpretation. However, these designs require thorough planning from the outset and reflexivity in the way they are conducted. Palliative care encompasses those patients and carers at diagnosis through to death and beyond, and as such longitudinal studies could provide insight in to how levels of willingness and experiences with research change throughout these stages, and could help determine the best ways to conduct studies at different stages.
Gaps in the evidence-base
We did not find any evidence of participation in research from beyond the US, the UK or Australia. This reflects the concentration of palliative care services and research centres in these countries [6]. Studies from beyond the developed world will add to the findings from this review and are expected to show how different environments and values impact on attitudes and experiences with research. This geographical bias also determined the study settings, which were mainly in-patient hospices or hospitals. Other settings such as the home and the community were under-represented.
The majority of the studies focused on patients with cancer, while there were only a few studies that included other advanced diseases. It is important to include the range of diagnoses that have palliative care needs as different patient groups can have distinct concerns regarding research. The gap in knowledge about cancer patients in the advanced stages of illness seems to be addressed since the review undertaken by [Todd et al. 12]. Most of the studies identified in this review targeted the later stages of illness as concerns regarding research were expected to become more pronounced nearer to death. There were studies that did not precisely describe the stage of illness which is necessary to compare experiences within the heterogeneous population who require palliative care. Given the findings regarding age as a significant influencing factor, future studies could include older people.
As the ethical discussion about research participation revolves for the most part around patient vulnerability, the studies included here have mostly investigated patient views. A variety of other stakeholders were represented, but more evidence is needed about the roles they fulfil and the particular contribution of each of these parties. The views of members of ethics committees or funders of EoL research were absent. Also studies that focus on interactions between different stakeholders could reveal perceived impacts of research, areas of conflict or opportunities for mutual understanding.
Research participation as teamwork
Several studies showed that research at the EoL is best realised as a collaborative effort [21, 24]. Division of tasks between researchers and clinicians can lead to frequent and extensive discussion that provides opportunities to develop a realistic appreciation for each other's capabilities and limits [21]. Patients and other participants in research need to be engaged as early as possible [15, 35]. This requires a campaign of public education [32] regarding the importance of research [36]. Health professionals concerns also need to be addressed [15, 21, 34, 37, 38]. Conditions conducive to research are required, including: the sharing of skills, supportive institutions [28, 34, 39], formal partnerships between care providers and academic entities and extra resources [32, 34, 38]. Flexibility is required in the policies, protocols [34] and evaluations made by ethics committees in order to counter administrative constraints and protective attitudes that often hinder research [40, 41]. Research in palliative care often requires mixed methods or a diversion from standard procedures (for example when dealing with informed consent), which are circumstances that ethics committees are generally not used to working with [40, 41]. A 'relational ethics', where researchers and ethics committees work in partnership, has therefore been promoted as a suitable model to enable valid and sensitive research in palliative care [40, 41]. Participatory designs were found particularly suitable to actively include a diversity of participants who can determine the design and conduct of research [28, 30, 34, 39].
Research with care
This review shows that the ethical concern about patients at the EoL as too vulnerable to participate in research is often unjustified. However, the studies providing evidence about participation in research should not simply dismiss these concerns that have grown through debate and argumentation in ethics. Rather, they need to put these side by side and critically assess how the findings can inform the best way forward. Therefore, we analysed the rationale that underlies the reasoning about research in EoL care. We investigated the normative framework that organises the problematic issues pertaining to EoL care research from the entire body of evidence. The resulting conceptual model frames our understanding about what research is and does in EoL care settings. The model shows the 'taken for granted' knowledge on which respondents base their actions and develop their attitudes.
The ethical arguments frame research and care as if they have oppositional goals and values (see Figure
2
). This is what is called the deontological-utilitarian conflict where the goal of enhancing outcomes for all people needs to be balanced against the goal of ensuring optimal comfort and benefit [
42
]. People should in other words not be subjected to greater risk than what they would endure in routine assessment or treatment. Research is understood as instrumental, using the patient and others taking part in it, as a means to an end. Care, on the other hand, has the best interests of the patient and others in mind. Research is for the benefit of future patients, as it is argued that patients will already have died by the time that the findings will have materialised in interventions, while care can be provided immediately and directly. Within this discourse, research is perceived as active, and those who participate in it as passive, as the latter are presented as being subjected to research. It is objective, and removed, while care is personal and close. Stakeholders representing different territories should stay on their own sides to avoid misunderstandings. Researchers who transgress these boundaries of research and care – for example, those who collect data through qualitative methods, which inevitably involves close communication and empathy, are told to take all precautions to protect patients from deception. In the same way, the clinician-scientist is challenged as inappropriate, as this could lead to coercion based on the trust developed between the health professional and the person being cared for. The opposition is reflected in the metaphors attached to these domains where positions are crystallised in terms of 'warm' care and 'cold' research.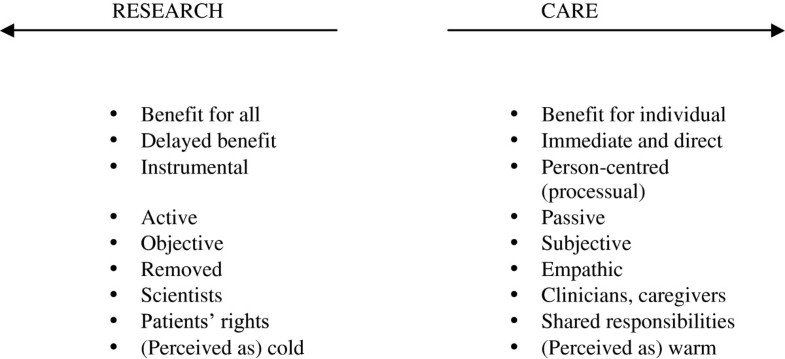 Where objections to research were expressed in the studies under review, these came from the concern that research would detrimentally affect the care that patients need. For example, the protective attitudes by hospice staff towards their patients in [Kirsch et al. 15] gave evidence of such a concern, or the apprehension patients expressed towards terms associated with trial research in [White et al. 17], where terms such as 'randomisation', 'placebo-control' and 'blinding' deterred patients from participating in research. This reflects similar concerns found in an earlier study of patients' and the public's view of the process of randomisation, where the role of chance by using computerised procedures – equivalent to tossing a coin – were used as a way of determining treatment allocation in the context of life-threatening research, and were found to be upsetting and trivialising [43].
Successful studies were the result of research that was conducted with care, with for example tailored data collection to accommodate patients' disabilities and to enable their participation [
25
]. The studies using a participatory design were also based on mutual recognition of each other's strengths and weaknesses and were conducted within a teamwork-based setting [
17
]. Such studies suggest that a different model of research in EoL care is needed (see Figure
3
). When research is embraced by care, many of the ethical objections become invalid. The issue of being used as a means to an end, or in other words as a mere instrument for research goals, does not apply any longer when research is embraced by care. A collaborative model with equal input of all the parties involved in research, who share a concern to care will lead to sensitivity to the needs that arise during the conduct of research studies. This also guarantees the immediate benefits that involvement holds for patients, such as empowerment, self-validation or the opportunity it offers for altruism [
13
,
19
]. A relational approach where the ideas of different stakeholders from a diversity of disciplines are exchanged, can lead to an intersubjective view on what is investigated and the way research is conducted. The concern about granting the right to participate in research shifts towards mutual responsibility among those involved and is realised through open dialogue. The attention then focuses on what support and supervision is needed in order to optimise participants' contributions [
8
,
17
] and this can lead to a change in culture in terms of attitudes towards research [
21
,
34
].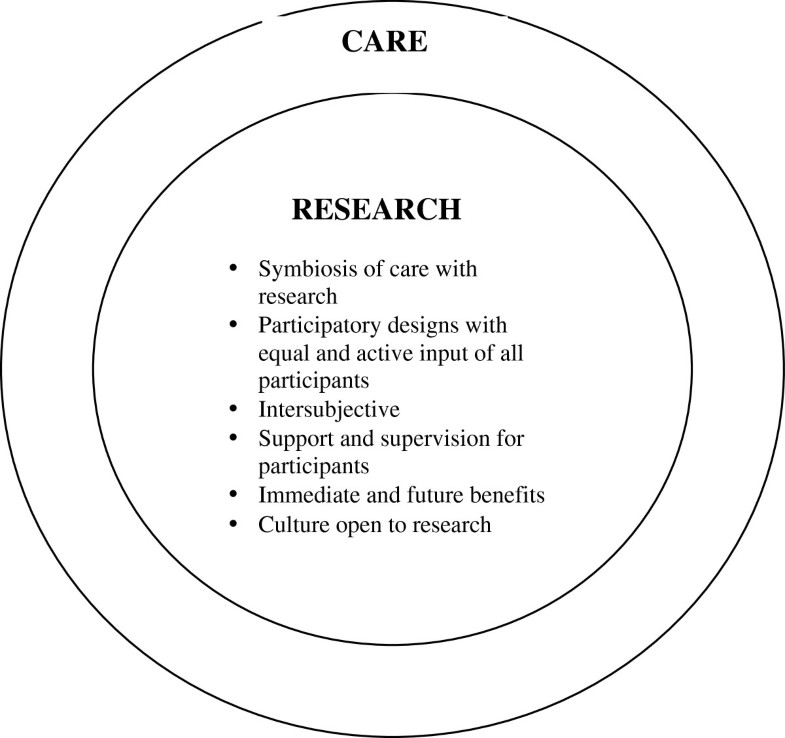 Limitations
This paper set out to systematically assess the evidence relating to barriers and solutions to participation in research at the EoL. However the review is limited as only original research studies were included. Papers presenting ethical debates on participation within EoL care research were excluded. For a comprehensive overview of the field, the ethical arguments need to be read alongside this review. It is also possible that the gaps identified in the evidence-base are not neutral with regard to the aim of the study, and that they represent an indication for undetected problems in EoL research, which can lead to publication bias.
Conclusion
This review provides an evidence-base about ethical concerns regarding research at the EoL. Although the literature focused most on patients with cancer, a range of other participant groups were also represented, such as health professionals, carers and researchers. The evidence shows that all those involved in research are in principle supportive of research at the EoL. The group most likely to have concerns about involving patients at the EoL were health professionals.
This review showed that the ethical concerns regarding patient participation in EoL care research are often not justified. Patients are generally willing to contribute to research and the majority of those who take part in research, report it as a positive experience. Patients confirm that it brings them direct benefits. However, there was a minority of people for whom taking part caused distress, requiring increased sensitivity to individuals' changing needs and circumstances. Assistance needs to be in place for such situations. The palliative care population commonly experience fluctuating symptoms across their disease trajectory, which can cause varying levels of physical and cognitive impairment. Therefore, research needs to be flexible and equipped with methods that can enable patients and carers to participate in research on EoL care.
Denying patients the opportunity to participate in research on the basis of an a priori label of vulnerability is paternalistic. Given the diversity of this population, patients need to be approached as individuals, to assess whether it is desirable to involve them in research. This makes the model presented here not only applicable to the EoL population, but to all potentially vulnerable people.
Declarations
Acknowledgements
We would like to thank Mel Rumble for editing and proofing this paper.
MG and CE are funded for the MORECare project, by the UK's National Institute of Health Research (NIHR)/Medical Research Council (MRC) as part of the Methodology Research Programme (MRP)'. Grant reference: G0802654. IJH is an NIHR senior investigator. CE holds an NIHR/Chief Nursing Officer Clinical Lectureship. This report is independent research arising from the Clinical Lectureship supported by the NIHR. The views expressed in this publication are those of the authors and not necessarily those of the National Health Service, the NIHR or the UK Department of Health.
Authors' Affiliations
(1)
King's College London, Cicely Saunders Institute, Department of Palliative Care, Policy & Rehabilitation School of Medicine, London, UK
Copyright
© Gysels et al.; licensee BioMed Central Ltd. 2012
This article is published under license to BioMed Central Ltd. This is an Open Access article distributed under the terms of the Creative Commons Attribution License (http://creativecommons.org/licenses/by/2.0), which permits unrestricted use, distribution, and reproduction in any medium, provided the original work is properly cited.