Debate

Open Access

Open Peer Review
This article has Open Peer Review reports available.
Should researchers use single indicators, best indicators, or multiple indicators in structural equation models?
BMC Medical Research Methodology
2012
12:159
Received: 9 June 2011
Accepted: 14 October 2012
Published: 22 October 2012
Abstract
Background
Structural equation modeling developed as a statistical melding of path analysis and factor analysis that obscured a fundamental tension between a factor preference for multiple indicators and path modeling's openness to fewer indicators.
Discussion
Multiple indicators hamper theory by unnecessarily restricting the number of modeled latents. Using the few best indicators – possibly even the single best indicator of each latent – encourages development of theoretically sophisticated models. Additional latent variables permit stronger statistical control of potential confounders, and encourage detailed investigation of mediating causal mechanisms.
Summary
We recommend the use of the few best indicators. One or two indicators are often sufficient, but three indicators may occasionally be helpful. More than three indicators are rarely warranted because additional redundant indicators provide less research benefit than single indicators of additional latent variables. Scales created from multiple indicators can introduce additional problems, and are prone to being less desirable than either single or multiple indicators.
Keywords
Single indicatorsFactor analysisMultiple indicatorsTestingStructural equation model
Background
Structural equation modeling melds path analysis and factor analysis under a common statistical framework. The multiple-indicator factor tradition includes works by Thurstone [1], Harman [2], Lawley & Maxwell [3], and Mulaik [4], while the single-indicator path tradition has roots in regression and includes Wright [5, 6], Blalock [7], Duncan [8], and Heise [9]. Recent structural equation introductions range from having a heavy factor focus (Byrne [10]), through works seemly oblivious to path-factor tensions (Kline [11], Byrne [12, 13], Bollen [14]), to path oriented discussions (Hayduk [15, 16]). The path and factor approaches differ noticeably in regard to procedure, testing, and indicators.
In arguing against Anderson & Gerbing's [17, 18] procedural suggestion to use a factor model before introducing latent paths, Fornell and Yi [19, 20] implicitly contrasted the path and factor approaches. Hayduk's [16] additional critiques of the factor-model-before-path-model idea led to extensive SEMNET [21] discussions and a special issue of Structural Equation Modeling where a target article challenging the use of factor-models before latent path-models (Hayduk and Glaser [22]) was followed by commentaries (Mulaik and Millsap [23], Bollen [24], Bentler [25], Herting & Costner [26]), and a rejoinder (Hayduk and Glaser [27]). The weaknesses of the factor-model-first idea became painfully obvious, so subsequent SEMNET discussions switched to the topic of model testing – which again pitted the path-model inclined (who favored diagnostic attention to significant evidence of model ill-fit) against the factor-model inclined (who sought to replace model testing with indexing). This led to a special issue of Personality and Individual Differences in which Barrett's [28] target article called for reporting and respecting the model χ2 test. Barrett's call was neither strong nor precise enough for some (Hayduk, Cummings, Boadu, Pazderak-Robinson, & Boulianne [29], McIntosh [30]) but was "challenging" to those having factor analytic backgrounds (Millsap [31], Mulaik [32], Steiger [33]) – though the disarray among the dissenting replies signaled that careful model testing constitutes the new norm, even for factor models.
One additional path-versus-factor battle awaited, namely the matter of latents having single indicators (Hayduk & Pazderka-Robinson [34], Hayduk [16]). SEMNET again hosted multiple skirmishes, but it fell to the current article to organize the arguments regarding latents having relatively few indicators.
Organizing the issues
We begin with the Figure
1
model which has two indicators per latent variable – not the multiple indicators requested by factor models but also not single indicators. This figure emulates LISREL notation (Joreskog & Sorbom [
35
]) where η's are true-score-like latent variables and
y
's are indicator variables, but this model is not complete – as indicated by the dots representing "the rest of the model". The paired indicators report that the author of Figure
1
attended to the measurement methodology distinguishing each indicator pair from the other pairs (e.g. questionnaire wordings). The indicator pairings also signal that the researcher is not doing exploratory factor analysis because exploratory factor analysis is not likely to locate half as many latents as indicators, or indicators clustered in tidy pairs.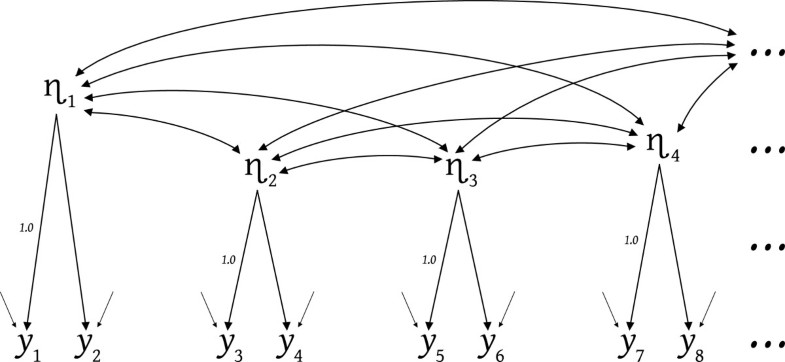 This model contains a strange conceptual bifurcation. The model claims considerable causal understanding in one model segment (the latents' effects on the indicators) and complete causal ignorance in another segment (the saturated non-directional relationships among the latents). The researcher constructing this model did not fear causation itself because the model requires latent to indicator causal actions. It is more likely that the causal-segmentation arose from the complexity and difficulty of considering specific latent-to-latent causal connections. It is common to not know the latent level causal structure. But how should a structural equation modeler proceed when they don't know the latent causal structure?
Researchers following factor analytic tradition were trained to think it was OK to specify measurement structures before introducing latent effects and constraints. The deficiencies of the measurement-before-latent-structure idea were headlined in Hayduk & Glaser [
22
,
27
], Hayduk [
16
], and Fornell & Yi [
19
,
20
], so we need not revisit these details here. Let us instead presume the researcher encountered theory-encouraging training that overcame their causal-segmentism, and postulated the latent causal structure depicted in Figure
2
. This particular battle has been won whether the postulated structure is correct or not, because the battle was to get the researcher to see, understand, and incorporate some reasonable (to them) theoretical causal structuring, to permit the indicator data to speak for or against the researcher's theory/thinking. There is an undeniable preference for the data speaking approvingly, but theory is furthered whatever the data's verdict.

What is required to move from a model like Figure 1 toward a Figure 2 model? One obvious, and difficult, concern is that any postulated latent-level effects should have worldly counterparts, and postulated absences of effects should correspond to worldly lacuna. A less obvious but important concern is that each latent variable participating in latent-to-latent causal effects must be identical to the latent acting causally toward specific indicators. This requirement actually provides substantial assistance, as we see shortly. We address the fixed measurement error variances depicted in Figure 2, later in this article. When we refer to measurement error variances, true scores, and the like, our concern is for validity via models that match the relevant worldly causal structures, rather than the mere reliability connotations such terms can carry in the context of classical test theory.
Consider a variable like η3 that is somewhere in the midst of the effects among the latents. η3's value (for any one case) is set by absorbing diversity (absorbing the potentially very different styles and magnitudes of effects arriving from η1, η2, and η3's error variable), and η3 emits the resultant value proportionately – namely in proportion to the magnitudes of the effects η3 emits. To specify such a causal nexus for η3 the researcher must theorize or understand η3 as being capable of the relevant absorptions and emissions – including η3's causal effects on its indicators.
Consider the causal connection between η3 and y5. The 1.0 effect depicted in Figure 2 does not make y5 a perfect reflection of η3 – it merely asserts a scale for η3 by asserting that each "perfect and isolated unit increase" (or decrease) in the true value of η3 (whether originating in η1, η2, or η3's error) would result in a corresponding unit increase (or decrease) in the indicator's scaled value. This isolation and perfection is imaginary because a real unit change in latent η3 would mix with the measurement-error forces that also pummel the observed value of y5. The measurement error effects would nudge y5's value to be somewhat more or less than the perfect unit change originating in η3.
Real examples
Models employing single indicators with fixed measurement error variances emphasize theory, and precise theory does not lend itself to brief exposition, but we will try. The example in Figure
5
comes from Hayduk [
37
] and was chosen because it illustrates helpful-theory with minimal complexity among the indicators. The indicators are 10 measurements of subjects' personal space preferences made as baseline (or control) measurements in an experiment whose treatments need not concern us. The indicator variables are distance measurements obtained by the stop-distance procedure in which the subject stops an approaching experimenter when the subject just becomes uncomfortable about the approacher's closeness. The procedural similarity and clarity of the measurements, as well as multiple experimentally-controlled features [
38
] resulted in each indicator being given 3% measurement error variance.

The background for the Figure 5 model is that back in 1985 a common factor model for the repeat personal space measurements failed convincingly. The measurements all used the same methodology, with the same participants, in the same baseline/control context, but the repeated measurements did NOT measure the same thing! A simplex model (a straight line of causal effects) fit via χ2, but that ordinary simplex model did not correspond to a comfortable or causally-understandable theory for these data. Nearly a decade passed before the fitting, understandable, and theory-helpful, loop-simplex model in Figure 5 was developed (Hayduk [37]). The 1.0 values connecting the latents in this model indicate that each subject's spatial preference would have persisted perfectly from one measurement occasion to the next were it not for the structural disturbance terms and causal feedbacks modeled as self-causative loops at each successive measurement. This model illustrates a nearly-identical set of single indicators supporting a theoretically complex and somewhat unusual model structure – a model structure matching how the subjects' brains acted causally in determining the subjects' momentary spatial preferences. Additional single-indicator models permitted even closer parallels to causal neurological activity but this is not the place to discuss how the brain functions, or to explicate the statistical details of how causal-loops function, so we must be satisfied with referring the reader to Hayduk ([37], [16] Chapter 3) for further discussion of the theory in the Figure 5 model.
The example in Figure
6
was chosen because the latent level of the model is moderately complex – it has two touching reciprocal effects – that are cleanly estimated with single indicators assigned between 5 and 10% measurement error variance. This fitting (via χ
2
) model comes from an anonymous survey of Catholic seminary students, and the estimates tell some interesting stories, but we again refer the reader to the original publication for the details (Hayduk, Stratkotter & Rovers [
39
]). One especially relevant point is that a planned alternative model similar to Figure
6
was estimated in which two indicators (the indictors of Supreme and JC-God-Humbled) were modeled as arising from a single latent rather than two separate latents – much like trying to model y5 and y6 in Figure
3
as arising from η
3B
rather than coming from separate latents – because it was unclear whether or not the seminarians' responses arose from latents acting differently with respect to the other modeled latents. This common-cause model fit but showed clear diagnostic signs of model misspecification. That is, the seminarians' agreement/disagreement with "I think of Jesus Christ as the God who humbled himself by becoming man and dying for my sins." and "I think of God primarily as the Supreme Being, immutable, all powerful and the Creator of the universe." were not tapping a single belief but were tapping two distinct latents that functioned somewhat causally-differently with respect to the other latents in the model. We chose this example because we expect some readers will find it surprising that indicators having such abstract yet seemingly-similar content could be clearly differentiated by a rather complex and difficult-to-estimate latent model – despite all the other latents also having only single indicators. This illustrates how latent level theory – in this case aided by planned diagnostics – can call for single indicators that differentiate between similar yet undeniably abstract latents.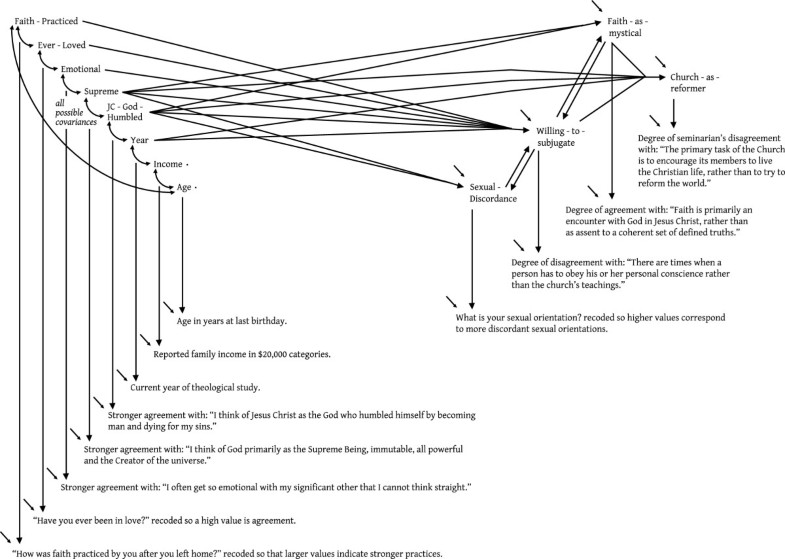 Summary and discussion
The gist of the above is that each single indicator of a latent, and the best indicator from each set of multiple indicators, should be provided a fixed 1.0 "loading" and a fixed measurement error variance based on the researcher's assessment of both the indicator's methodology and the focal latent's causal connections to the other latents. The fixed 1.0 loading scales the latent and the fixed measurement error variance assigns a theory-dictated identity or meaning to the latent. This is not done on the basis of what the researcher unerringly knows, but on the basis of what the researcher thinks s/he knows, so that the data via the estimates, testing, and diagnostics, speak to what the researcher thinks s/he knows. Any additional indicators believed to originate in the latent are given free loadings and free measurement error variances. While this description and our discussion focuses on reflective indicators, it should be clear that similar observations apply to both formative and reactive [40] indicators. The fundamental concern is for valid and precise latent-indicator representations no matter what style of measurement structure is involved.
Understanding that the latent variable absorbing and emitting latent-level effects must match the latent variable influencing that latent's indicators reveals why multiple indicators located by factor analysis tend to fail when incorporated in structural equation models. Free factor correlations place no latent level constraints on the factors, and hence latent factors are permitted to become variables that are unable to function causally appropriately with respect to other latents. Even fitting factor models provide no assurance that the latent common factor causes of the indicators will function causally-appropriately with respect to other latents. Consequently, introducing latent level theoretical constraints often challenge the causal appropriateness of factors connected to multiple indicators. Researchers should hear saturated factor correlations and entirely free measurement error variances as shouting THEORY IMPRECISION regarding the latent-level causal structure.
The existence of multiple similarly worded indicators is no longer a license to squelch theory by saturating the latent level of the model with factor correlations, or by failing to assert a latent's meaning with a fixed measurement error variance for the best of the multiple indicators. Focusing on single indicators, and designating the best of multiple indicators, encourages attention to each latent and indicator, and constitutes a call to theorize carefully. The identity of latents is not resolved by appealing to just the data – this unavoidably involves the researcher's understandings and causal theory [41]. It is dubious to attempt "measurement" prior to "theory", or factor analysis prior to full structural equation modeling, because there is no routine assurance that latents functioning as common causes of the indicators will assuredly function appropriately as causally-coordinateable latents.
If a full structural equation model fails and provides diagnostics questioning some second or weaker indicator, the researcher might drop that indicator but it would be preferable to retain the indicator by making it a single indicator of a similar yet theoretically distinct latent whose causal coordinations deserve explication. Much is also gained by using single indicators to incorporate multiple-regression-like control for potentially confounded variables. If the model requires control for sex, age, disease severity, number of friends, happiness, or belief in an after-life, the relevant control variables are latents because they likely contain measurement error. There seems little reason to require more than a single even if error-containing indicator for sex or age, but it is important to realize that the researcher could also statistically control for the other listed variables with single indicators. The researcher must decide whether a stronger research contribution would arise from using an additional indicator as a redundant multiple indicator of some currently-modeled latent, or by using that additional indicator to control for some causal mechanism currently omitted from the model. One does not need multiple indicators to locate a mechanism carrying a postulated effect, to extend a theory's reach, or defend a theory's claims by controlling some confounder. Hence the choice will often favor a single indicator controlling for some theory-relevant feature rather than multiply entrenching a particular latent.
Single indicators forcefully remind us that measurement is not separate from theory. Theoryphobes may consider single indicators too theory demanding, but researchers should think of single indicators as theory-encouraging and theory-invigorating. Single indicators challenge people to join the community of researchers, where one's constant environ is imperfect-knowing, and where detailed attention to theory and methodology are one's most trustworthy guides. Careful consideration of single indicators encourages a close coordination between the researcher's thinking and their structural model, whether any specific latent ends up with one, two, more, or even no [16], direct indicators. When researchers place their understandings in their models, they hear their data speaking to them because it is their understandings that are being revised if the data urges model modification. Conscientious use of single, or the few best, indicators contributes to theory/model precision but it remains for the world to dictate whether the precise theory/model is valid or precisely wrong.
Declarations
Acknowledgements
We thank Greta Cummings and Susan Slaughter for helpful comments on early drafts of this article.
Authors' Affiliations
(1)
Department of Sociology, University of Alberta, Edmonton, Canada
(2)
Department of Political Science, Central European University, Budapest, Hungary
Copyright
© Hayduk and Littvay; licensee BioMed Central Ltd. 2012
This article is published under license to BioMed Central Ltd. This is an Open Access article distributed under the terms of the Creative Commons Attribution License (http://creativecommons.org/licenses/by/2.0), which permits unrestricted use, distribution, and reproduction in any medium, provided the original work is properly cited.