Debate
Open Access
Open Peer Review
This article has Open Peer Review reports available.
Choosing sensitivity analyses for randomised trials: principles
BMC Medical Research Methodology
2014
14:11
Received: 10 October 2013
Accepted: 21 January 2014
Published: 24 January 2014
Abstract
Background
Sensitivity analyses are an important tool for understanding the extent to which the results of randomised trials depend upon the assumptions of the analysis. There is currently no guidance governing the choice of sensitivity analyses.
Discussion
We provide a principled approach to choosing sensitivity analyses through the consideration of the following questions: 1) Does the proposed sensitivity analysis address the same question as the primary analysis? 2) Is it possible for the proposed sensitivity analysis to return a different result to the primary analysis? 3) If the results do differ, is there any uncertainty as to which will be believed? Answering all of these questions in the affirmative will help researchers to identify relevant sensitivity analyses. Treating analyses as sensitivity analyses when one or more of the answers are negative can be misleading and confuse the interpretation of studies. The value of these questions is illustrated with several examples.
Summary
By removing unreasonable analyses that might have been performed, these questions will lead to relevant sensitivity analyses, which help to assess the robustness of trial results.
Keywords
Sensitivity analysisRandomised trialsClinical trialsRCTMissing data
Background
In randomised trials researchers are required to specify analyses before seeing the outcome data, to select one of these as the primary analysis, (ideally) to make this plan public, and to adhere to the specified analyses on receipt of the outcome data. There are two reasons for this approach. First, it prevents researchers from cherry picking their favoured analyses after seeing the data. Second, choosing the method for the primary analysis based on trial data has been shown to lead to unreliable results in several settings [1–4].
Pre-specified analyses make assumptions that may be strong, unverifiable, or not supported by the data. 'Sensitivity analysis' aims to investigate whether the results of important analyses are sensitive or robust to violations of the assumptions by performing analyses addressing a specific clinical question under contrasting assumptions. Despite articles advocating sensitivity analysis [
5
], there are currently no principles governing how relevant sensitivity analyses should be chosen. The following three questions should be considered to determine whether a sensitivity analysis is worthwhile:
1.

Does the proposed sensitivity analysis address the same question as the primary analysis?

2.

Is it possible for the proposed sensitivity analysis to arrive at a different conclusion to the primary analysis?

3.

If the proposed sensitivity analysis leads to a different conclusion to the primary analysis, is there a genuine degree of uncertainty as to which will be believed?
To qualify as a sensitivity analysis, the answer to all of the above questions should be yes. Analyses that address different questions to the primary analysis may be important, but should be classified as secondary, not sensitivity analyses; considering them as sensitivity analyses may lead to false anxiety about the robustness of results. Analyses that will always lead to the same conclusion as the primary analysis are dangerous, as they falsely reassure us about the robustness of results. If there is no uncertainty as to which analysis is more believable, the analysis that would not be believed should be dropped.
Below, we expand on the reasons for asking each question, and demonstrate their usage with some real examples. Because we are advocating the use of these questions at the stage of writing the statistical analysis plan, we do not consider the results of our examples, but whether the sensitivity analysis described is worthwhile. Figure
1
is provided as a quick reference tool.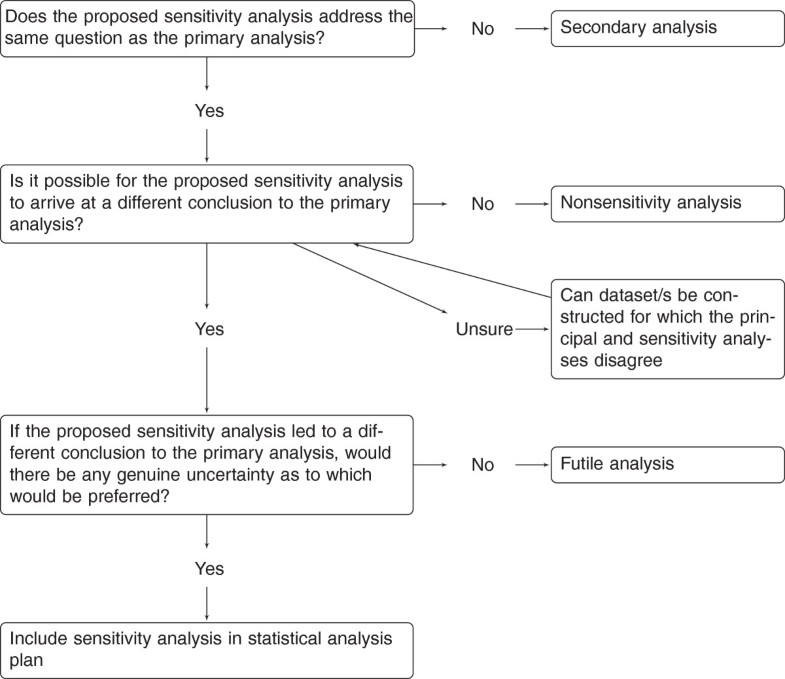 Summary
Sensitivity analyses should be carefully chosen and predefined as far as possible, where the proposed analyses involve a range of plausible and contrasting assumptions. Some analyses should rightly be given more emphasis than others, and the primary analysis should be the one that seems to carry the most weight prior to seeing the data. Our three questions help to identify whether an alternative analysis is reasonable as a sensitivity analysis.
It is the need to prespecify analyses that makes these questions particularly useful in the context of randomised trials. However, they are also helpful with observational studies and when applied post-hoc.
Through discussions with trial statisticians we believe sensitivity analyses are used widely, but often informally, and results are largely unreported. If the screening questions outlined above are considered at the stage of writing the statistical analysis plan, sensitivity analyses will be relevant to the clinical question, and the number to perform and report will be reduced. We hope that in future they will be sensibly chosen and more widely reported.
Declarations
Acknowledgements
We are grateful to Shaun Seaman of the MRC Biostatistics Unit for the idea of a thought experiment to construct datasets in which two analyses disagree. Tim Morris is supported by the Clinical Trials Hub for Trials Methodology Research, MRC grant MQEL. Ian White is supported by UK MRC Unit Programme U105260558.
Authors' Affiliations
(1)
Hub for Trials Methodology Research, MRC Clinical Trials Unit at UCL, London, UK
(2)
Pragmatic Clinical Trials Unit, Queen Mary University of London, London, UK
(3)
MRC Biostatistics Unit, Cambridge Institute of Public Health, Cambridge, UK
Copyright
© Morris et al.; licensee BioMed Central Ltd. 2014
This article is published under license to BioMed Central Ltd. This is an Open Access article distributed under the terms of the Creative Commons Attribution License (http://creativecommons.org/licenses/by/2.0), which permits unrestricted use, distribution, and reproduction in any medium, provided the original work is properly cited.