Research article
Open Access
Open Peer Review
This article has Open Peer Review reports available.
Comparison of confidence interval methods for an intra-class correlation coefficient (ICC)
BMC Medical Research Methodology
2014
14:121
Received: 6 May 2014
Accepted: 27 October 2014
Published: 22 November 2014
Abstract
Background
The intraclass correlation coefficient (ICC) is widely used in biomedical research to assess the reproducibility of measurements between raters, labs, technicians, or devices. For example, in an inter-rater reliability study, a high ICC value means that noise variability (between-raters and within-raters) is small relative to variability from patient to patient. A confidence interval or Bayesian credible interval for the ICC is a commonly reported summary. Such intervals can be constructed employing either frequentist or Bayesian methodologies.
Methods
This study examines the performance of three different methods for constructing an interval in a two-way, crossed, random effects model without interaction: the Generalized Confidence Interval method (GCI), the Modified Large Sample method (MLS), and a Bayesian method based on a noninformative prior distribution (NIB). Guidance is provided on interval construction method selection based on study design, sample size, and normality of the data. We compare the coverage probabilities and widths of the different interval methods.
Results
We show that, for the two-way, crossed, random effects model without interaction, care is needed in interval method selection because the interval estimates do not always have properties that the user expects. While different methods generally perform well when there are a large number of levels of each factor, large differences between the methods emerge when the number of one or more factors is limited. In addition, all methods are shown to lack robustness to certain hard-to-detect violations of normality when the sample size is limited.
Conclusions
Decision rules and software programs for interval construction are provided for practical implementation in the two-way, crossed, random effects model without interaction. All interval methods perform similarly when the data are normal and there are sufficient numbers of levels of each factor. The MLS and GCI methods outperform the NIB when one of the factors has a limited number of levels and the data are normally distributed or nearly normally distributed. None of the methods work well if the number of levels of a factor are limited and data are markedly non-normal. The software programs are implemented in the popular R language.
Keywords
Confidence intervalCredible intervalGeneralized confidence intervalIntraclass correlation coefficientModified large sample
Background
Biological and physical quantities assessed for scientific studies must be measured with sufficient reproducibility for the study to produce meaningful results. For example, biological markers ("biomarkers") are studied for many medical applications, including disease risk prediction, diagnosis, prognosis, monitoring, or optimal therapy selection. Variation in measurements occurs for numerous reasons. The measurements might have been made on different devices, may have involved subjective judgment of human raters (e.g., a pathologist assessing the number of tumor cells in a biopsy), or might have been made in different laboratories using different procedures. As another example, psychological instruments often score patients based on multi-item questionnaires completed by medical professionals. Variation in the resulting scores can be attributed to both variation among the patients and variation among the medical professionals performing the assessments. In many settings, it is not realistic to expect perfect concordance among replicate measurements, but one needs to achieve a level of reliability sufficient for the application area, such as a clinical setting. A common approach to quantify the reliability of a measurement process is to calculate the intraclass correlation coefficient (ICC) along with a confidence interval [1–4].
An interval can be constructed for the ICC using frequentist or Bayesian methods. Frequentist methods assure that the probability that the interval contains the parameter if the experiment is repeated many times is the nominal confidence level (e.g., 95%). In contrast to Frequentist methods, Bayesian methods provide a probability distribution for the parameter itself, given the data and the prior uncertainty. The distribution can be summarized by a credible interval, which reflects a nominal probability (e.g., 95%) region for the distribution. When little is known about the parameter of interest a priori, then a non-informative prior, which is often provided in the statistical software, can be used to construct the interval. The relative advantages of noninformative Bayesian and frequentist approaches in general are discussed in Berger [5] Chapter 4, Carlin and Louis [6] (Section 1.4), and elsewhere. General comparisons of the different approaches are beyond the scope of this paper. This paper focuses on two issues of applied interest discussed in the next paragraph.
Two critical and inter-related characteristics of a confidence interval method are (1) the coverage probability, and (2) the interval width. The coverage probability of a method should exactly match the confidence level, such as 95%. Coverage probability is a frequentist concept since the parameter is treated as a fixed number. The interval width is important to consider when comparing intervals because one often wants the shortest possible interval that maintains the nominal coverage. Coverage probability and interval width are important and relevant from both frequentist and objective Bayesian perspectives [7–13]. Frequentist coverage probabilities are interpretable in the Bayesian framework as well [14].
We study two applications in detail. The first application is a study by Barzman et al. [15]. They evaluated the Brief Rating of Aggression by Children and Adolescents (BRACHA), a 14-item questionnaire instrument scored by emergency room staffers. BRACHA scores can be influenced by both the child being assessed and the adult performing the assessment. Interest was in whether different adult staffers scored the children in a similar way, as summarized by the intraclass correlation coefficient. These data were originally analyzed using Bayesian credible interval methods. The second application is the National Cancer Institute's Director's Challenge reproducibility study [16]. In this study, tissue samples were subdivided into separate sections, sections distributed to four laboratories, and microarray analysis performed at each laboratory. Interest was in whether different laboratories produced similar gene expression measurements for individual patients.
This paper considers the setting of a two factor, crossed, random effects model without interaction. We focus on this setting because it arises frequently in practical applications of interest [15–17], and because this focus enables us to examine different aspects of study design, data distribution, and Bayesian priors, without the scope of the paper becoming unwieldy. For the purposes of this study, we assume this model is appropriate for the data; the process of selecting an appropriate statistical model and agreement measure are outside the scope of this paper and are discussed thoroughly elsewhere [18, 19]. A random effects model is appropriate when each factor represents a random sample from a larger population [20]; for example, a factor may represent labs randomly drawn from all labs that could perform the assay. If the population of labs is small, a finite population adjustment is possible [21], but rarely used in practice. If for some factors random sampling is not an appropriate assumption, then fixed-effects or mixed models can be used. Reproducibility methods for fixed and mixed models are discussed elsewhere [19, 22].
Confidence interval performance can be affected by both the study design used and the distribution of the data. If the study design has a limited number of levels of one or both factors, then this can impact interval performance. In practice, it is common that one factor will have a very small number of levels. The distribution of the data is assumed to be normally distributed and a violation of normality can impact coverage. Also, if one variance component is large or small relative to the others, resulting in different values of the ICC, then this can impact coverage as well. Different variance parameters and a range of model violations are studied using simulation and application. These studies lead to relatively simple and straightforward advice on which interval procedure will produce an interval with good performance characteristics. Also presented are cautionary notes about when examined methods will perform poorly.
The history of the development of the methods compared in this paper is briefly reviewed. The Modified Large Sample procedure for the two-way layout without interaction was developed in [23], and is based on earlier work of [24] using exact statistical methods. The Generalized Confidence Interval procedure for the two-way layout without interaction is presented in [25], and is based on a modification of a related method in [26], and the foundational work in [27]. Bayesian methods based on Markov Chain Monte Carlo are described in [28], were previously popularized in [29] and [30], and grow out of earlier work such as [31]. Bayesian intervals can be constructed with a variety of packages in R, such as MCMCglmm, or the popular software based on BUGS (Bayesian inference Using Gibbs Sampling), such as OpenBUGS [32], WinBUGS [33], or JAGS. The frequentist modified large sample (MLS) [24] and generalized confidence interval (GCI) [27] methods can be implemented using SAS version 9.3 VARCOMP procedure, or with the R programs provided with this manuscript.
This paper is organized as follows: Section 2 presents the model, briefly outlines the methods, and also presents the simulation settings. Section 3 presents the results of the Monte Carlo investigations. Section 4 presents real data applications. Section 5 presents discussion of the results. Section 6 presents conclusions. Mathematical details appear in the Additional file 1. Supplemental simulation details appear in Additional file 2.
Methods
The model for the data is
where μ is the overall mean, are the effects of the patients (or biological samples, etc.), are the effects of the laboratories (or raters or instruments, etc.), and are within-laboratory (or within-rater, etc.) experimental errors. The standard random effects model assumptions are that and where all random variables are mutually independent. The between-laboratory intraclass correlation is and the within-laboratory intraclass correlation is The analysis of variance for the model is presented in Table
1
.
Table 1
Analysis of variance
| Source | DFa | Sum of squares | MSb | EMSc |
| --- | --- | --- | --- | --- |
| Patient | b 0 - 1 | | | |
| Lab/rater | l 0 - 1 | | | |
| Error | r 0 b 0 l 0 - b 0 - l 0 + 1 | | | |
The is the variance between biological samples. For measurements to be reproducible, this variance must be large relative to the other sources of variability present. If is close to zero, so that the population is homogeneous, then reproducibility will be poor. If is larger, and the other sources of variability are controlled adequately, then good reproducibility is possible. Universal heuristics for defining good reproducibility in all cases are not available, but in some cases historical ICC values and/or clinical relevance may help guide appropriate ranges (e.g., [19]).
Discussion
Two questions arise from these observations. (1) Why are the noninformative Bayesian methods performing poorly relative to the frequentist methods in some cases? (2) Why are both methods not robust to skewness and kurtosis?
For question 1, these results naturally led us to further investigate the Bayesian credible interval methodologies. When the Bayesian and frequentist intervals differed, the midpoints of the Bayesian intervals tended to be further from the true ICC b than the midpoints of the frequentist intervals. The result we saw was wider intervals with poorer coverage. But why did this happen? Detailed discussion appears in the Additional file 1. In summary, we discovered potential reasons for the poor performance of the noninformative Bayesian priors. One issue is that noninformative priors on variance components do not imply noninformative distributions on the ICC. In fact, we derive these distributions in the Additional file 1 and show that they can be nearly point masses at 0 and 1. The one distribution where this is not the case is the one that works best in practice, namely, the uniform distribution on the standard deviation. But even this prior distribution on the ICC b has most of its mass towards the edges of the unit interval (Additional file 1: Figure S2). That being said, this fact probably does not entirely explain the poor performance. The second potential issue is that the Bayesian methods are not based on an underlying exact interval construction method, like the GCI and the MLS methods. Put another way, the modified large sample method uses a "modified" version of the usual large sample method, whereas the Bayesian methods use an "unmodified" Bayesian computation. Indeed, since the GCI method is closely related to the nonparametric Bayesian method [34], it may be that nonparametric Bayesian methods can be used to adjust the Bayesian parametric intervals.
The lack of robustness to skewness and kurtosis may appear surprising given that analysis of variance in general is robust to these. However, since we are constructing a confidence interval for a ratio of variance components, this means that estimation becomes more unstable. For example, the MLS interval equation involves fourth order moments. In general, the higher order a moment is, the more difficult it is to estimate. The GCI method, while not relying explicitly on fourth order moments, relies on the assumption that the second order moments are chi-squared in order to estimate quantiles of the generalized pivot, which is conceptually quite similar to calculating a fourth order moment.
Conclusions
In this paper several methods for constructing intervals for the intraclass correlation coefficient were examined. Coverage probabilities and confidence interval widths were reported for the commonly encountered two-way, crossed-effects linear model without interaction. The Modified Large Sample (MLS), Generalized Confidence Interval (GCI) and noninformative Bayesian interval methods were evaluated. When model assumptions are true, we showed that the MLS and GCI methods perform well under a wide range of settings. Bayesian software with noninformative priors on variance components did not perform as well in most settings, often failing to achieve desired coverage and at the same time, counterintuitively, also resulting in wider average interval widths. Under model violations, it was shown that the methods performed similarly when there was small skewness and kurtosis. However, neither the frequentist nor the Bayesian methods were robust to hard-to-detect skewness and kurtosis when the number of levels of one factor is small. The methods were applied to two previously published reproducibility studies and new insights were gained. Future directions to improve the Bayesian approaches were suggested. A decision tree summarizing this paper's findings is presented in Figure
1
.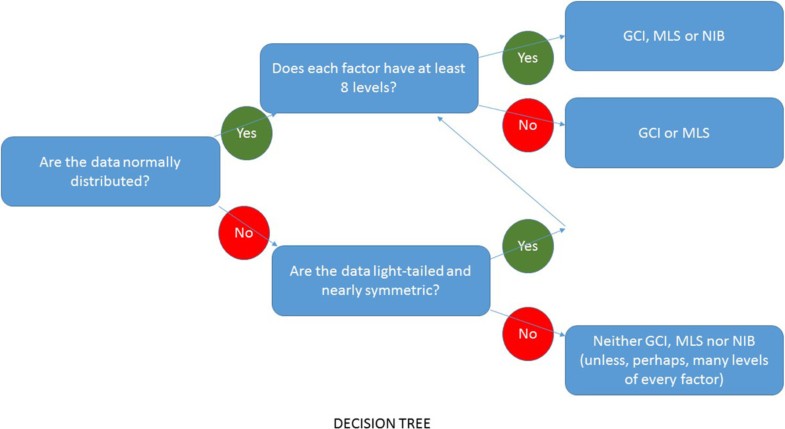 A number of commonly used noninformative Bayesian priors for variance components were studied. Results are in the Additional file 1. Bayesian priors for the intraclass correlation coefficient were derived mathematically for the inverse gamma and uniform (on standard deviations) priors. The commonly used inverse gamma prior on individual variance components resulted in an ICC prior very close to the extreme prior of two point masses: one at 0 and the other at 1. The inverse gamma (IG) prior was also found to lack scale invariance. Specifically, simply rescaling the data can drastically change the resulting (IG prior-based) interval for intraclass correlation coefficient (either ICCb or ICCw). Moreover, this change is a function of the user-defined choice of non-informative prior parameter, so that IG(0.001,0.001) produces very different intervals than IG(0.01,0.01); a similar result was reported by Gelman [35] in the context of making inference about individual variance components. The uniform prior used in this paper does not result in a nearly degenerate prior for the ICC, is not affected by scale changes in the data, and is not sensitive to user-defined parameter choices (trivially, since there are none).
A question outside the scope of this paper is whether it is possible to develop Bayesian methods that would have performance comparable to the frequentist methods across all scenarios in terms of mean interval width and coverage probability. It is possible that at some point in the future such a method will be developed. One possibility mentioned in the discussion is adapting nonparametric Bayesian methods for random effects models to this setting (for discussion, see [40]). Another possibility, following a suggestion in Gelman [35], is to have a relatively minor modification of the prior and place uniform distributions on individual variance components with finite support, so that σ ~ Uniform(0, k) for some k > 0; a different constant k could be used for each variance component, and these would need to be chosen based on prior knowledge or on the data (e.g., empirical Bayes). Indeed, the utility of Bayesian methods in medical contexts where prior or expert knowledge is available is widely recognized. Further research in this direction seems needed.
In modeling laboratory reproducibility, we have assumed that the effect of a laboratory is represented by a tendency to score higher or lower than other laboratories across biological samples assayed. But laboratory effects may be represented in other ways. For example, it may be that some laboratories have higher variance in their measurements, but no systematic difference across individuals. Such a setting could be represented by a variance components model that allowed each lab to have its own within-laboratory measurement error variance (that is, in Equation (1), permit to vary by laboratory). This would represent that lab's ability to obtain replicable measurements in repeated assays. The null hypothesis that all within-lab variances are equal could be tested against the general alternative. Alternatively, the CCC could be used [18], as suggested by a referee. As another example, an interaction between labs and samples could be introduced into Equation 1 to represent lab-to-lab variation in ability to reproducibly measure individual samples, and indeed we have used a Tukey test to assess such interaction in the first application.We used simulation to investigate whether we could develop post-hoc rules which could be used to select an interval construction method. Unlike Figure 1, these rules would be based on the values of the observed mean squares, in addition to the study design and normality assumptions. We were unable to come up with helpful rules that could be used in practice. But these results (not presented) suggested that the Bayesian methods tend to underperform more often when the laboratory variance estimate is large relative to the biological variance, and that the frequentist tend to underperform when the estimated biological variance is very large relative to the estimated laboratory variance. But we discourage investigators from using these broad observations in selecting a methodology, and recommend instead Figure 1.
The number 8 in Figure 1 as the cutoff number for how many levels are enough for the noninformative Bayesian method performance to match the frequentist is a best guess, and not a hard number based on theoretical results. However, we did run extended simulations with 4-16 laboratories, and these results are presented in the Additional files 4 and 5. With 8 levels (labs) it seems that one could safely conclude that the noninformative Bayesian, MLS and GCI would all be very similar and adequate under the normal model assumptions. The Bayesian coverages are similar to the frequentist for even 4-6 levels, but the Bayesian interval widths are noticeably wider.
Appendix A: formula for the generalized pivotal quantity
where c 2 = (b 0 - 1)/(l 0 r 0), c 3 = (b 0 l 0 r 0 - b 0 - l 0 + 1)/(l 0 r 0), c 1 = (l 0 - 1)/(b 0 r 0) and c 4 = c 3(b 0 l 0 r 0 - b 0 - l 0 + 1)/b 0. Here and are mutually independent given the observed mean squares. Generating a large number of (W 1, W 2, W 3) triples (such as 100,000) by Monte Carlo, the generalized confidence interval is formed from the quantile function
Appendix B: modified large sample formula
Appendix C: simulation parameter settings
Additional file 1: Table S1 shows the complete list of simulation settings used. Simulation results not presented in the paper appear in the Additional file 3. For the simulations involving the normal distribution, data were generated as given in Equation 1 above.
The robustness of intervals to violations of the normality assumption was evaluated by generating effects and errors from uniform, mixture normal, and gamma distributions. Parameters settings were calculated to make the variances of the simulated biological effects, lab effects and measurement error exactly the same as in the normal simulations.
For a random variable X with the uniform distribution on the interval [-A,A], the variance is
Var
(
X
) = 
A
2
/3. This leads to the formulas
If the distribution of each effect in Equation (1) is uniform, instead of normal, then the marginal distribution of the responses, Yblr, are sums of uniform random variables. The marginal density is derived in Additional file 1: Section S5 and plotted in the Additional file 1.
A random variable X with a normal mixture distribution with means ± μ and standard deviations μ/3, and weights 0.5, will be bimodal. We can write the mixture normal as a hierarchical model with c ~ Bernoulli(0.5), and
Then E[X] = 0 and Var(X) = μ2*(10/9).
The resulting equations are The marginal densities for Yblr are also mixture normal (see Additional file 1: Section S5), and are shown in the Additional file 1.
Define Gamma(α,β) by the density function Effect sizes and errors are generated by the following steps:
Note that w can be viewed as a mean-shifted version of and since central moments are translation-invariant, the central moments of w are the same as the central moments of a Gamma(α,σ/ α1/2). As a result, E[w] = 0, Var(w) = σ2, skewness(w) = and kurtosis(w) = 3 + 6/α [41] (p. 31). We keep β = 1. We let α = 1, 3, 10, 40. The marginal densities for Y blr are discussed in Additional file 1: Section S5 and shown in the Additional file 1.
Declarations
Acknowledgments
Ionan and Dobbin were supported in part by a grant from the Georgia Research Alliance's Distinguished Cancer Scholars Program.
Authors' Affiliations
(1)
Department of Statistics, University of Georgia, Athens, USA
(2)
Biometric Research Branch, National Cancer Institute, Rockville, USA
(3)
Department of Epidemiology and Biostatistics, University of Georgia, Athens, USA
Copyright
© Ionan et al.; licensee BioMed Central Ltd. 2014
This article is published under license to BioMed Central Ltd. This is an Open Access article distributed under the terms of the Creative Commons Attribution License (http://creativecommons.org/licenses/by/4.0), which permits unrestricted use, distribution, and reproduction in any medium, provided the original work is properly credited. The Creative Commons Public Domain Dedication waiver (http://creativecommons.org/publicdomain/zero/1.0/) applies to the data made available in this article, unless otherwise stated.