Research article

Open Access

Open Peer Review
This article has Open Peer Review reports available.
Oblique decision trees for spatial pattern detection: optimal algorithm and application to malaria risk
BMC Medical Research Methodology
2005
5:22
Received: 02 March 2005
Accepted: 18 July 2005
Published: 18 July 2005
Abstract
Background
In order to detect potential disease clusters where a putative source cannot be specified, classical procedures scan the geographical area with circular windows through a specified grid imposed to the map. However, the choice of the windows' shapes, sizes and centers is critical and different choices may not provide exactly the same results.
The aim of our work was to use an Oblique Decision Tree model (ODT) which provides potential clusters without pre-specifying shapes, sizes or centers. For this purpose, we have developed an ODT-algorithm to find an oblique partition of the space defined by the geographic coordinates.
Methods
ODT is based on the classification and regression tree (CART). As CART finds out rectangular partitions of the covariate space, ODT provides oblique partitions maximizing the interclass variance of the independent variable. Since it is a NP-Hard problem in RN, classical ODT-algorithms use evolutionary procedures or heuristics. We have developed an optimal ODT-algorithm in R2, based on the directions defined by each couple of point locations. This partition provided potential clusters which can be tested with Monte-Carlo inference.
We applied the ODT-model to a dataset in order to identify potential high risk clusters of malaria in a village in Western Africa during the dry season. The ODT results were compared with those of the Kulldorff' s SaTScan™.
Results
The ODT procedure provided four classes of risk of infection. In the first high risk class 60%, 95% confidence interval (CI95%) [52.22–67.55], of the children was infected. Monte-Carlo inference showed that the spatial pattern issued from the ODT-model was significant (p < 0.0001).
Satscan results yielded one significant cluster where the risk of disease was high with an infectious rate of 54.21%, CI95% [47.51–60.75]. Obviously, his center was located within the first high risk ODT class. Both procedures provided similar results identifying a high risk cluster in the western part of the village where a mosquito breeding point was located.
Conclusion
ODT-models improve the classical scanning procedures by detecting potential disease clusters independently of any specification of the shapes, sizes or centers of the clusters.
Keywords
MalariaPotential ClusterAngular SectorCircular WindowHigh Risk Class
Background
Since the development of warning systems and environmental hazards awareness, a wide range of statistical methods has been provided to identify disease clusters and spatial patterns. These methods have been classified into three groups [1–3]:
Tests for focused clustering where the putative source is prespecified [4, 5, 2];
Tests for global clustering with statistics using the distance between cases [6–9];
General tests for localized clusters where the putative source or potential clusters cannot be prespecified [6, 10, 11].
This paper focuses on the latter tests i.e. on general procedures for the determination of spatial patterns. These patterns allow us to localize disease clusters where the disease rate is particularly high. Since the Openshaw's Geographical Analysis Machine (GAM), numerous works have proposed extensions or modifications of this method. The GAM lays out a regular grid of points covering the region under study. Then it generates overlapping circular windows centered at each grid point with constant radii depending on the grid spacing. The procedure is repeated at different predetermined values of the radius and thus defines potential clusters. Alternative procedures use circular windows centered at the observed point locations [10] and scan the area through this irregular grid. The use of squared shaped windows has also been proposed [6]. A general review of spatial methods is provided by Waller and Gotway [12] as well as in several publications [13–15].
The Kulldorff's scan statistic is one of the most interesting and used methods for cluster analysis [16, 1, 17]. The scan statistic is a likelihood ratio based method, which Kulldorff [11] defined without any assumptions about the shape, size or collection of locations for the scanning windows. However, various algorithms are necessary to calculate the test statistics for different defined types of scanning windows. Softwares (e.g. SaTScan™ [18]) have been implemented for some of these particular windows/algorithms. The SaTScan™ imposes on the map circular windows positioned on regular (such as GAM) or irregular grid (defined by the observed point locations). For each center point, the radius varies continuously from zero to a pre-specified upper bound. Each of the circular windows, moving through the different centers and with different radii, is a possible candidate for containing a cluster of cases.
It is noteworthy that the detection of potential clusters is enforced on circular shaped (or squared shaped) windows. The various algorithms applied the scan statistic method to windows centered at either grid or observed point locations. These two procedures define different sets of potential clusters and therefore may not provide exactly the same results. Furthermore, changing the windows' shape may also provide different clusters. Gangnon and Clayton introduced a bayesian approach [19] for clustering which does not require cluster's locations or shapes to be specified but which requires some prior specifications of the distribution of various cluster size and shapes (hierarchical priors). However, given the large number of potential models, the posterior distribution cannot be directly provided. Therefore, Gangnon and Clayton limit the number of models under consideration by using a randomized method to build models with high posterior distributions. They approximate the posterior distribution over the limited number of cluster models incorporating hierarchical prior. Patil and Taillie [20] proposed an adaptation of the scan statistics to detect clusters without restricted shape. It reduces the size of the potential cluster set by determining levels of the rates of cases. The potential cluster set consists on all the connected components that have rates higher than a fixed level. Each level determines a potential cluster set. But the determination of levels is data-dependent. Furthermore in a practical point of view, not all of the observed rates can be used as levels in order to avoid providing a computationally impracticable number of potential cluster sets. Other procedures use stochastic optimization algorithm to reduce the number of examined potential clusters [21]. But again these methods used for the determination of potential clusters are not optimal from a classification viewpoint.
The aim of the present work is to provide an optimal partitioning procedure using Oblique Decision Trees in order to detect spatial patterns and to optimize the potential clusters determination without prior specifications. Rather than using a likelihood ratio test, this new approach, which is not a scan statistic, is based on the calculus of the interclass variance during each of many splits of the space before providing the final pattern.
Results
Oblique Decision Tree
The ODT (Figure
3
) partitioned the village into four risk classes. The explained variability rate is high, i.e. R
v
= 83.96% of the variability is explained by the ODT-model. The global risk of disease (Table
1
) was 32.44%, CI95% [30.09–34.89]. The ODT provided two classes of high infection risk. In the first high risk class (P2), located in the western part of the village (Figure
5
), the risk was 60%, CI95% [52.22–67.55]. In the second high risk class (P3), located in the southern part of the village, the risk was about 50% with a large confidence interval. Note that during the rain season about 80% of the children had a positive blood smear in the whole village. Investigations at this site pointed to a small pond located within the western high risk class, and to ricefields located in the southern part of the village, both having been identified as
Anopheles
(the vector of malaria) breeding places.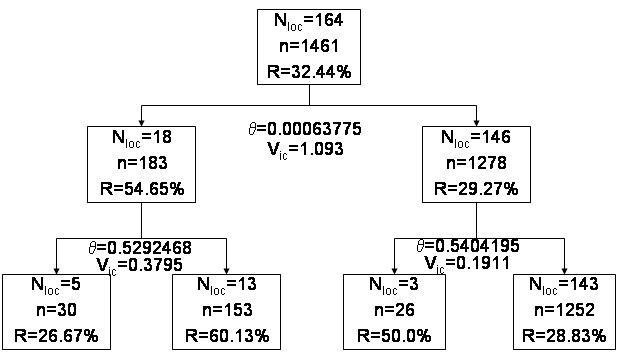 Table 1
Spatial pattern resulting from the ODT-model. The first line refers to the areas without any partition.
Centroid's Coordinatesa

Pop.b

Risk of infection [CI95%]

Number of Locationsc

No pattern

X = -8.266497256

Y = 12.20520982

1 461

32.44% [30.09–34.89]

164

P1

X = -8.270634

Y = 12.202594

30

26.67% [14.18–44.45]

5

P2

X = -8.27019

Y = 12.20438615

153

60.13% [52.22–67.55]

13

P3

X = -8.26849

Y = 12.1999733

26

50.0% [32.06–67.94]

3

P4

X = -8,2659751

Y = 12.205486

1 252

28.83% [26.39–31.4]

143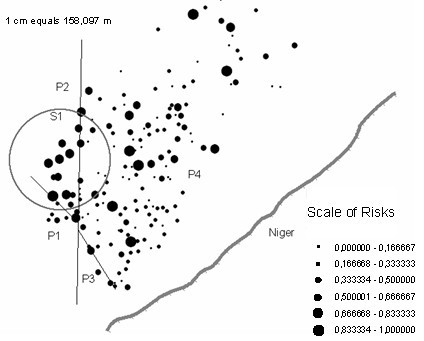 Monte Carlo inference provided a global test, testing the null hypothesis of a homogeneous Poisson distribution of the malaria infection cases within the study area. Under this null hypothesis we provided (999 simulated sets and one observed set) the empirical distribution of the explicated variability rate R
v
(Figure
4
). In this application the R
v
provided by the ODT-model significantly differed (p < 0.0001) from the one provided under the homogeneous Poisson distribution, i.e. the spatial pattern was significant.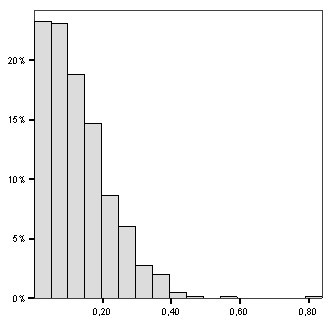 Satscan approach
The Satscan results yielded one significant clusters (Table
2
). In the first cluster (
S1
) the risk of disease was high with an infectious rate of 54.21% (CI95% [47.51–60.75]). Obvioulsy, his center was located within the high risk ODT partition (
P2
) and the risk of disease were similar in S1 and P2 (Figure
5
). The second and third high clusters were not significant, totalizing only one point location each.
Table 2
High risk of malaria spatial clusters in Bancoumana, Mali, march 2000.
Cluster

Coordinatesa

Radius Km

Popb

Risk of infection [CI95%]

Cases Obs/exp

Locc

p d

S1

X = -8.27047

Y = 12.205325

0.27

214

54.21% [47.51–60.75]

Obs:116

Exp:69.43

22

0.001

S2

X = -8.26701

Y = 12.205729

0.00

7

85.71% [48.69–97.43]

Obs:6

Exp:2.27

1

0.998

S3

X = -8.26469

Y = 12.207877

0.00

20

60.00% [38.66–78.12]

Obs:12

Exp:6.49

1

0.999
Discussion
For spatial cluster detection, the specification of the shape and size of the clusters is required rather than using political or administrative definitions of zones. For this purpose scanning methods provide sets of potential clusters but the problem of the choice of the shape still remains. Different scanning grid and different windows' shapes or sizes may provide different sets of potential clusters. To reduce this difficulty we introduced ODT-models with the aim to detect spatial pattern without pre-specifying windows' shape. In contrast to classical scanning procedures, neither the shape, size, nor centroid location have to be specified by the users. Thus, ODT are optimal procedures from the classification viewpoint.
Furthermore the spatial pattern obtained by the ODT-model defines a potential clusters set which can then be tested using the classical Monte Carlo inference. Similarly to Satscan, inference analysis has to avoid multiple testing inherent to such a procedure. The Kulldorffs procedure provides first a potential cluster set. Second, this procedure performs a significance test based on the local likelihood ratio statistic for each cluster in a way that compensates for the multiple testing. In our work we provide a global inference, testing the significativity of the spatial pattern obtained by ODT. Note that, similarly to Kulldorff's inference, likelihood ratio tests can be used to test the spatial pattern.
Recently, Tango proposed a flexibly spatial scan statistic to detect noncircular clusters [41]. But the Tango's method is not practically feasible for large clusters (more than 30 point locations).
Our findings indicate that the ODT-method is consistent with the classical Kulldorf's scan statistic. ODT procedure is thus a classification tool widely usable for spatial pattern detection. When compared to ODT, the scan statistic did not detect the second high risk cluster (P3). This is probably due to the lack of points fitting in this cluster (3 point locations and 26 childrens). The 95% confidence interval of the disease rate in this cluster is large (32.06%-67.94%). Nevertheless, after investigations in the village, a putative source of disease risk has been detected at this location. The two non-significant high risk clusters (S2 and S3) enclose only one point location each. This might explain both the lack of significativity with the satscan method and the lack of detection by the ODT.
After detection of a significant spatial pattern, the next logical step is to test whether this pattern can be explained by known or suspected risk factors. For example in the context of malaria, environmental factors such as mosquitoes breeding sites or thatched habitations might be identified and appropriate measures can be proposed to enhance the disease's control policy.
ODT-models allow for a flexible relationship between the variables. The relationships between covariates do not need to be linear or additive and the interactions do not need to be prespecified or to be of a particular multiplicative form. The literature about tree-based models is increasing particularly for studies focusing on formal inference procedures [31, 36]. In contrast to classical ODT-procedures the algorithm herein described is optimal since it uses neither evolutionary algorithms [32, 34] nor heuristics [22]. While the problem is NP-Hard in RN, the algorithm remains polynomial in R2.
The stability of tree-models can be improved by resampling methods. It is noteworthy that scanning methods such as satscan can also benefit from resampling. Resampling methods may improve the determination of the potential cluster set when the SaTScan™ procedure uses windows centered at each point location. Among different stopping rules, criteria have to be chosen according to the trade-off between variance and bias of prediction. The usually chosen rules are known as flexible and robust methods [31]. But as our application results indicate, less restrictive rule can be used for specific epidemiological dataset in order to improve the interpretation of the ODT-models' output. For rare diseases it might be necessary to use less stringent stopping rules than for diseases characterized by an epidemic evolution. This is related to the definition of "cluster of cases" which depends on the epidemiological profile of the disease.
The risk of infection has a high geographic variability [42, 43] and the knowledge of this variability is essential to enhence malaria control programs' efficiency [44]. Moreover, the detection of high-risk locations is one recommendation of the 20th WHO technical report [45]. In this context, the development of GIS displays data on local malaria cases and then stratification of malaria risk providing the opportunity for more focal (and then efficient) malaria control programs [42].
Conclusion
In conclusion, Oblique Decision Tree is a new approach for spatial pattern detection and has the following features:
ODT improve the classical scanning procedures by providing polygonal potential clusters;
ODT are not bound by fixed centroid locations, sizes or shapes. Thus, first they have an enhanced flexibility. Second, the results are independent from the shape size and center pre-specification;
ODT provide an optimal partition in the classification viewpoint.
Thus, ODT-models favorably compare with other cluster detection methods for spatial epidemiology.
Abbreviations
CART:

Classification And Regression Tree
CI95%:

95% Confidence Interval
GIS:

Geographic Information System
GPS:

Global Positioning System
MC:

Monte Carlo
MRTC:

Malaria Research and Training Center, Bamako, Mali.
ODT:

Oblique Decision Tree
SCE:

sum of squared errors
Declarations
Acknowledgements
This work was supported by the French Research Ministry (PAL+ 2001 Program) and the NIH Grant Mali-Tulane TMRC N° AI 95-002-P50
We thank Dr Bernard Fichet for many valuable discussions, Dr Bernard Giusiano for program improvements, and Dr Joanny Gouvernet for his helpful comments.
Authors' Affiliations
(1)
Medical Statistics and Informatics Research Team, LIF -UMR 6166 – CNRS/ Aix-Marseille University, Faculty of Medicine, Marseille Cedex 05, France
(2)
Immunology and Genetic of Parasitic Diseases, UMR 399 – INSERM/ Aix-Marseille University, Faculty of Medicine, Marseille Cedex 05, France
(3)
Malaria Research and Training Centre, Faculty of Medicine, Pharmacy and Odonto-Stomatology, University of Mali, Bamako, Mali
Copyright
© Gaudart et al; licensee BioMed Central Ltd. 2005
This article is published under license to BioMed Central Ltd. This is an Open Access article distributed under the terms of the Creative Commons Attribution License (http://creativecommons.org/licenses/by/2.0), which permits unrestricted use, distribution, and reproduction in any medium, provided the original work is properly cited.