Debate
Open Access
Open Peer Review
This article has Open Peer Review reports available.
Pragmatic trials in primary care. Methodological challenges and solutions demonstrated by the DIAMOND-study
BMC Medical Research Methodology
2007
7:16
Received: 14 February 2007
Accepted: 23 April 2007
Published: 23 April 2007
Abstract
Background
Pragmatic randomised controlled trials are often used in primary care to evaluate the effect of a treatment strategy. In these trials it is difficult to achieve both high internal validity and high generalisability. This article will discuss several methodological challenges in designing and conducting a pragmatic primary care based randomised controlled trial, based on our experiences in the DIAMOND-study and will discuss the rationale behind the choices we made. From the successes as well as the problems we experienced the quality of future pragmatic trials may benefit.
Discussion
The first challenge concerned choosing the clinically most relevant interventions to compare and enable blinded comparison, since two interventions had very different appearances. By adding treatment steps to one treatment arm and adding placebo to both treatment arms both internal and external validity were optimized. Nevertheless, although blinding is essential for a high internal validity, it should be warily considered in a pragmatic trial because it decreases external validity. Choosing and recruiting a representative selection of participants was the second challenge. We succeeded in retrieving a representative relatively large patient sample by carefully choosing (few) inclusion and exclusion criteria, by random selection, by paying much attention to participant recruitment and taking the participant's reasons to participate into account. Good and regular contact with the GPs and patients was to our opinion essential. The third challenge was to choose the primary outcome, which needed to reflect effectiveness of the treatment in every day practice. We also designed our protocol to follow every day practice as much as possible, although standardized treatment is usually preferred in trials. The aim of this was our fourth challenge: to limit the number of protocol deviations and increase external validity.
Summary
It is challenging to design and conduct a pragmatic trial. Thanks to thorough preparation, we were able to collect highly valid data. To our opinion, a critical deliberation of where on the pragmatic – explanatory spectrum you want your trial to be on forehand, in combination with consulting publications especially on patient recruitment procedures, has been helpful in conducting a successful trial.
Keywords
DyspepsiaTreatment AllocationPatient RecruitmentTreatment StepTrial Medication
Background
Pragmatic trials are designed to investigate how effective a treatment strategy is in everyday practice [1]. The hypothesis and study design in pragmatic trials are developed specifically to answer questions of decision makers and should compare new with existing interventions in the indicated population using relevant health outcomes [2, 3]. Researchers face a number of methodological challenges and need to make several choices in the design and conduct of pragmatic trials. This is especially true for primary care based trials where the broad spectrum of disease presentation and early clinical stage challenges the selection of an adequate study population. Though these challenges greatly influence the external and internal validity as well as the eventual significance of the study results, most publications do not elaborate on the choices made. This paper discusses several challenges in designing and conducting pragmatic primary care based trials we experienced in a large scale multicentre randomised trial on dyspepsia. This might be helpful for other researchers especially in the planning stage of new trials. Our objective is to contribute to quality improvement of pragmatic primary care based trials.
This paper will discuss three challenges in designing a study: choosing the right intervention and blinding treatment allocation, choosing an appropriate study population, and choosing the essential outcome measures. Subsequently the challenges in conducting a study will be discussed focusing on recruitment of participating general practitioners (GPs) and patients, and on dealing with protocol deviations. Each section will start with a brief introduction of pitfalls in general, followed by the rationale behind the choices made within the DIAMOND-study and a speculation of the consequences of our choices. The paper will end with conclusions describing the consequences of our choices for the expected usefulness and relevance of the DIAMOND results.
The DIAMOND trial
The Dutch study of InitiAl Management Of Newly diagnosed Dyspepsia (DIAMOND) investigates the effectiveness of two treatment strategies for dyspepsia: the step-up treatment strategy and the step-down treatment. The step-up treatment starts with antacids and, if the symptoms persist or recur, builds up to stronger medication, while the step-down treatment starts with the strongest drug (proton pump inhibitor (PPI)) and reduces stepwise to H2-Receptor Antagonists (H2RA) and antacids as long as the symptoms persist or recur. In
Table
1
,
2
,
3
,
4
and Figure
1
,
2
the design and research questions of the DIAMOND-study are described. The protocol of DIAMOND is registered on (identifier: NCT00247715)
[
4
].
It is a pragmatic, large multicentre randomised controlled trial in primary care running from 2003 till 2007, in which 664 patients with dyspepsia were included and more than 300 GPs participated. The study is conducted with the joint expertise of three academic research centres from both primary and secondary care. While within DIAMOND besides effectiveness also cost-effectiveness will be analysed, this paper will focus on the evaluation of clinical end-points. Economic evaluation trials are facing specific methodological challenges, which are described for instance by Ramsey et al. and Tunis et al
. [
3
,
5
].
Table 1
The primary and secondary aims of DIAMOND
Primary aim of DIAMOND:
• To investigate which treatment strategy, "step-up" or "step-down" treatment, was the most (cost-)effective initial management strategy for patients with a new episode of dyspepsia in primary care.
Secondary aims of DIAMOND:
• To investigate which factors influence the severity of the GI complaints.
• To investigate which factors determine compliance with dyspepsia medication prescriptions and compliance with advised lifestyle changes.
• To investigate which factors influence treatment success.
Table 2
Inclusion and exclusion criteria of DIAMOND
1. Patients are included when they visit their GP for complaints of which the GP thinks that they originate from the upper GI tract and for which acid-suppressive medication can be effective.
2. Patients are included when they are 18 years or older.
3. Patients are excluded when they have used prescribed acid-suppressive medication in the last 3 months before inclusion.
4. Patients are excluded when they have had a gastroscopy in the year prior to inclusion.
5. Patients are excluded when they have alarming symptoms.
6. Patients are excluded when there are contraindications for prescribing acid-suppressive medication, such as pregnancy, liver or kidney malfunction.
7. Patients are excluded when they are not able to fill out (Dutch) questionnaires, for example because of language problems.
Table 3
DIAMOND inclusion and treatment protocol
1. When a patient visits the GP, the inclusion and exclusion criteria are checked.
2. When the patient meets the criteria, the GP informs the patient about DIAMOND. When the patient wants to participate, he or she provides an informed consent.
3. The GP hands out the patient the medication for step 1. The medication is packed in boxes and is provided to the GP at the start of the study. Each box contains all the medication steps for one patient. The patient numbers on the boxes are linked to the numbers on the randomisation list in a sealed envelope kept at the researchers' office.
4. A blood sample is taken.
5. The patient receives the first questionnaire from the GP to fill out at home. Other questionnaires are sent to patients (Table 4).
6. The patient is treated according to the treatment protocol (see Figure 1 and 2). If the symptoms continue or relapse within 8 weeks after starting the medication step, the patient starts with the next treatment step. It is possible to shorten the treatment steps into less than 4 weeks, for instance when the patient suffers from side effects. The patient and GP are advised to schedule a follow-up visit at 4 weeks, which should be cancelled when the complaints are resolved.
7. When symptoms continue or relapse after medication step 3, the GP can treat the patient according to their own judgement.
8. The GP and the patient are informed six months after inclusion about the treatment allocation and the test results from the blood sample (whether the patient was infected with Helicobacter pylori).
Primary health outcome: Adequate symptom relief at 6 months according patients
Secondary health outcomes:
Severity of the GI complaints (at 2 weeks and after each treatment step)
Quality of life at 6 months (at 2 weeks and after each treatment step)
Additional research questions investigated:
- The cost-effectiveness of both treatment strategies.
- The association between genetic determinants and dyspepsia and treatment success.
- Compliance with prescribed medication advices and life-style advices and which factors influence compliance.
- The association between psychosocial determinants and dyspepsia and treatment success.
Self-administered questionnaires used:
- General questionnaire to measure effect of the treatment, costs, work absenteeism, demographical determinants, co-medication used and life-style.
- Gastrointestinal Symptoms Questionnaire; EuroQol 5D; SF 36; Compliance Questionnaire; SCL 90; Health Hardiness; Utrechts Coping List; Major Life Events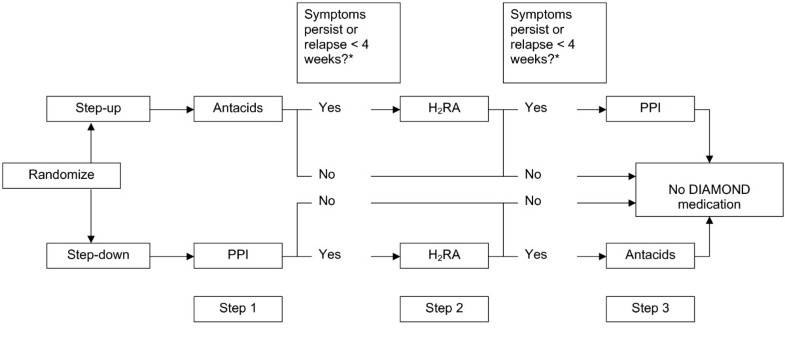 Discussion
Challenges in designing a study
Challenges in conducting a study
The consequences of our choices for the usefulness and relevance of the DIAMOND results
The results of this study are useful/relevant for policy makers, patients, GPs and researchers because a large population of well defined patients, which is generalisable to the Dutch population of patients with a new episode of dyspeptic symptoms. The study has a high internal validity because of the random treatment allocation, and the concealment of treatment allocation/blinding, which increases the value of the results for policy makers. However, the external validity is decreased by the use of step-down treatment instead of PPI-treatment (which is more common in every day practice) and by the blinding. Consequently, it is difficult to say what the effect of both treatment strategies will be if performed in every day practice.
In order to adapt the study protocol to routine daily practice, a multistep protocol was designed. Although this resembles everyday practice it makes analysis more difficult, because not all patients are in the same treatment step at a certain point in time, and because the period of time between finishing the trial medication and registration of the primary outcome may vary from patient to patient. In case this period is long, the primary outcome may be influenced by follow-up treatment chosen by the GP. This may decrease any differences between the treatment strategies, but on the other hand the primary outcome does provide essential information about the effectiveness of actual primary care treatment for dyspepsia. Furthermore, the differences between the two treatment strategies can be analyzed in more detail by analyzing the secondary endpoints (at 4 weeks, 12 weeks, etc...). Therefore, the trial design as presented will provide important insights in various strategies for treatment of dyspepsia in primary care.
Summary
Pragmatic trials must ensure a high generalisability without compromising internal validity, which is very challenging [24]. Therefore, a critical appraisal of the planned design and method to conduct the trial before actually starting to collect data is essential. When several publications on patient recruitment or other pitfalls in designing/conducting a pragmatic trial are consulted, one may increase the likelihood of conducting a successful trial. Furthermore, it is very important to set priorities beforehand where on the 'spectrum from explanatory to pragmatic' you want your trial to be: do you want to know the "unbiased" effect of the treatment (as in explanatory trials) or are you more interested in the effects in daily primary care (as in pragmatic trials)? For instance, we chose to blind treatment allocation because otherwise prejudices of GPs, patients and researchers might have biased the results, although blinding contrasts with the purpose to reflect every day practice in pragmatic trials. On the other hand, we chose to use flexible treatment protocol to reflect every practice, what again might contrast with using standardized treatment in explanatory trials.
This paper shows that while we did not compare the two most frequently used treatment strategies in the DIAMOND-study, we were still able to collect highly valid data because of the blinded randomised treatment, the randomly selected heterogeneous patient sample and the research protocol that closely fits to normal practice. Although it is very difficult to recruit as many GPs and patients as needed, success can be determined by careful consideration of how the GPs and patients will be optimally recruited and what their reasons to participate or to refuse participation will be. Our experiences with the DIAMOND-study give an indication of what success rates regarding GP and patient recruitment and questionnaire response can be expected in similar studies.
Declarations
Acknowledgements
The DIAMOND-study is financially supported by the Netherlands Organisation for Health Research and Development (ZonMw), which is a non-profit organisation. We wish to thank all reviewers for their useful comments on our paper.
Authors' Affiliations
(1)
Research Institute Caphri, Department of General Practice, Maastricht University, Maastricht, The Netherlands
(2)
Department of Gastroenterology & Hepatology, Radboud University Medical Centre, Nijmegen, The Netherlands
(3)
Julius Centre for Primary Care and Health Sciences, Utrecht University Medical Centre, Utrecht, The Netherlands
(4)
Department of Gastroenterology & Hepatology, Utrecht University Medical Centre, Utrecht, The Netherlands
Copyright
© Fransen et al; licensee BioMed Central Ltd. 2007
This article is published under license to BioMed Central Ltd. This is an Open Access article distributed under the terms of the Creative Commons Attribution License (http://creativecommons.org/licenses/by/2.0), which permits unrestricted use, distribution, and reproduction in any medium, provided the original work is properly cited.