Research Article
Open Access
Open Peer Review
This article has Open Peer Review reports available.
A measure of the impact of CV incompleteness on prediction error estimation with application to PCA and normalization
BMC Medical Research Methodology
2015
15:95
Received: 24 June 2015
Accepted: 19 October 2015
Published: 4 November 2015
Abstract
Background
In applications of supervised statistical learning in the biomedical field it is necessary to assess the prediction error of the respective prediction rules. Often, data preparation steps are performed on the dataset—in its entirety—before training/test set based prediction error estimation by cross-validation (CV)—an approach referred to as "incomplete CV". Whether incomplete CV can result in an optimistically biased error estimate depends on the data preparation step under consideration. Several empirical studies have investigated the extent of bias induced by performing preliminary supervised variable selection before CV. To our knowledge, however, the potential bias induced by other data preparation steps has not yet been examined in the literature. In this paper we investigate this bias for two common data preparation steps: normalization and principal component analysis for dimension reduction of the covariate space (PCA). Furthermore we obtain preliminary results for the following steps: optimization of tuning parameters, variable filtering by variance and imputation of missing values.
Methods
We devise the easily interpretable and general measure CVIIM ("CV Incompleteness Impact Measure") to quantify the extent of bias induced by incomplete CV with respect to a data preparation step of interest. This measure can be used to determine whether a specific data preparation step should, as a general rule, be performed in each CV iteration or whether an incomplete CV procedure would be acceptable in practice. We apply CVIIM to large collections of microarray datasets to answer this question for normalization and PCA.
Results
Performing normalization on the entire dataset before CV did not result in a noteworthy optimistic bias in any of the investigated cases. In contrast, when performing PCA before CV, medium to strong underestimates of the prediction error were observed in multiple settings.
Conclusions
While the investigated forms of normalization can be safely performed before CV, PCA has to be performed anew in each CV split to protect against optimistic bias.
Keywords
Cross-validationError estimationOver-optimismPractical guidelinesSupervised learning
Background
In supervised statistical learning, it is widely recognized that prediction models should not be constructed and evaluated using the same dataset. While the training dataset is used for all steps towards obtaining the prediction rule, the test dataset is used to evaluate its prediction error and, ideally, should not be at all involved in the training phase. Cross-validation and related procedures consist of considering several divisions into training data and test data and averaging the estimated prediction errors of the respective prediction rules constructed in each iteration. In our paper we use K-fold cross-validation ("CV"), but all ideas and procedures can be extended to other resampling techniques used for prediction error estimation.
By "incomplete CV" [1], we are referring to CV procedures in which some analysis steps are performed beforehand using the whole dataset. With incomplete CV, at each iteration the excluded fold acting as test data may affect the derived prediction rule, since it was preliminarily used for data preparation—which contradicts the principle of test data requiring perfect separation [2]. In contrast, if all steps leading to the prediction rules are performed in each CV iteration using only the corresponding training set, the CV procedure is "full CV".
The problems resulting from incomplete CV have been extensively studied in the literature with regard to preliminary variable selection for classification based on high-dimensional microarray data [1, 3–5]. If performed before splitting the dataset into K folds, supervised variable selection often leads to strongly downwardly biased error estimates. The now widely adopted procedure to avoid this problem consists of conducting the variable selection step in each CV iteration anew using the training dataset only [1, 3], i.e. considering it as part of the classifier construction process. Similarly, it has been suggested that parameter tuning should be performed using the training dataset only [6–8]. However, the bias resulting from incomplete CV with respect to parameter tuning has to our knowledge never been investigated in the literature.
Variable selection and parameter tuning are—by far—not the only procedures often run in practice before CV. For example, raw data from high-throughput biological experiments such as microarrays have to be normalized before so-called high-level analyses such as predictive modeling can be conducted. The selection of features which exhibit high variability across the observations is another example of a data preparation step often performed when analyzing microarray data. Further examples relevant to any type of data include imputation of missing values, dichotomization and non-linear transformations of the features. In this paper, all these procedures are designated preparation steps to stress that they are performed before the construction of the prediction rule. Preparation steps are not limited to these few examples. The analysis of growingly complex biomedical data (including, e.g., imaging or sequencing data) increasingly requires the use of sophisticated preprocessing steps for making raw data analysable. Note, however, that the question of the impact of CV incompleteness is not relevant to those data preparation steps which prepare the observations independently of each other, such as background correction for microarray data.
It is an open question whether preparation steps lead to underestimation of the prediction error if performed before splitting the dataset into K folds, as seen with variable selection. To date there seems to be no consensus on whether it is necessary to include all steps in CV: Some authors postulate that all steps are required to be included [9], which seems to be done rarely, regardless; others only suggest this procedure for variable selection [3] or more general supervised steps [10].
Practical problems which deter researchers from performing full CV are, among others, the computational effort often implied by the repetition of time-intensive preparation steps, that some preparation steps such as variable selection are sometimes conducted "in the lab" before the data are given to the statistician [11], and the lack of user-friendly implementations of addon procedures allowing the adequate preparation of the excluded fold when the preparation step has been conducted using the training folds only; see the section Addon procedures for more details on addon procedures. Another example is genotype calling in the context of genetic association studies: it is common practice to use not only the whole dataset of interest, but also further datasets, to improve genotype calling accuracy.
In the context of high-dimensional data, two further important preparation steps often performed using the whole dataset are dimension reduction procedures such as Principal Component Analysis (PCA) and normalization—for example normalization using the RMA ("Robust Multi-array Average") method [12] for microarray gene expression data. It is not clear whether the resulting prediction error estimate is optimistically biased if one applies these two methods to the whole dataset before splitting the data into K folds. In an effort to answer this question we present a new measure which enables the quantification of the impact of incomplete CV with regard to steps of interest, the "CV Incompleteness Impact Measure" (CVIIM). It is based on the ratio of the CV prediction error resulting when the investigated preparation steps are applied only once using the whole dataset to the CV prediction error resulting when they are incorporated into CV. By incorporating preparation steps into CV we mean that they are performed in CV on each training dataset anew and subsequently applied to the excluded fold via so-called addon procedures.
The goal of this paper is two-fold: (i) to provide a new measure—the "CVIIM"—which is intended to be used by methodological researchers or statisticians working on statistical learning applications to determine whether a particular preparation step should—in general—be trained in each CV iteration successively or whether it can be safely performed as a preliminary step on the whole dataset without generating a relevant optimistic bias; and (ii) to apply this new measure to answer this question and provide guidelines for two important preparation steps, PCA and normalization, in the case of high-throughput molecular data.
The paper is structured as follows: the section Methods first presents the microarray gene expression datasets used in our studies, the concept of addon procedures and the two methods—normalization and PCA. Then we introduce CVIIM and briefly illustrate its use and behavior in the well-investigated case of variable selection, using four example datasets. Concluding this section we describe the designs of the studies on the impact of CV incompleteness with respect to normalization and PCA; the results of these studies are presented in the section Results. In the section Discussion we present preliminary results obtained for other data preparation steps and discuss further issues. The section Conclusions summarizes the main conclusions of the paper.
Results
Normalization
Figure
2
depicts the CVIIM
s
,
n,K
-values from the normalization study together with the estimates of global CVIIM. The latter are also given in Table
3
. For both normalization approaches we observe very small CVIIM
s
,
n,K
-values for all datasets and both classifiers. In the majority of cases the measure estimates suggest no bias resulting from incomplete CV for normalization as defined by our rule of thumb. The global CVIIM estimates seem to confirm that in general there is no bias. We obtain slightly higher values for PLS-LDA than for NSC, but the difference is not noteworthy.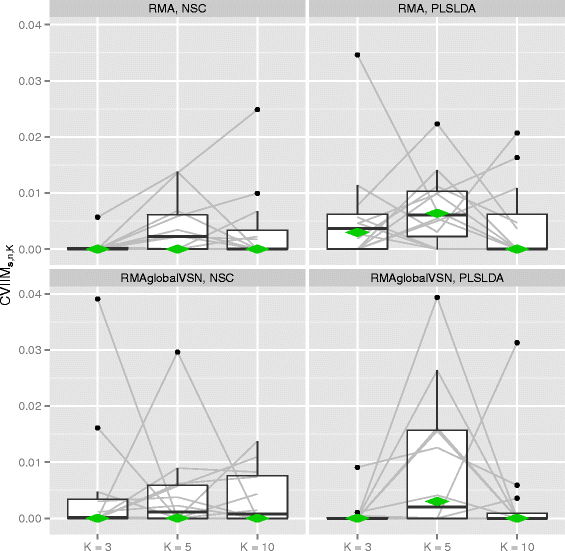 Table 3
Estimates of global CVIIM from the normalization study
| Normalization | Classification | K=3 | K=5 | K=10 |
| --- | --- | --- | --- | --- |
| method | method | | | |
| RMA | NSC | 0.0000 | 0.0000 | 0.0000 |
| | PLS-LDA | 0.0030 | 0.0064 | 0.0000 |
| RMAglobalVSN | NSC | 0.0000 | < 0.0001 | 0.0000 |
| | PLS-LDA | 0.0000 | 0.0030 | 0.0000 |
For the individual datasets there is no visible dependency of the measure estimates on K, although in general we expect a negative dependency; see the section Further issues for a discussion of this topic. The fact that we do not observe such a decrease with K for normalization can likely be explained by the small values of the estimates: eincompl,K(s) and efull,K(s) are very similar here. Therefore the non-systematic fluctuations across the different K-values are attributable to small—probably random—fluctuations of eincompl,K(s) and efull,K(s) over K, which could overshadow a potential dependency on K.
In contrast to the section Illustration, we do not present iteration-based error bars for the individual CVIIMs,n,K-values here. When depicting the results of a study with a larger number of datasets individual error bars make the corresponding plots increasingly unclear. Instead in this situation we focus on the distribution of the CVIIMs,n,K-values across datasets—the results over individual datasets are less important. Nevertheless extreme individual results should be examined more closely.
Given the small CVIIM estimates we conclude that RMA and RMA with global VSN can be safely performed before CV without inducing a relevant bias in the resulting error estimate.
Principal component analysis
Figure
3
and Table
4
show the results of the PCA study. Note that the scale of Fig.
3
is much larger than that of the corresponding plot for normalization (Fig.
2
). Globally the results suggest a weak but existent underestimation of the true error E[
e
full,K
(
S
)] by performing PCA before CV. Exceptions are LDA in those instances where the number of components is greater than five, where zero values of the global CVIIM-estimates are obtained.
Table 4
Estimates of global CVIIM from the PCA study
| Classification | Number of | K=3 | K=5 | K=10 |
| --- | --- | --- | --- | --- |
| method | components | | | |
| LDA | 2 | 0.0974 | 0.0805 | 0.0582 |
| | 5 | 0.0397 | 0.0371 | 0.0354 |
| | 10 | 0.0000 | 0.0000 | 0.0000 |
| | 15 | 0.0000 | 0.0000 | 0.0000 |
| RF | 2 | 0.0855 | 0.0747 | 0.0659 |
| | 5 | 0.0686 | 0.0558 | 0.0516 |
| | 10 | 0.0907 | 0.0613 | 0.0368 |
| | 15 | 0.1117 | 0.0988 | 0.0794 |
For LDA the impact of incomplete CV seems to diminish with an increasing number of components in PCA. The global CVIIM-estimates are in general larger for RF than for LDA. While the overall effects of performing PCA before CV seem to be weak, Fig. 3 reveals that there are several settings in which the CVIIM-estimates suggest a strong bias—according to our rules of thumb—for a non-neglible number of datasets. Therefore, these results strongly suggest the use of full CV over incomplete CV with respect to PCA.
A closer look at Table 4 reveals that, in general, the global CVIIM-estimates decrease with increasing value of K (for all settings with non-zero values). For example, this decrease is noticeable for LDA with ncomp=2 and RF with ncomp=10. This suggests that the estimates of global CVIIM are overly high in these cases, due to the greater upward bias of efull,K(s) compared to eincompl,K(s) as detailed in the section Further issues. The global CVIIM-estimates depend on the means in the efull,K(s)- and the eincompl,K(s)-values calculated over the included datasets. The decrease with larger values of K is induced by the mean of the efull,K(s)-values becoming more similar to the mean of the eincompl,K(s)-values with increasing value of K. For most settings we do not observe a substantial decrease of the global CVIIM-estimates. This suggests that the two cases for which the decrease with K was strong are connected to aberrant results for individual datasets, which was confirmed by more closely inspecting the individual values obtained for each setting and each dataset.
Motivated by this observation we performed a simple type of sensitivity analysis. First for each of the two settings we left out the dataset which displayed the largest difference between efull,3(s) and efull,10(s) and re-estimated the global CVIIM-values. For the LDA with ncomp=2 the results were 0.0812 (K=3), 0.0681 (K=5) and 0.0524 (K=10), and for RF with ncomp=10 we obtained 0.0590 (K=3), 0.0351 (K=5) and 0.0222 (K=10). The values are obviously more similar across the three different K-values for both settings compared to the results obtained when using all 20 datasets; see again Table 4. This is especially noticeable in the case of the values for K=5 and K=10 in "LDA with ncomp=2". Nevertheless there are still significant differences. Therefore, as a second step we repeated the same procedure, this time however leaving out the three datasets with the largest differences between efull,3(s) and efull,10(s). The results were: 0.0676 (K=3), 0.0575 (K=5) and 0.0499 (K=10) for LDA with ncomp=2, and 0.0067 (K=3), 0.0000 (K=5) and 0.0000 (K=10) for RF with ncomp=10. For the former setting the similarity across K-values has obviously increased, while at the same time the sizes of the values have not decreased strongly. The (almost) zero-values for the second setting are quite striking given that we observed values as high as 0.0907 for K=3 when using all 20 datasets. We also performed the same analysis for all other settings (results not shown): the global CVIIM-estimates in these settings tended to be more robust to the removal of datasets than the ones of the settings presented here. These results—especially those obtained for the setting "RF with ncomp=10"—illustrate that a strong decrease in the global CVIIM-estimates with increasing value of K should be interpreted with caution. We recommend performing sensitivity analysis in the form of the one conducted here in such cases.
Discussion
In this section we first discuss possible alternative measures of CV incompleteness—using the PCA example—and why we deem them less appropriate than our measure CVIIM. Then we present as an outlook some preliminary results obtained for further data preparation steps beyond normalization and PCA. Finally, we discuss various further issues related to CVIIM.
Conclusions
In conclusion, the empirical study using our new measure of CV incompleteness suggests that 1) RMA normalization and RMA normalization in combination with global VSN can be safely performed as preliminary data preparation steps on the whole dataset, since they yielded very small CVIIM-values for all 12 analyzed real datasets; 2) PCA has to be performed anew in each CV iteration—i.e. re-trained on each training set—to protect against a potential optimistic bias, since it yielded large CVIIM values in some of the 20 analyzed real datasets. The latter result shows that non-supervised data preparation steps can also lead to over-optimistic error estimation if performed before CV. Given the ubiquitous use of RMA in microarray analysis it is reassuring that the common practice of performing RMA before CV is not harmful.
Due to the complexity of modern biological data, traditional model assessment tools are often not appropriate or even employable and CV is the method of choice in evaluating prediction models. It is thus especially important to have reliable guidelines for its application. Moreover, data preparation is becoming increasingly important, especially for data generated by high-throughput technologies. The need to empirically evaluate the impact of CV incompleteness with regard to these data preparation steps likewise increases. Our paper illustrates—through the application to important data preparation steps—that CVIIM is a useful tool in this endeavor.
Abbreviations
CV:

Cross-validation
CVIIM:

CV incompleteness impact measure
INIMEs:

iterationwise non-truncated incompleteness measure estimates
LDA:

Linear discriminant analysis
NSC:

Nearest shrunken centroids
PCA:

Principal component analysis
PLS-LDA:

LDA performed on partial least squares components
RF:

Random forest
RMA:

Robust multi-array average
RMAglobalVSN:

RMA where the quantile-normalization step is expanded by VSN without calibration
VSN:

Variance stabilization normalization
Declarations
Acknowledgements
This research was supported by the German Science Foundation (DFG-Einzelförderung BO3139/3-1 to Anne-Laure Boulesteix). We are grateful to Michael Schmaußer for providing the GenitInfCow datasets used in Appendix D (Additional file 2).
Open Access This article is distributed under the terms of the Creative Commons Attribution 4.0 International License(http://creativecommons.org/licenses/by/4.0/), which permits unrestricted use, distribution, and reproduction in any medium, provided you give appropriate credit to the original author(s) and the source, provide a link to the Creative Commons license, and indicate if changes were made. The Creative Commons Public Domain Dedication waiver(http://creativecommons.org/publicdomain/zero/1.0/) applies to the data made available in this article, unless otherwise stated.
Authors' Affiliations
(1)
Department of Medical Informatics, Biometry and Epidemiology, University of Munich, Munich, Germany
(2)
Leibniz Supercomputing Center, Garching, Germany
(3)
Clinical and Innovation Proteomic Platform, Pôle de Recherche Université de Bourgogne, Dijon, France
(4)
Department of Urology, University of Munich, Munich, Germany