Research article
Open Access
Open Peer Review
This article has Open Peer Review reports available.
Research waste in diagnostic trials: a methods review evaluating the reporting of test-treatment interventions
BMC Medical Research Methodology
BMC series – open, inclusive and trusted
2017
17:32
Received: 13 July 2016
Accepted: 22 December 2016
Published: 24 February 2017
Abstract
Background
The most rigorous method for evaluating the effectiveness of diagnostic tests is through randomised trials that compare test-treatment interventions: complex interventions comprising episodes of testing, decision-making and treatment. The multi-staged nature of these interventions, combined with the need to relay diagnostic decision-making and treatment planning, has led researchers to hypothesise that test-treatment strategies may be very challenging to document. However, no reviews have yet examined the reporting quality of interventions used in test-treatment RCTs. In this study we evaluate the completeness of intervention descriptions in a systematically identified cohort of test-treatment RCTs.
Methods
We ascertained all test-treatment RCTs published 2004–2007, indexed in CENTRAL. Included trials randomized patients to diagnostic tests and measured patient outcomes after treatment. Two raters examined the completeness of test-treatment intervention descriptions in four components: 1) the test, 2) diagnostic decision-making, 3) management decision-making, 4) treatments.
Results
One hundred and three trials compared 105 control with 119 experimental interventions, most commonly in cardiovascular medicine (35, 34%), obstetrics and gynecology (17%), gastroenterology (14%) or orthopedics (10%). A broad range of tests were evaluated, including imaging (50, 42%), biochemical assays (21%) and clinical assessment (12%). Only five (5%) trials detailed all four components of experimental and control interventions, none of which also provided a complete care pathway diagram. Experimental arms were missing descriptions of tests, diagnostic-decision making, management planning and treatments (36%, 51%, 55% and 79% of trials respectively); control arms were missing the same details in 61%, 66%, 67% and 84% of trials.
Conclusion
Reporting of test-treatment interventions is very poor, inadequate for understanding the results of these trials, and for comparing or translating results into clinical practice. Reporting needs to improve, with greater emphasis on describing the decision-making components of care pathways in both pragmatic and explanatory trials.
Please see the companion paper to this article: http://bmcmedresmethodol.biomedcentral.com/articles/10.1186/s12874-016-0287-z.
Keywords
RCTTest-treatmentTest EvaluationDiagnostic accuracyPatient outcomesReporting qualityIntervention reporting
Background
Healthcare interventions need to be described with adequate detail in reports of randomized controlled trials (RCTs) to allow clinicians and other decision-makers to implement effective interventions reliably [1], whilst enabling researchers to understand why an intervention may not have been successful. Inadequate intervention descriptions also hinder our ability to examine the validity of trials, and accurately determine their eligibility for inclusion in systematic reviews. Yet a growing number of reviews find that interventions are often very poorly described [2–7].
Guidelines detailing reporting standards for protocols and final reports of RCTs provide some guidance on describing study interventions. Adequate reporting of trial interventions has been widely encouraged since 2001 [8], the most recent guidance from CONSORT [9] (Consolidated Standards of Reporting of Trials, item 5) and SPIRIT [10] (Standard Protocol Items: Recommendations for Interventional Trials, item 11) recommends that trial protocols and reports should describe "interventions for each group with sufficient detail to allow replication, including how and when they will be administered". Most recently, the TIDieR initiative (Template for Intervention Description and Replication) has introduced a checklist extension to SPIRIT and CONSORT to help researchers to more fully describe interventions, with the ultimate aim of improving their replicability [11].
Complex interventions have the added challenge of multiple interacting components, each of which needs to be described in adequate detail to allow replication. Some fields, such as physiotherapy and psychology, document standardized interventions in treatment manuals, however, a recent review of 137 nonpharmacologic RCTs found that such materials are infrequently (47%) published [4]. Studies comparing the reporting quality of pharmaceutical with nonpharmacologic interventions have concluded that complex interventions are particularly difficult to describe, standardize, reproduce and administer consistently [2, 6, 12].
Randomized trials evaluating the effects of diagnostic tests on patient outcomes are widely heralded as the most rigorous method for evaluating the effectiveness of tests [13–15]. They evaluate complex interventions comprising steps of testing, decision-making and treatment. Notably, each patient does not receive the same treatment: rather the treatment choice is personalized by decision-making incorporating the results of the tests obtained in the first step with existing diagnostic information, additional testing, and the preferences and values of patients and clinicians, all within the context of a particular health setting. Test-treat interventions can be evaluated in various study designs [16]. RCTs are not always necessary, and are often expensive and difficult to undertake. Our companion review of the methodological quality of the trials in this cohort indicates that they suffer inherent methodological challenges and are often at risk of bias due to poor methodological quality [17].
A description of a test-treatment strategy thus involves four main steps: 1) a test is undertaken; 2) the test result is used (often with other information) to place patients into diagnostic categories; 3) a management plan is determined for patients in each category; 4) the treatments are delivered. For example, a trial may investigate whether abdominal computed tomography (CT) in patients presenting with suspected acute appendicitis improves patient outcomes (Fig.
1
) [
18
]. The complex intervention being trialed includes: 1) a CT scan; 2) categorizing each patient according to features observed alongside existing diagnostic information into different diagnostic groups (such as highly likely appendicitis, possibly appendicitis, urinary tract infection, gastroenteritis, or ectopic pregnancy); 3) making a management plan for patients in each group (such as immediate surgery, watch and wait, antibiotics); 4) delivering the treatments.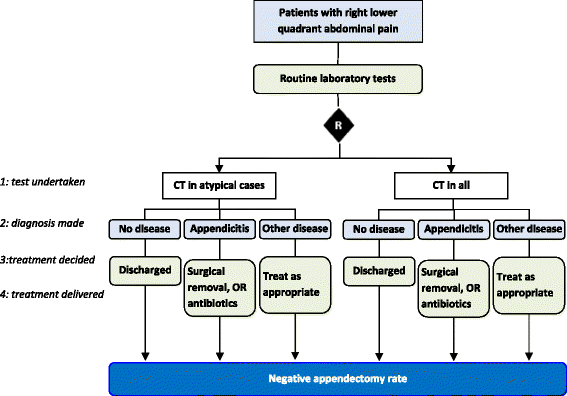 Diagnostic and therapeutic decision-making are renowned for being highly variable: the interpretation of test results is likely to differ according to expertise [19, 20], clinicians have individual attitudes to the balance of risks resulting from missing diagnoses or over-treating patients [21], while patients have highly variable attitudes and perceptions toward their management [22, 23]. Small-scale observations have reported a common lack of intervention detail, particularly for the decision-making elements of test-treatment strategies [24–26]. Consequently, researchers have hypothesized that test-treatment strategies may be very challenging to document [16, 25, 27, 28]. However, no reviews have yet examined the reporting quality of interventions used in test-treatment RCTs.
In this study we evaluate the quality of reporting of test-treatment interventions in a systematically identified cohort of trials of diagnostic tests to determine reporting rates for each component of the experimental and control interventions.
Methods
Search
We searched the Cochrane Central Register of Controlled Trials (CENTRAL, Issue 2 2009) for test-treatment RCTs that were published between 2004 and 2007 using a validated, previously published strategy [
29
] developed by information specialists comprising general diagnostic and methodology terms (Table
1
). CENTRAL was used because it includes all reports of RCTs indexed as study types in MEDLINE and identified from systematic, sensitive searches of both MEDLINE and EMBASE, additional hand-searched material, and other extensive database searches contributed through the Cochrane specialized registers.
Table 1
Search strategy for test-treatment RCTs
Search strategy

Hits

#1

Sensitiva or diagnose or diagnosis or diagnostica in Clinical Trials

70,052

#2

Randoma in Clinical Trials

335,175

#3

"Study design" next "rct" in Clinical Trials

150,275

#4

(#2 OR #3)

449,453

#5

(#1 AND #4)

50,419

#6

(#5), from 2004 to 2007

12,892
Study selection
Eligible trials randomized patients between diagnostic testing strategies and measured at least one patient outcome occurring after treatment. We excluded trials evaluating tests for screening and monitoring, and non-English language studies. Duplicate records were identified using title-based sorting in Microsoft Access, and during full-text screening. Multiple publications relating to a single trial were assimilated through cross-referencing, with all material used for analysis. Titles and abstracts of potentially relevant studies were screened by one author (LFR) and full-text reports of relevant abstracts reviewed to determine inclusion. A random 10% sample of citations was screened independently by a second author (CD) to measure the reliability of the screening process [29]. Discrepancies in the relevance of full articles were discussed and resolved by consensus.
Data extraction and analysis
Trials were classified by journal type (general medical journals, publishing on any medical topic, vs specialist journals), trial design, clinical specialty and care setting. Test-treatment strategies were classified according to the diagnostic technologies evaluated and the type of diagnostic comparison, namely whether a new test was compared to an existing test, ('replacement' comparison), used to filter which patients should receive an existing test, ('triage' comparison), or added to an existing testing strategy ('add-on' comparison). Experimental study groups were defined by specific reference to a new test to be introduced under evaluation. Control arms were identified when referred to as the comparator, current care standard or common clinical practice. In a minority of cases (7/103, 7%), the control arm was identified implicitly by the manner in which study results were discussed.
We appraised written descriptions of intended test-treatment strategies in four components. We defined these components using published frameworks that outline which essential elements of test-treat pathways lead to changes in patient health. These commonly present three steps: information, decision, and action [30, 31], which recently have been extended [23] to fully separate the process of diagnosis from that of subsequent treatment. The resulting four components are: 1) The Test: what diagnostic test was given and how was it performed? 2) Diagnostic decision-making: how was the output from the test categorized and used to define diagnostic groups? 3) Management decision-making: how was each diagnostic group managed? 4) The Treatment: what interventions were given and how?
Reporting of each component was assessed as present or absent. A component was judged as reported if any description was provided or cited in any publications reporting on a given trial. This included related publications not identified by the project search (e.g., design protocols, original trial reports, long-term follow-up papers), that were traced through citations and author-title searches of Medline. We also systematically retrieved the full text of cited descriptions to check whether citations were relevant. We did not require descriptions to be sufficient to allow the replication of interventions, as required by CONSORT or TIDier; therefore while our assessments are objective, they will overestimate the proportion of trials complying with CONSORT or TIDieR. Components 1) and 4) were judged as reported if the name of the test (component 1) or treatment (component 4) were given plus any one additional piece of relevant information (for example the threshold for a test, or a dose for a drug); articles providing only the name of the test or treatment were considered as inadequately reported. Components 2) and 3) were judged as present if any information was given on decision-making (such as how particular test results confer a particular diagnosis, or how treatments were selected for different diagnoses). Where trials contained a 'no testing' arm (for example, comparing test driven therapy against empirical therapy) only item 4) was recorded, items 1)-3) were coded as not applicable. The numbers of reported items were compared across test types and care settings.
Reports were also appraised for their use of diagrams to explain the care pathway algorithms, following good practice recommendations by the MRC for the evaluation of complex interventions [32]. Diagrams were considered complete if they conveyed all four test-treatment components for each trial arm, and partially reported if at least one component was not represented in any trial arm.
Extraction and quality assessment was performed independently in duplicate by four authors (LFR, JD, STP, JJD). Findings are described using percentages.
Results
The search strategy retrieved 12,892 citations (Table
1
), of which 1401 were screened in duplicate. Agreement was substantial (k = 0.74), and full concordance results have previously been published [
29
]. The final cohort contained 103 trials comparing 105 control interventions with 119 experimental interventions (Fig.
2
).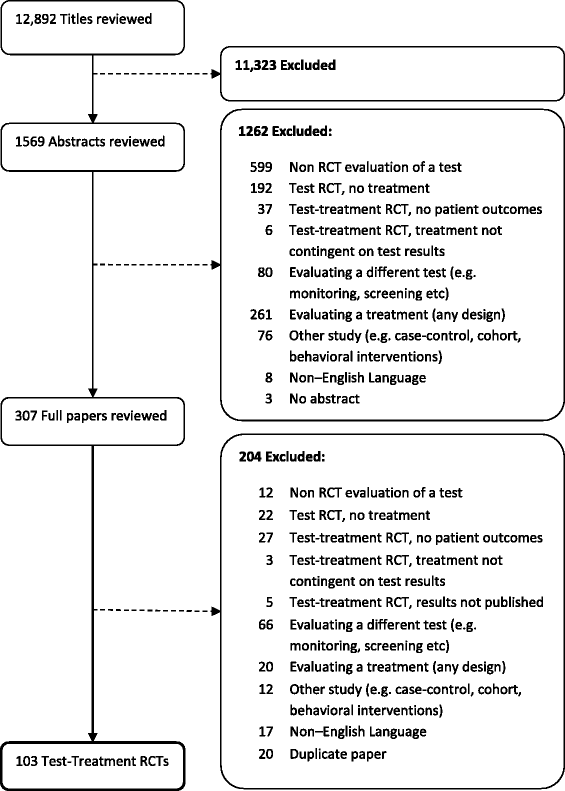 Characteristics of trials
Trial reports were published in 70 journals, with only 21 journals publishing more than two. Most frequent journals were
Radiology
(
n
 = 5),
Health Technology Assessment
(
n
 = 4),
New England Journal of Medicine
(
n
 = 4),
Human Reproduction
(
n
 = 4),
American Journal of Obstetrics and Gynecology
(
n
 = 3),
Journal of the American College of Cardiology
(
n
 = 3), and
Ultrasound in Obstetrics and Gynecology
(
n
 = 3). Overall 66% (
n
 = 68) were published in specialist journals. Characteristics of the included studies are summarized in Tables
2
and
3
. A broad range of technologies were evaluated across 18 specialties, with imaging the subject of evaluation in almost half the trials. Some trials compared testing to no testing by evaluating the benefits of removing testing from a previously tested population (experimental 'no test' comparisons), or of introducing a new test in a previously untested population (control 'no test' comparisons).
Table 2
Characteristics of included trials
Trial characteristics

Total (N = 103)

2004–5 (N = 56)

2006–7 (N = 47)

n

(%)

n

(%)

n

(%)

Trial design:

 Parallel

90

(87)

49

(89)

41

(87)

 Factorial

3

(3)

2

(4)

1

(2)

 Cross-over

1

(1)

0

(−)

1

(2)

 Randomized disclosure

9

(9)

5

(7)

4

(9)

Randomization:

 Individual

97

(94)

53

(96)

44

(92)

 Cluster

6

(6)

2

(4)

4

(8)

Number of study arms:

 2

92

(89)

50

(91)

42

(88)

  > 2

11

(11)

5

(9)

6

(13)

Diagnostic comparison:

 Triage

17

(17)

9

(16)

8

(17)

 Additional

28

(27)

15

(27)

13

(27)

 Replacement

60

(58)

32

(57)

28

(58)

Medical Specialty:

 Cardiovascular Medicine

35

(34)

20

(36)

15

(31)

 Embryology

2

(2)

0

(−)

2

(4)

 Emergency Medicine

1

(1)

0

(−)

1

(2)

 Gastroenterology

14

(14)

6

(11)

8

(17)

 General Medicine

1

(1)

0

(−)

1

(2)

 Geriatrics

1

(1)

1

(2)

0

(−)

 Infectious diseases

1

(1)

1

(2)

0

(−)

 Neurology

3

(3)

1

(2)

2

(4)

 Obstetrics and Gynecology

17

(17)

6

(11)

11

(23)

 Oncology

5

(5)

5

(9)

0

(−)

 Ophthalmology

2

(2)

2

(4)

0

(−)

 Orthopedics

10

(10)

8

(15)

2

(4)

 Otolaryngology

1

(1)

1

(2)

0

(−)

 Psychiatry

2

(2)

0

(−)

2

(4)

 Respiratory

3

(3)

1

(2)

2

(4)

 Urology

2

(2)

1

(2)

1

(2)

 Multiple

3

(3)

3

(5)

0

(−)
Table 3
Test types evaluated in the 103 test-treatment RCTs
| Test type | Control | (%) | Experimental | (%) |
| --- | --- | --- | --- | --- |
| Biochemical | 10 | (10) | 25 | (21) |
| Biopsy | 1 | (1) | 2 | (2) |
| Clinical | 18 | (17) | 14 | (12) |
| Electrophysiology | 7 | (7) | 10 | (8) |
| Imaging (all) | 35 | (33) | 50 | (42) |
|   Endoscopy | 14 | (13) | 11 | (9) |
|   Radiology | 21 | (20) | 39 | (33) |
| Telemedicine | 2 | (2) | 2 | (2) |
| Standard Care | 10 | (10) | 0 | (0) |
| Multiple test interventions | 8 | (8) | 12 | (10) |
| No test | 14 | (13) | 4 | (3) |
| Total | a105 | | a119 | |
Reporting of interventions
Use of care-pathway diagrams
Diagrams were included by approximately one-fifth of trials, summarizing 20% (24/119) of experimental interventions and 21% of (22/105) control interventions. Care pathway diagrams were most informative when they illustrated how patient management decisions depended on the diagnostic findings. Fewer than 10% (8 experimental, 7 control) provided this information.
Conclusions
This review identifies a clear need for improvement in the reporting of interventions in test-treatment trials. Descriptions were so poor that most trial reports we examined are of limited use: their results cannot be interpreted since it is unclear which tests are being evaluated, how these tests are used to inform management, or how treatments are subsequently administered. Since these details are needed to reproduce interventions as safely and effectively as claimed, published trial reports are currently unlikely to enable users to translate interventions into practice. The failure in some pragmatic trials to define how tests should be interpreted and used to direct treatment decisions risks trials failing to demonstrate intended effects due to inadequate implementation, rather than true ineffectiveness.
Abbreviations
AMO:

Amoxicillin
CENTRAL:

Cochrane Central Register of Controlled Trials
CONSORT:

Consolidated Standards of Reporting Trials
CT:

Computed tomography
EMBASE:

Excerpta Medica dataBASE
ESO:

Esomeprazole
LBP:

Lower back pain
LEV:

Levofloxacin
MEDLINE:

Medical Literature Analysis and Retrieval System Online
MRC:

Medical Research Council
RCT:

Randomised controlled trial
SPIRIT:

Standard Protocol Items: Recommendations for Interventional Trials
STARD:

Standards for Reporting of Diagnostic Accuracy
TIDieR:

Template for Intervention Description and Replication
Declarations
Acknowledgements
The authors thank Sue Bayliss and Anne Fry-Smith of the University of Birmingham, UK, for their contributions to developing the search strategy.
Funding
This work was supported by the UK Medical Research Council, under the Trials Methodology Grant Scheme (Grant number G0800808); JJD holds a Senior Investigator Award from the National Institute for Health Research; STP has received a Clinical Trials Fellowship from the National Institute for Health Research. The funder had no role in the design and conduct of the study; collection, management, analysis and interpretation of the data; preparation, review or approval of the manuscript; or the decision to submit the manuscript for publication. The views expressed in this publication are those of the authors and not necessarily those of the Medical Research Council or the National Institute for Health Research.
Authors' contributions
JJD conceived the study with support from CJH, and obtained funding. LFR, JaD, CD, JJD and STP conducted the primary research. All authors had full access to the data, contributed to the interpretation of the results, and reviewed and approved the final manuscript. LFR and JJD drafted the article and JJD is the guarantor.
Competing interests
The authors declare that they have no competing interests.
Consent for publication
Not applicable.
Ethics approval and consent to participate
Not Applicable.
Open AccessThis article is distributed under the terms of the Creative Commons Attribution 4.0 International License (http://creativecommons.org/licenses/by/4.0/), which permits unrestricted use, distribution, and reproduction in any medium, provided you give appropriate credit to the original author(s) and the source, provide a link to the Creative Commons license, and indicate if changes were made. The Creative Commons Public Domain Dedication waiver (http://creativecommons.org/publicdomain/zero/1.0/) applies to the data made available in this article, unless otherwise stated.
Authors' Affiliations
(1)
Biostatistics, Evidence Synthesis and Test Evaluation Research Group, Institute of Applied Health Research, University of Birmingham, Birmingham, UK
(2)
Warwick Medical School, The University of Warwick, Coventry, UK
(3)
PenTAG, The Institute of Health Reseach, University of Exeter Medical School, Exeter, UK