Review

Open Access

Open Peer Review
This article has Open Peer Review reports available.
From concepts, theory, and evidence of heterogeneity of treatment effects to methodological approaches: a primer
BMC Medical Research Methodology
2012
12:185
Received: 31 July 2012
Accepted: 3 December 2012
Published: 13 December 2012
Abstract
Implicit in the growing interest in patient-centered outcomes research is a growing need for better evidence regarding how responses to a given intervention or treatment may vary across patients, referred to as heterogeneity of treatment effect (HTE). A variety of methods are available for exploring HTE, each associated with unique strengths and limitations. This paper reviews a selected set of methodological approaches to understanding HTE, focusing largely but not exclusively on their uses with randomized trial data. It is oriented for the "intermediate" outcomes researcher, who may already be familiar with some methods, but would value a systematic overview of both more and less familiar methods with attention to when and why they may be used. Drawing from the biomedical, statistical, epidemiological and econometrics literature, we describe the steps involved in choosing an HTE approach, focusing on whether the intent of the analysis is for exploratory, initial testing, or confirmatory testing purposes. We also map HTE methodological approaches to data considerations as well as the strengths and limitations of each approach. Methods reviewed include formal subgroup analysis, meta-analysis and meta-regression, various types of predictive risk modeling including classification and regression tree analysis, series of n-of-1 trials, latent growth and growth mixture models, quantile regression, and selected non-parametric methods. In addition to an overview of each HTE method, examples and references are provided for further reading.
By guiding the selection of the methods and analysis, this review is meant to better enable outcomes researchers to understand and explore aspects of HTE in the context of patient-centered outcomes research.
Keywords
Heterogeneity
Risk adjustment
Estimation techniques
Comparative effectiveness research
Discussion and conclusion
Two factors motivated the generation of this primer. First was a growing recognition of the interest in and need for more granular and patient-centric data with which individualized treatment decisions could potentially be made. Second was a realization that there were no unifying guiding principles for those researchers who might be interested in exploring HTE as part of a PCOR agenda.
Figure 
5
represents our attempt to build a general framework around these principles, outlining some of the considerations that can inform the design of HTE studies for medical products – particularly pharmaceutical but potentially others such as device or surgical – at different phases of development. An important initial consideration in the selection of a HTE methodology is the level of prior evidence regarding the existence and nature of HTE for the treatment(s) in question. The level of evidence may vary widely – for example, early stage studies may be informed only by biological theory or by evidence from similar existing treatments, while post-marketing studies may be informed by original or subsequent analysis of the phase 3 data, by actual case studies, or by real world comparative effectiveness studies.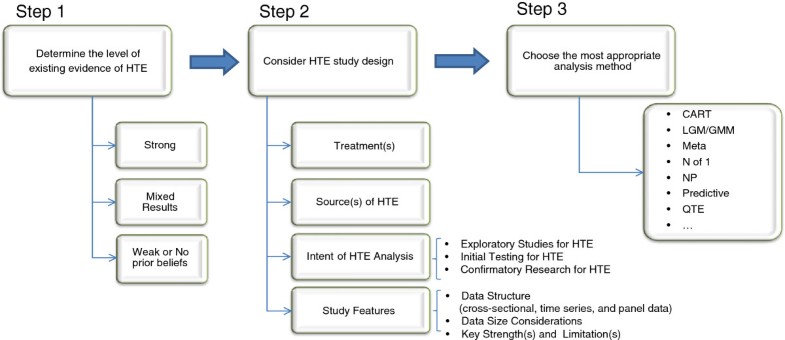 Once the level of prior information is established, a second consideration relates to the development of HTE study objectives. Key elements include the treatments to be studied as well as the prior evidence about the nature and sources of HTE, which may be population-based or treatment-based or both. These will inform the intent of the HTE investigation, whether it is to be largely exploratory or testing specific hypotheses. Early stage studies with little prior evidence may need to be more exploratory in nature. Subsequent phase 3 studies may need to determine the most appropriate doses and populations for initial labeling and may be designed to test very specific hypotheses already formed by such studies.
Another key element is the nature of the data available for the study. Existing trial or real-world data may be sufficient for the intent of the study, or may be the only study options; otherwise, new data collection may be part of the study design. Finally, the researcher must choose the specific method(s) to test for HTE in the study data. Table 
1
provides the most concise representation of our primer's intent by arraying key considerations related to the intent of potential data and methodological needs against each of the seven approaches discussed above, providing context for when a given approach might prove most useful. As is often the case in overviews such as this, it is difficult to declare a single method or two as being the most appropriate for all (or even most) situations in which HTE is suspected to exist and warrants further exploration. The complex construct of HTE is made more challenging by analytic constraints. We have sought to provide clear and novel guidance in both the text and the Table as to what some of the tradeoffs are when, for example, selecting between a post-hoc analysis as compared to an n-of-1 study. As might be expected, we observe that when the intent of an HTE study moves from exploratory to confirmatory, so do the technical challenges associated with a given methodological approach – in terms of more complex dataset structures, assumptions related to distributions, or sample size considerations. It seems safe to say then that the appropriate selection of a statistical framework for a given HTE research question should seek to weigh the level of existing evidence of HTE against these intent and methodological burden factors, and that in any reporting of HTE study results, study findings should be contextualized against the approaches used to derive them. In addition, for the benefit of those who would like to explore specific analytical tools for these approaches, we provide notes on some available estimation routines in well-known software in an Appendix.
Table 1
Features of selected approaches to analysis of HTE
| | Meta-analysis | CART | N of 1 trials | LGM/GMM* | QTE** | Nonparametric | Predictive risk models |
| --- | --- | --- | --- | --- | --- | --- | --- |
| Intent of HTE Analysis | · Exploratory and confirmatory | · Exploratory | · Exploratory and initial testing | · Exploratory, initial testing, and confirmatory | · Exploratory, initial testing, and confirmatory | · Exploratory and confirmatory | · Initial testing and confirmatory |
| Data Structure | · Trial summary results, possibly with subgroup results | · Panel or cross-section | · Repeated measures for a single patient: time series | · Time series and panel | · Panel and cross-sectional | · Panel, time series, and cross-sectional | · Panel or cross-sectional |
| Data Size Consideration | · Advantage of combining small sample sizes | · Large sample sizes | · Small sample sizes | · LGM: small to large sample sizes | · Moderate to large sample sizes | · Large sample sizes | · Sample sizes depends on specific risk function |
| | | | | · GMM: Large sample sizes | | | |
| Key Strength(s) | · Increase statistical power by pooling of results | · Does not require assumptions around normality of distribution | · Patient is own control | · Accounting for unobserved characteristics | · Robust to outcome outliers | · No functional form assumptions | · Multivariate approach to identifying risk factors or HTE |
| | | | · Estimates patient-specific effects | | | | |
| | | | | | · Heterogeneous response across quantiles | · Flexible regressions | |
| | | | | ·Heterogeneous response across time | | | |
| | · Possible to identify HTE across trials | · Can utilize different types of response variables | | | | | |
| | · Possibility to measure and explain covariate's effect on treatment effect | | | | | | |
| Key Limitation(s) | · Included studies need to be similar enough to be meaningful | · Fairly sensitive to changes in underlying data | · Requires de novo study | · Criteria for optimization solutions not clear | · Treatment effect designed for a quantile, not a specific patient | ·Computationally demanding | · May be more or less interpretable or useful clinically |
| | | | · Not applicable to all conditions or treatments | | | · Smoothing parameters required for kernel methods | |
| | | · May not fully identify additive impacts of multiple variables | | | | | |
| | · Assumed distribution | | | | | | |
| | · Selection bias | | | | | | |
The importance of 'context' for HTE studies goes beyond just methodological concerns. The recent and growing interest in patient-centered treatment means that HTE studies are increasingly likely to be used in clinical decision-making. However, the hope that HTE evidence can serve to significantly improve patient outcomes needs to be balanced against questions regarding the reliability of the scientific methodology used to identify the HTE in question, the weight of what is already understood about conditions in which HTE studies are developed, and new concerns that may arise as additional HTE evidence is generated.
An example of such a concern is whether it is sufficient to be able to detect that a given population responds differentially to a treatment. What if this differential response is novel, was not previously detected in prior attempts at HTE investigation, but was only discovered using a relatively new statistical technique? Should those patients who reflect the differential response population be treated differently – and if so, how?
The key question facing researchers and policy makers is as follows: what level of evidence is required before treatment paradigms may change on the basis of HTE data, and how do we understand and accept the validity of this evidence in a landscape where new tools for detection are consistently being developed? This question is only likely to become more urgent as increased availability of electronic data sources yields more and more research that could profoundly impact clinical treatment paradigms. While there is great hope that recent efforts like those being undertaken by the Patient Centered Outcomes Research Institute will result in the development of better evidence and improved decision-making ability for all stakeholders, significant work is needed to standardize and build consensus around which methods are most appropriate to be used to generate this evidence.
Despite the high levels of enthusiasm and funding directed towards evidence generation, key questions regarding dissemination and assimilation of evidence into clinical practice remain. In the case and context of HTE studies, it will be crucial to further understand what types of analyses are most likely to impact clinical decision-making behavior. By contextualizing various existing HTE methods that could potentially be used against a novel framework, which highlights both prior evidence as well as other considerations related to elements of study design, this primer sought to fill what seems to be an increasingly important gap in the outcomes research literature.
Appendix – notes on estimation routines
Standard meta-analysis like fixed and random effect models, and tests of heterogeneity, together with various plots and summaries, can be found in the R-package rmeta (http://cran.r-project.org/web/packages/rmeta). Logistic regression and survival model routines, both basic approaches to predictive modeling, are found in all major statistical packages (e.g., SAS (Proc Logistic, …), Stata (logistic or logit, stcox, etc.). Routines for calculating empirical Bayes shrinkage estimates for n-of-1 trials are available in S-Plus, with more general Bayesian approaches available in WinBUGS or in R with R2WinBUGS. Basic quantile regressions can be estimated in Stata with the command qreg or in SAS using Proc Quantreg, although some additional programming is needed to generate the full range of quantile estimates. The linear regression decomposition approach can be implemented in Stata with commands decomp, decompose, and Oaxaca. For non-parametric approaches, R offers many available routines, which are well-documented at http://cran.r-project.org/web/packages/np/vignettes/np.pdf. In SAS, Proc NLMIXED and Proc TRAJ are available for the estimation of LGM/GMM; in Stata LGM is handled within the sem command.
Authors' information
The authors are health economists by training who work in the field of health economics and outcomes research with a focus on pharmaceuticals. The authors have observed the variety of HTE study methods becoming popular in different disciplines, and have taken a particular interest in how different methods can best contribute to the evidence regarding the optimal use of new treatments among different individuals.
Abbreviations
HTE:

Heterogeneity of treatment effect
PCOR:

Patient-centered outcomes research
RCT:

Randomized clinical trial
CER:

Comparative effectiveness research
CART:

Classification and regression tree
RD:

Risk difference
RR:

Risk ratio
OR:

Odds ratio
LGM:

Latent growth mixture
GMM:

Growth mixture modeling
QTE:

Quantile treatment effect.
Declarations
Acknowledgements
We would like to acknowledge this journal's referees and editor for their very helpful comments, as well as Lisa Blatt and Joanna Monday for their assistance in the preparation of this manuscript.
Authors' Affiliations
(1)
Pfizer, Inc, New York, USA
(2)
School of Pharmacy, University of Maryland, Baltimore, USA
(3)
Pfizer, Inc, Collegeville, USA
Copyright
© Willke et al.; licensee BioMed Central Ltd. 2012
This article is published under license to BioMed Central Ltd. This is an Open Access article distributed under the terms of the Creative Commons Attribution License (http://creativecommons.org/licenses/by/2.0), which permits unrestricted use, distribution, and reproduction in any medium, provided the original work is properly cited.