Research article
Open Access
Open Peer Review
This article has Open Peer Review reports available.
Creating groups with similar expected behavioural response in randomized controlled trials: a fuzzy cognitive map approach
BMC Medical Research Methodology
2014
14:130
Received: 20 March 2014
Accepted: 8 December 2014
Published: 12 December 2014
Abstract
Background
Controlling bias is key to successful randomized controlled trials for behaviour change. Bias can be generated at multiple points during a study, for example, when participants are allocated to different groups. Several methods of allocations exist to randomly distribute participants over the groups such that their prognostic factors (e.g., socio-demographic variables) are similar, in an effort to keep participants' outcomes comparable at baseline. Since it is challenging to create such groups when all prognostic factors are taken together, these factors are often balanced in isolation or only the ones deemed most relevant are balanced. However, the complex interactions among prognostic factors may lead to a poor estimate of behaviour, causing unbalanced groups at baseline, which may introduce accidental bias.
Methods
We present a novel computational approach for allocating participants to different groups. Our approach automatically uses participants' experiences to model (the interactions among) their prognostic factors and infer how their behaviour is expected to change under a given intervention. Participants are then allocated based on their inferred behaviour rather than on selected prognostic factors.
Results
In order to assess the potential of our approach, we collected two datasets regarding the behaviour of participants (n = 430 and n = 187). The potential of the approach on larger sample sizes was examined using synthetic data. All three datasets highlighted that our approach could lead to groups with similar expected behavioural changes.
Conclusions
The computational approach proposed here can complement existing statistical approaches when behaviours involve numerous complex relationships, and quantitative data is not readily available to model these relationships. The software implementing our approach and commonly used alternatives is provided at no charge to assist practitioners in the design of their own studies and to compare participants' allocations.
Keywords
Allocation methodArtificial intelligenceComputational modelRandomization
Background
Randomized Controlled Trials (RCTs) are a powerful approach to conduct quantitative and comparative controlled experiments. However, many sources of bias can negatively affect the quality of the experiments. While carefully controlling bias is always required, the difficulty of doing so varies depending on the area. For example, RCTs for health behaviour change are more prone to bias than pharmaceutical trials, and reducing bias may also be more difficult for the former than latter condition [1, 2]. A statistical introduction to sources of bias can be found in Matthews [3], while an overview for a broader audience is provided in Jadad and Enkin [4].
A key characteristic of RCTs is that participants are randomly assigned to a group, which could be done by flipping a coin (for two groups) or throwing a dice (for more). However, this purely random technique can result in significant differences in sizes of treatment groups. This is is not an issue for bias in trial results, since the conventional analysis of randomised trials takes into account the fact that groups can be unbalanced [
5
]. Aiming at equal allocation ratio is nonetheless common practice (e.g. procedures in [
6
,
7
]). Comparable groups sizes can be ensured by assigning patients in blocks (
random permuted blocks
). However, if blocks are of fixed size and contain a known distribution across treatment groups (Figure
1
a-b), then it becomes possible to correctly guess how the last participants in a block will be allocated (Figure
1
c). As blinding can be particularly difficult in some trials [
1
], the staff may treat a participant differently if the allocation was known, which introduces a
selection
bias. This illustrates the difficulties of creating a scheme that guarantees comparable groups while making it difficult for the staff to predict the group to which a participant will be assigned. The situation is even more challenging when considering that the balance among groups is not only a matter of having an equal number of participants, but that participants should also be balanced with respect to prognostic factors (e.g., socio-demographic or socio-cognitive variables related to the behavioural outcome). Indeed, the randomization scheme must achieve balance on confounding prognostic factors in order to avoid what is known as the
accidental
bias.

Two techniques that take into account prognostic factors are stratification and minimization. The former applies randomization for every combination of participant prognostics (e.g., to guarantee the same number of patients across groups for each age category and ethnicity), which may not be feasible in small trials and/or when the number of such combinations is very large. The latter handles this problem by ensuring a balance only in the individual prognostics as participants enter the trial (e.g., to guarantee the same number of patients across groups for each age category or ethnicity). Both techniques assume that the mechanisms by which the prognostics contribute to the trial outcome are unknown, thus they aim at controlling the distributions of prognostic factors and expect this to carry onto the distribution of outcomes. In this paper, we take a different approach to the allocation phase of RCTs for behaviour change by focusing on the distribution of outcomes. As will be illustrated throughout the paper, the advantages of our approach over the aforementioned ones are twofold. First, our approach accounts for the many complex interactions among prognostic factors, since they could balance each other out. Second, practitioners do not need to make any prior assumption as to which prognostic factor(s) are relevant. Practically, the free and open-source software that we provide allows practitioners to simply list the prognostic factors and behavioural outcome of the intervention, automatically generating questionnaires and allocating participants into groups upon completion of the questionnaires.
Our allocation method uses novel computational tools to infer a participant's outcome from the prognostic factors, and uses that inferred outcome to allocate the participant. This does not mean that the relationships among prognostic factors and participants' outcome should be specified before conducting the RCT. Intuitively, imagine that a black box takes as input a participant's prognostic factors and outputs the participant's expected outcome. To ensure that groups are comparable at baseline, it suffices to assign participants such that the distribution of expected outcomes among groups are similar. Practically, the black box explicitly structures how the prognostic factors contribute to the outcome. For example, an intervention may aim at improving exercise, with weight as measured outcome. Based on the participants' age, gender and socio-economic status, the black box simulates how an intervention on exercise may impact their weight. Accordingly, participants are assigned into groups such that the groups have a similar distribution of participant's simulated impact. These groups might have a different demographic make-up, since they are equalized in terms of their expected trial outcome rather than on prognostic factors. This is more flexible than stratification in small trials (e.g., n < 30) since combinations of prognostic factors may yield the same expected outcome and may thus not have to be kept equal among groups. It is also less simplified than minimization, since it accounts for the interactions of prognostic factors.
We first provide a technical background on the computational solutions to inferring one's outcome. In particular, we review how participants' knowledge can be used to deal with vague or conflicting relationships such as those occuring among prognostic factors, and we summarize how the uncertainty of participants' responses can be incorported into models. Then, we introduce our proposed solution to allocating participants to groups such that groups have a similar distribution of expected response to the intervention. This solution is exemplified via three cases studies, and differences with existing alternatives are also highlighted. We also evaluate our solution in the presence of missing data, for sequential trials, and with the addition of randomness. In order to support practitioners in putting our solution to practice and generate more case studies, we also provide free software that covers all necessary steps, from setting-up an intervention to collecting participants' questionnaires and allocating them. Finally, we discuss the role that our approach could play in conducting RCTs, and we analyze its current limitations.
Results
In this section, we contrast the performances of our methods with commonly used alternatives on three case studies. For two of these case studies, we obtained data from human subjects. The data collection was performed in accordance with the Declaration of Helsinki, and it was approved by the ethics committee of Simon Fraser University under the studies 2012 s0725 and 2013 s0494. Informed consent to participate in the study was obtained from all participants. For the last case study, we create a dataset from population-level distributions in order to assess the performance of our proposed methods in the case of large sample sizes.
Discussion
Bias is a key issue in RCTs, and particularly so for interventions regarding behaviour change. In this paper, we focused on limiting bias coming from allocations, that is, ensuring that participants are allocated to groups which are similar in terms of behavioural response to the intervention. While several methods are readily available, they are typically used to balance prognostic factors in isolation. In other words, the determinants of behaviour are independently balanced, under the assumption that it would lead to balanced behaviours at baseline as well. We took a different approach by focusing on the interactions between prognostic factors via a novel computational method that aims at balancing a simulated behaviour rather than isolated prognostic factors. This method using Fuzzy Cognitive Maps, which have successfully been used in aspects of health where the accuracy of the result could be easily measured and was critical, such as radiotherapy [47] or brain tumor characterization [48]. They have also been used in health behaviour, for example in relation to obesity [24] or diabetes [49].
The potential of our method was assessed through three case studies, using real-world data as well as generated synthetic data from large samples. Results suggest that our method can create groups with more similar behavioural responses than other commonly used approaches. Indeed, other approaches exhibited larger differences between the inferred behaviours of the allocation groups.
To assess the potential of our method, we developed a free and open-source software (CAPT: Computational Allocation of Participants in Trials). Software can be downloaded with no registration needed from http://rctsoft.free.fr, or http://www.crutzen.net/capt, where a detailed tutorial is also provided in order to support practitioners in integrating our solution to the design of their trials and, subsequently, the allocation of participants. The software is stand-alone and has an easy-to-use Graphical User Interface (GUI), so no other programs or writing of syntaxes are needed. Two independent parts are provided in order to provide flexibility to practitioners: the design part and the allocation part.
The design part offers a three step process to set-up a trial. First, practitioners list the prognostic factors and pick one as outcome (Figure
13
a). Second, they specify what the intervention would impact (i.e., their logic model; Figure
13
b). This step also offers the possibility of providing information on how prognostic factors may interact, but practitioners may choose not to impose a structure by continuing with all possible relationships. It is important to stress that ideally, and also for the sake of parsimonity, the relationships provided should be based on the logic model behind the intervention and the prognostic factors that are targeted by the intervention [
50
]. Finally, the trial is used to automatically generate a questionnaire. Questionnaires can be filled electronically at different study sites (e.g., participants can be recruited in different cities).The allocation part will use the completed questionnaires from all available study sites, and allocate participants into the desired number of groups by any of the allocation methods used in the previous section (our protocol, simple randomization, random permuted blocks of fixed size, or stratification on one prognostic factor). The specificities of each participant and his/her allocation can be browsed (Figure
14
a) and allocations are organized as a hierarchy in order to be analyzed at different levels (Figure
14
b). The root of the hierarchy allows to compare all allocations at once by computing their overlap, which highlights whether allocations tend to allocate participants similarly. Going down the hierarchy by selecting one allocation (Figure
12
b) allows to compare all the groups within that allocation in terms of estimated behavioural response. At the deepest level, choosing one group of an allocation provides statistics on the prognostic factors within that group.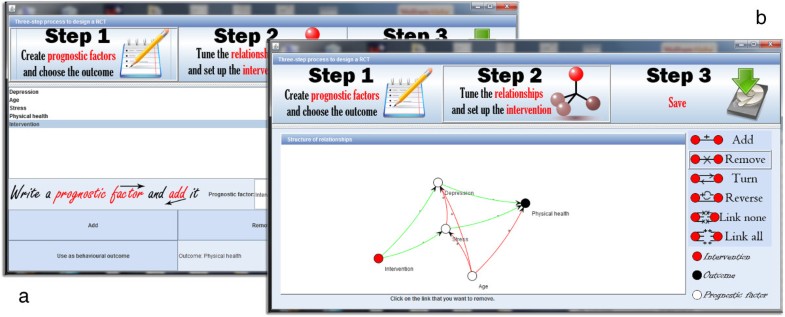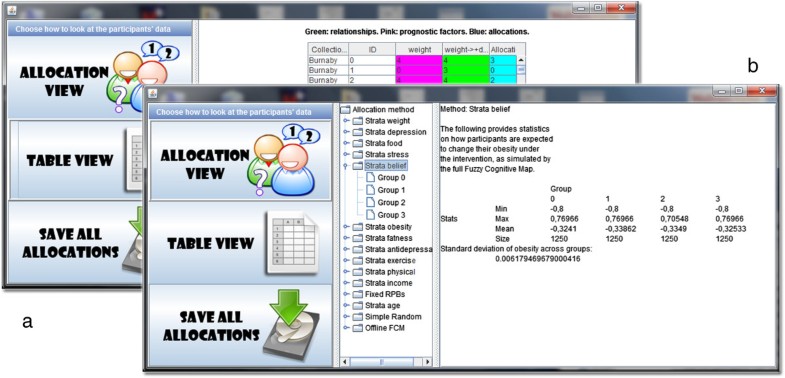 Precisely assessing the quality of our approach requires individual-level data in which participants report on relationships and have a known trial outcome. However, because full disclosure is not yet a common practice [51, 52], such data is extremely scarce. One reason is that sharing trial data remains overwhelmingly a matter of choice: for example, less than one out of five authors of a clinical trial(s) were required by their funder to deposit trial data in a repository and, even when asked to do so, only 57% reported doing it [53]. Furthermore, while many studies highlight the benefits of directly asking participants to share their experiences in order to inform the design of interventions [54, 55], they typically focus on what drives behaviour (i.e., prognostic factors) rather than how (i.e., underlying mechanisms). That is, etiological frameworks do suggest many of the prognostic factors that could be considered when designing a trial, but they rarely operationalize the mechanisms linking prognostic factors to each other and the behavioural outcome. Therefore, the real-world case study used to compare our allocation method to others had to be based on one of the few studies that provided individual-level data and directly asked participants on the perceived impact of prognostic factors [31]. Consequently, we were able to contrast the results of different allocation methods, but individual-level clinical data directly speaking to mechanisms is necessary to adequately assess a given allocation method by itself. In addition, our assessment did not aim to compare our protocol to an exhaustive set of allocation methods. Given the large number of methods available, we focused on the most commonly used ones. A more extensive assessment would have to take into accounts randomization methods such as the maximal procedure [56, 57].
The protocol introduced here can automatically allocate participants into groups once they have provided their completed questionnaires, as illustrated by the free open-source software developed to provide an easy-to-use environment such that practitioners can integrate the protocol to their trials. Two advantages to a fully automatic allocation are as follows. First, there is no risk to obtain sub-optimal allocations by focusing on prognostic factors that turn out not to be as decisive as expected, which can happen when using stratification as exemplified in our case studies. Second, automatically using complex artificial intelligence techniques makes it particularly difficult for staff to know which group a participant will be allocated to, which is a valuable feature given that blinding is difficult trials for behaviour change [1]. One drawback of operating in a fully-automatic mode is that participants are asked to evaluate every possible relationship, and the number of such relationships is proportionate to the square of the number of prognostic factors. When many prognostic factors are considered, operating in a fully-automatic mode can thus contribute to a high quality trial providing the evidence needed to improve healthcare, but at the same time it would increase the burden on participants by generating a larger questionnaire (i.e., not only assessing prognostic factors and outcomes, but also the relationships between them). This may lead an increase in missing data, which our methods can already address but at the expense of lower allocation qualities; this points to the need for further research in handling missing data. The burden placed on participants may also be deemed excessive in some settings. Our software provides a trade-off to practitioners at the trial design stage by allowing them to remove the relationships deemed less relevant for the sake of parsimony, thereby providing input on the logic model behind the intervention [48]. It should be noted that altering the logic model always runs the risk of resulting in a "wrong" model. A model that is "wrong" by assessing inexisting relationships (e.g., impact of age on the weather) would not be a problem in our approach, as participants would be expected to eliminate that relationship. However, a model that is "wrong" by removing important relationships would decrease the quality of the relationships. Based on our simulations for missing data on relationships, we would expect that, as a model increasingly removes important relationships, its performances align with those of stratification.
Future software versions may allow practitioners to directly provide evidence (e.g., from previous studies or literature reviews) regarding select relationships rather than having to systematically query participants. While our method was motivated by trials for behaviour change, enabling practitioners to directly enter equations (e.g., relationships between body tissues [58]) would be an important step toward supporting the application of our method in the clinical setting. Future versions may also offer practitioners the possibility of creating different categories of relationships, which could automatically translate to different phrasing for the questions provided to participants. Many such categories have already been proposed to structure the contributors of behaviour. In Malle's framework building on folk theory of behavior [59], relationships are classified as reason explanations (e.g., when the environment drives toward an action whose outcome was not desired) or causal explanations (e.g., when the participant has the intention of performing an action that leads to a desired outcome). In the theory of action identification [14], relationships may be seen through a hierarchy where the lowest level dictates simple motor actions (e.g., moving a finger) while the highest level shapes the broader understanding (e.g., the beliefs surrounding a behaviour and its consequences). Categorizing each relationship also offers additional information that can then be leveraged when applying computational methods to infer the participants' reaction to an intervention. For example, relationships that are higher in the aforementioned hierarchy are also deemed more stables, and they could be attached a larger confidence than relationships regarding lower levels. However, further research is needed to integrate confidence levels into the development of the Fuzzy Cognitive Maps used here. While we developed a method and compared it to commonly used alternatives through multiple case studies, we also believe that the next step of this research should assess how to best guide the analysis of trial data generated by our protocol. Specifically, allocation methods that attempt to improve balance can negatively affect the type I error depending on how the allocation method is accounted for in the analysis. Hagino and colleagues showed that an unadjusted analysis is conservative when stratified randomization or minimization is used, but an analysis adjusting for the allocation factors as covariates does not affect type I error [60]. While we would expect an analysis that ignores our allocation method to be conservative and lose some power, developing specific mechanisms to account for the baseline covariate balancing (resulting from our allocation method) would be critical to "facilitate acceptance of trial results and minimize potential for controversial interpretations" [61].
The protocol that we introduced provided individual-level allocation once all individuals filled the questionnaires, using deterministic artificial intelligence methods. An adaptation was also evaluated to support the sequential enrollment of participants by batches, rather than aiming at reaching the desired sample size before allocating participants. A new version could be developed to satisfy the needs of other possible types of allocations. Specifically, an intervention may be directed at a group rather than a person, or participants may influence each other. In this case, Cluster Randomized Controlled Trials could be used and allocations should take place at the group-level rather than the individual-level. A straigthforward way to using our protocol in this context would be to have all participants still complete the questionnaires, but instead of submitting individual answers to our software, their answers would first be aggregated using Fuzzy Logic to represent the group, and then submitted. However, further simulation research is needed to explore how the aggregation of individual answers into a group answer affects the allocations.
Conclusion
A new protocol was presented to limit the allocation bias of RCTs, focusing on, but not limited to, interventions on behaviour change. The protocol relies on artificial intelligence techniques that focus on relationships among prognostic factors, thereby providing an alternative to commonly used techniques centred on the prognostic factors themselves.
Endnotes
1 When an outcome is given, this task is known as supervised learning. When there is no outcome, a typical task of unsupervised learning is to cluster individuals rather than classifying them, because the outcome is unknown.
2 Synthetic data refers to data that was not obtained by direct measurement. In our case, data is generated by a computer in order to observe the reaction of our solution to criteria for which measured data is not available. This process is particularly used to test clinical trials [62] and computational solutions [63].
3 If there are k prognostic factors and one behavioural outcome, then the baseline questionnaire has to assess each of the k(k+1) relationships. This may not be scalable for large k due to the resulting size of the questionnaire, and it is possible to remove relationships as summarized in the discussion.
4 A sample invitation to participate is provided in http://web.archive.org/web/20131218220754/ and http://blogs.plos.org/obesitypanacea/2013/12/02/participants-needed-an-online-survey/
Declarations
Acknowledgements
PJG would like to thank Simon Fraser University for providing financial support via the Graduate Student Research Award and the President's Phd Scholarship. RC would like to thank the Netherlands Organisation for Scientific Research – Division for the Social Sciences (NWO-MaGW) for funding through the Innovational Research Incentives Scheme Veni. Both authors thank Vijay K. Mago and Francine Schneider for providing insightful feedback.
Authors' Affiliations
(1)
Interdisciplinary Research in the Mathematical and Computational Sciences (IRMACS) Centre, Simon Fraser University, Burnaby, Canada
(2)
UKCRC Centre for Diet and Activity Research, MRC Epidemiology Unit, University of Cambridge School of Clinical Medicine, Cambridge, UK
(3)
Department of Health Promotion, Maastricht University/CAPHRI, Maastricht, The Netherlands
Copyright
© Giabbanelli and Crutzen; licensee BioMed Central Ltd. 2014
This article is published under license to BioMed Central Ltd. This is an Open Access article distributed under the terms of the Creative Commons Attribution License (http://creativecommons.org/licenses/by/4.0), which permits unrestricted use, distribution, and reproduction in any medium, provided the original work is properly credited. The Creative Commons Public Domain Dedication waiver (http://creativecommons.org/publicdomain/zero/1.0/) applies to the data made available in this article, unless otherwise stated.