Research article

Open Access

Open Peer Review
This article has Open Peer Review reports available.
Optimizing cost-efficiency in mean exposure assessment - cost functions reconsidered
BMC Medical Research Methodology
2011
11:76
Received: 22 October 2010
Accepted: 21 May 2011
Published: 21 May 2011
Abstract
Background
Reliable exposure data is a vital concern in medical epidemiology and intervention studies. The present study addresses the needs of the medical researcher to spend monetary resources devoted to exposure assessment with an optimal cost-efficiency, i.e. obtain the best possible statistical performance at a specified budget. A few previous studies have suggested mathematical optimization procedures based on very simple cost models; this study extends the methodology to cover even non-linear cost scenarios.
Methods
Statistical performance, i.e. efficiency, was assessed in terms of the precision of an exposure mean value, as determined in a hierarchical, nested measurement model with three stages. Total costs were assessed using a corresponding three-stage cost model, allowing costs at each stage to vary non-linearly with the number of measurements according to a power function. Using these models, procedures for identifying the optimally cost-efficient allocation of measurements under a constrained budget were developed, and applied on 225 scenarios combining different sizes of unit costs, cost function exponents, and exposure variance components.
Results
Explicit mathematical rules for identifying optimal allocation could be developed when cost functions were linear, while non-linear cost functions implied that parts of or the entire optimization procedure had to be carried out using numerical methods.
For many of the 225 scenarios, the optimal strategy consisted in measuring on only one occasion from each of as many subjects as allowed by the budget. Significant deviations from this principle occurred if costs for recruiting subjects were large compared to costs for setting up measurement occasions, and, at the same time, the between-subjects to within-subject variance ratio was small. In these cases, non-linearities had a profound influence on the optimal allocation and on the eventual size of the exposure data set.
Conclusions
The analysis procedures developed in the present study can be used for informed design of exposure assessment strategies, provided that data are available on exposure variability and the costs of collecting and processing data. The present shortage of empirical evidence on costs and appropriate cost functions however impedes general conclusions on optimal exposure measurement strategies in different epidemiologic scenarios.
Keywords
Objective Function
Cost Function
Variance Component
Unit Cost
Budget Constraint
Background
Reliable exposure assessment is a vital concern in medical epidemiology and intervention research. In occupational as well as public health studies, exposure is often monitored using equipment that allows data to be collected at a high resolution for long periods and on repeated occasions (e.g. [1–4]). A considerable emphasis has been put on developing and applying methods for analyzing sources of exposure variability in such data, in terms of so-called variance components [5–8]. As an example, variance components pertaining to, e.g. companies, occupations, subjects, days within subjects, and exposure samples within days have been determined for a large number of airborne, dermal, and biomechanical exposures in working life (e.g. [2, 3, 9–15]). These variance components have been utilized as a remedy for identifying targets for surveillance, intervention and prevention [6, 16, 17], as well as for designing effective exposure assessment strategies producing information at a desired level of precision. While an extensive literature deals with the consequences of random exposure variability to bias and precision in exposure-outcome relationships [18–22], some attention has also been paid to the use of variance components for estimating sampling needs in studies examining compliance with exposure limits [6], and in studies comparing groups [12] or conditions [13] as in an intervention scenario. In the latter case, the requirement for reliable exposure data can be expressed as a need to obtain estimates of the mean exposure of individuals or groups with a sufficient precision to arrive at a confidence interval of acceptable size, or secure an acceptable statistical power in a specified hypothesis test. Generalized formulae are available for estimating statistical efficiency, i.e. the relationship between the precision of a mean exposure estimate, on the one hand, and, on the other, the size of relevant variance components, and the number of measurements at the corresponding sampling stages [23, 24]. The most frequently applied measurement model is hierarchical and random with two or three nested stages, for instance subjects and days within subjects [2, 25, 26]; subjects, days within subjects and samples within days [12, 27]; or groups, subjects within groups, and days within subjects [28]. A few attempts have been made to apply more complicated models, e.g. including crossed (non-nested) components related to the distribution of measurement days among subjects [29] or associated with methodological variance [11]. Also, mixed models including fixed determinants of exposure in addition to random effects are in increasing use [13, 30–33].
Some studies have been devoted particularly to understanding the effects on the precision of an estimated group mean exposure of allocating measurement efforts in different ways between and within subjects [12], between occupational recordings and data processing [11], or across time within a measurement day [34, 35]. This had led to a number of principles for statistically efficient exposure assessment, i.e. measurement strategies that perform well at a specified investment of measurement resources, or, equivalently, yield a specified performance with comparatively small measurement efforts [12, 34]. As one trivial conclusion, more data generally leads to better statistical performance, and furthermore, efficiency increases if measurements are allocated to higher sampling stages in the hierarchical model [23].
At the same time, more measurements inevitably imply larger monetary costs. While budget constraints are the pragmatic reality in most exposure assessments, surprisingly few studies have addressed the issue of how to design a measurement strategy so as to give the best possible statistical efficiency at the available monetary resources [36]. This endeavor is not equivalent to addressing statistical efficiency per se, as introduced above, since measurements at different stages may entail different costs. For instance, increasing the number of groups may be considerably more expensive than collecting data from more subjects in an existing group; and the process of identifying and approaching a new subject may be more expensive than achieving more measurements from a subject already in the sample population. Also, different measurement instruments yielding the same exposure variables may imply different costs, in particular if the risk of measurement failures is acknowledged [37]. Of the limited literature devoted to efficiency and cost in data collection, some studies compare a selection of measurement strategies in order to identify the one superior in cost-efficiency [38–41]. A few studies take on the more challenging task of determining the optimally cost-efficient strategy at a certain budget, on the basis of specified costs for collecting data at different stages, and specified sizes of the corresponding variance components. The general significance of examining cost-efficiency in data collection is illustrated by previous studies appearing in a variety of research areas, including occupational hygiene [38], environmental medicine [39, 42, 43], clinical chemistry [44], and nutrition [45].
Basically, optimization in the case of exposure assessment strives to identify data collection strategies at the frontier of possible relationships between cost and statistical efficiency (figure
1
).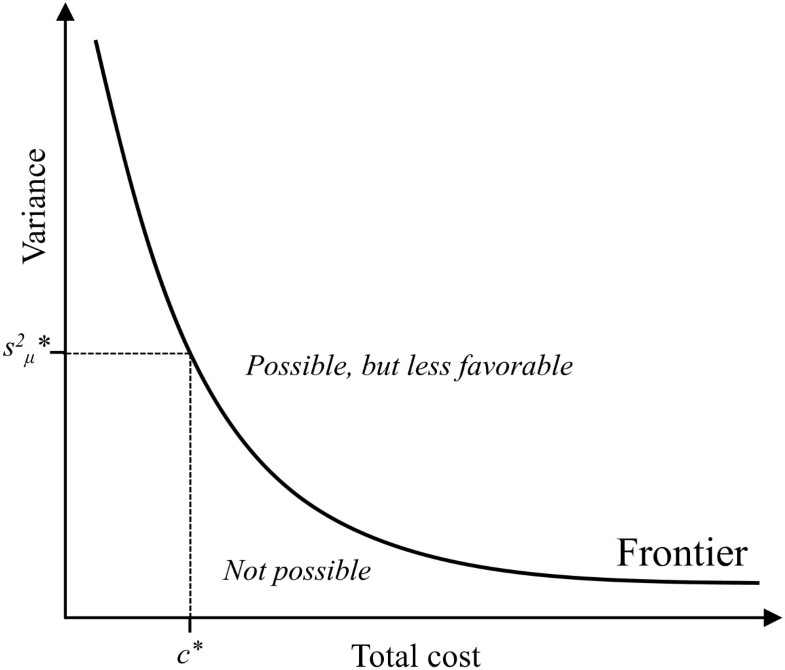 Previous optimization studies have addressed hierarchical models with two [45–47] or three [43, 44, 47] stages, as well as the optimal allocation of measurements between two alternative yet correlated instruments for data collection [42, 48, 49]. All these studies have, however, assumed that the price of one measurement unit at each stage is constant, implying that costs increase in a linear fashion at that stage, proportionally to the number of samples. Only in an appendix of the paper by Duan and Mage [42], an empirical example appears of the quite likely case that costs may vary with the number of measurements; for instance that subjects recruited late in a study may require more time for being persuaded, and thus entail larger labor costs, than subjects signing up immediately. Also, in his textbook on sampling strategies, Cochran [47] reports some non-linear cost functions in other areas of data collection, and additional examples appear in Groves [50]. In addition, the cited cost-efficiency studies do not, in general, consider whether the identified optimal strategies are feasible under the constraints dictated by a specified, yet limited budget.
Thus, the present paper is devoted to deriving methods for optimizing exposure assessment strategies, in terms of offering the best possible trade-off between total costs and statistical efficiency. In contrast to previous literature, this study explores optimal cost-efficiency even when cost functions are not linear and budget constraints apply, and the study also identifies alternative optimization procedures in those cases where analytical closed-form solutions cannot be developed.
First, the paper presents a general theoretical model of cost and efficiency when assessing exposure mean values in occupational groups, including some theoretical results based on that model. Then, the general model is simplified, and procedures are derived for identifying optimally cost-efficient exposure assessment strategies, depending on the shapes of cost functions. These results are illustrated by numerical examples. A general discussion on the representativeness and sensitivity of the suggested optimization procedures concludes the paper.
Methods
A framework for cost-efficient exposure assessment
Exploring cost-efficiency at an ordinal level only requires a specification of the properties of the mathematical function associating each exposure assessment strategy with its stated statistical objective. If, however, the goal of the cost-efficiency analysis is to compare or optimize strategies in explicit, quantitative terms, specific functional forms need be identified that parameterize objectives and costs. This is a necessary requirement when aiming at the (occasionally more than one) strategy that maximizes efficiency among the large selection of possible assessment strategies entailing a particular cost.
Thus, three major issues must be considered as part of a quantitative analysis of cost-efficient resource consumption: (1) why resources are used, i.e. the objective of collecting data, (2) how much resources are required to fulfil the objective, expressed in terms of unit-costs, and (3) whether the intended strategy for resource consumption is feasible. When examining cost-efficient assessments of group mean exposure we thus need to know (1) the relationship between the group mean and the assessment strategy, as reflected by what is usually referred to as the objective function, (2) the amount of monetary resources required to realise a particular assessment strategy, expressed by the cost function, and (3) the amount of monetary resources at our disposal, as reflected by the budget constraint.
The objective function - precision of the mean
For a hierarchical three-stage balanced data set (subjects, occasions within subject, samples within occasion), the group mean exposure,
μ
, can be estimated using a "mean of means" approach [
23
] as:
Where x k(ij) is an individual exposure sample, collected from subject i on occasion j; n s is the number of subjects included in the data set; n d is the number of distinct measurement occasions, for instance days, per subject; and n q is the number of samples, or quanta, per measurement occasion. Accordingly, averaging is made across quanta within each occasion, then across occasions within each subject, and finally across subjects.
A general formula for determining the variance of this group mean exposure estimate,

, has been proposed and applied by several authors [
12
,
23
,
44
,
47
]. This objective function takes the form:

,

, and

are the variances between subjects, between measurement occasions within each subject, and between quanta within occasions, respectively. The size of a quantum can be defined as convenient, and previous studies have used quanta of, for instance, one minute [34, 51], one work cycle [11, 13, 52, 53], several consecutive work cycles [12, 54], and one hour [55]. Thus, equation (1) gives an estimate of the precision of a group mean exposure resulting from a particular measurement strategy in terms of subjects, occasions and quanta, in a setting with known components of exposure variability.
The cost function
While all cost functions suggested in the literature have been linear, the cost associated with collecting n q quanta on each of n d occasions for each of n s subjects can be assessed even in a non-linear case, provided that information is available on the "capability" to recruit subjects, that is, the amount of resources needed for recruiting any specific number of subjects, and the equivalent capabilities for setting up measurement occasions within each subject and collecting quanta within each occasion.
Assume first that these three capabilities are all homogeneous of degree k, in the sense that if all resources are multiplied by a certain factor, x (x > 1), output will increase by x k . This is a common assumption in economics addressing non-linear production capabilities. For example, if k = 1 and resources allocated to the process of recruiting subjects are doubled, then the number of subjects recruited will also double; this is simple proportional linearity. In the case of k = 0.5, doubled recruitment resources would lead to an increase in the number of recruited subjects by a factor

. Assume further that the resources needed for setting up n d measurement occasions, each containing n q quanta, do not depend on the subject from whom data are collected, and the resources needed to collect n q quanta on a particular measurement occasion for a particular subject are independent of occasion and subject.
The first of these two assumed capability properties allows cost functions for recruiting subjects, c s , setting up measurement occasions within each subject, c d , and collecting measurement quanta within each occasion, c q , to be expressed as:

;

; and

,
where the π-values are the costs for obtaining one measurement unit at each stage of data collection, so-called unit costs, and α, β and γ are parameters, all larger than 0, describing the shape of a power relationship between the number of measurement units and costs.
The relationship between the value(s) of π and the exponents α, β and γ can be illustrated by examining the cost functions. If, for instance, α = 1, the cost of recruiting n s subjects is c s (n s ) = π s ⋅n s , i.e. the cost increases in direct proportion to the number of subjects. In this case, π s is the one-unit cost (c s (1) = π s ), as well as the marginal cost of recruiting any additional subject (∂c s /∂n s = π s). If α ≠ 1, π s is still the one-unit cost, but the marginal cost is now

. Thus, if α > 1, the marginal cost of including an additional subject increases with the number of subjects, while it decreases when 0 < α < 1.
The second capability property assumed above implies that the total cost of collecting a data set including n s subjects each observed for n d occasions, each containing n q quanta can be stated as c s (n s ) + n s c d (n d ) + n s n d c q (n q ), which equals:
This cost function presents a generalisation of previously suggested linear cost functions [43, 44, 46] by permitting both linear and non-linear relationships between the sample size at different stages of data collection and the cost of obtaining data. With (α, β, γ) = (1,1,1), equation (2) takes the customary linear form used in previous studies. Notably, equation (2) only expresses the variable costs associated with measurement; possible fixed costs, which do not depend on the number of samples, need to be added to give the total cost of collecting the data set, but will not affect the optimization procedures developed below [41, 43].
The general optimization problem
If a data collection is allowed to consume a total budget R (after possible reduction by fixed costs), combinations of n s , n d and n q that optimize the output, i.e. minimize the resulting variance of the estimated mean exposure, can be retrieved by solving the following optimization problem:
Due to the non-linear property of this three-variable equation system, explicit solutions for optimization can be derived only in exceptional cases. Moreover, solutions to a three-variable problem are difficult to illustrate graphically. Therefore, the following analysis will be limited to cases in which the number of quanta, n q , within each measurement occasion is not a choice variable. This situation occurs for instance when exposure is assessed for complete days, or when the within-day schedule of data sampling cannot or should not be manipulated for reasons of logistics or feasibility.
The two-variable reduction
Given a predetermined number of sampled quanta within each measurement occasion, the general optimization problem above is reduced to the two-variable problem of identifying optimal values of n s and n d . This allows graphical illustrations of the problem and its solutions. It also opens for further simplification into one-variable optimisation problems, which in many cases can be solved explicitly, as shown in the results section.
In these equations, the terms

and

have been substituted into the three-variable expressions of mean exposure variance (equation (1)) and cost (equation (2)), respectively. This notation emphasizes that the specific variance of an exposure estimate obtained at one measurement occasion, s 2 μWD , and the cost of collecting data within each occasion, c q , are no longer allowed to vary.
In principle, the two-variable problem can be solved by applying constrained optimization techniques, i.e. by employing the problem's Lagrange function (e.g. [
56
]). As an alternative, the budget constraint, equation (
4
), can be substituted into the objective function, equation (
3
), so as to get a new objective function, which expresses the variance

as a function of only one variable, be it either
n
s
or
n
d
. This approach relies on the prerequisite that any solution to the optimization problem entails that the entire budget R is consumed. In that case, the budget constraint (equation (
4
)) can be replaced by an equality:
Isolating n s or n d from equation (4a), followed by substitution into equation (3), yields a one-variable objective function,

, with i = s or i = d. This function can be examined using standard methodologies for identifying and illustrating possible local minima within a specified choice set. The resulting optimal value of either n s or n d can then be entered into the budget constraint to get the optimal value of the other variable.
The one-variable substitution approach
The core challenge in the substitution approach outlined in the previous section is to identify that exposure assessment strategy in the choice set defined by the budget constraint for which the objective function, i.e. equation (3) with substituted n s or n d , has its minimal value. This can, in principle, be accomplished by determining the derivative of the objective function and finding its roots.
Figure
2
illustrates four principally different cases of how the objective variance function may look as a function of invested resources. At the lower boundary of the choice set, all resources are spent on one unit of
n
i
, and at the upper boundary on as many
n
i
as allowed by the budget,
n
i,max
. Thus, if
i = s
, these two boundaries correspond to allocating as many measurement occasions as possible to one subject, and obtaining measurements at one occasion from as many subjects as possible.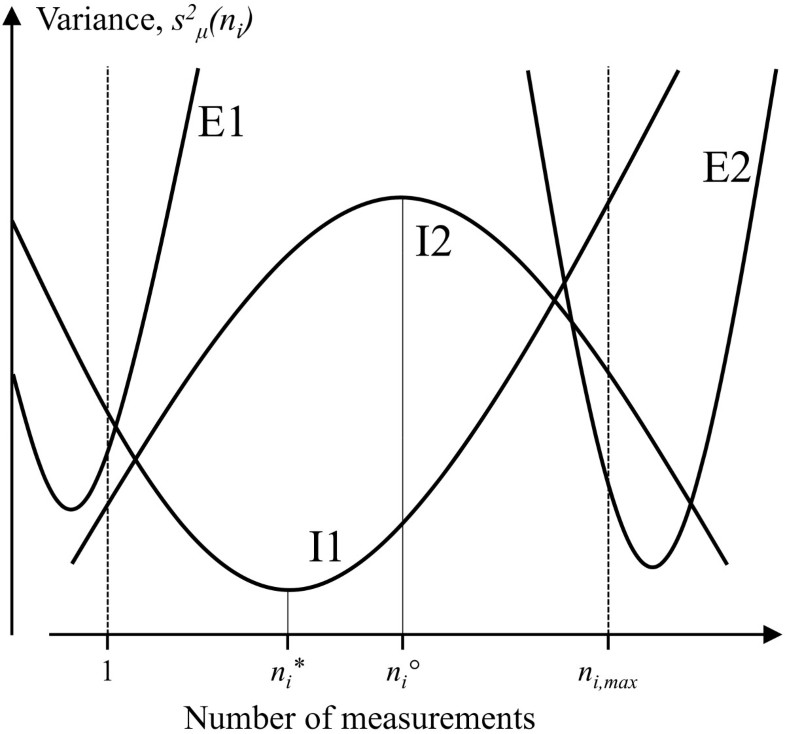 As a general procedure, the optimal n i for a given budget can be found by comparing the performance obtained: (1) at the lower boundary of the choice set, i.e. using n i = 1, (2) at the upper boundary of the choice set, i.e. with n i = n i,max , and (3) entering values of n i , if any, in the interior of the choice set, 1 ≤ n i ≤ n i,max, for which

.
Thus, examining the properties of the objective function,

, at the boundaries of the choice set is an appropriate first step for identifying the optimal allocation of resources. Provided that the objective function has one unique minimum, i.e. that the objective function is convex (I1, E1 and E2 in figure 2), a necessary, but also sufficient, condition for the optimum to be internal (case I1) is that

and

. The exact location of the internal minimum can then be retrieved in a second step. The basic shape of the objective function can be determined by examining its second-order derivative. If this derivative is positive, the function is convex; if not it is concave (case I2), and the optimal strategy will be at one of the choice set boundaries.
If a convex objective function does not have an internal minimum, as in cases E1 and E2 in figure 2, the optimal strategy is represented by the boundary of the choice set. In case E1, which occurs if

, the optimal strategy is to set n i = 1, that is, collect data from only one subject (if i = s), or having only one measurement occasion per subject (if i = d). Case E2 is characterized by a decreasing objective function at n i = n max, i.e.

. In this case, if i = s, the best choice will be to measure as many subjects as possible and hence only one occasion per subject, or, if i = d, to collect data for as many occasions as possible from only one subject.
Results
Below, procedures for determining optimal sampling strategies are developed using the one-variable substitution approach described above. Procedures will be stratified according to the sizes of α and β, which determine the shape of the cost function (equation (4a)), and hence the form of the substituted objective function,

. For each combination of α and β, the objective function is examined, and the boundaries of the choice set determined. Procedures for determining whether the objective function is convex (cases I1, E1 and E2 in figure 2) or concave (case I2) are described where needed. For convex functions, explicit rules are, if possible, developed for when (case I1) and when not (cases E1, E2) the optimal measurement allocation occurs within the choice set. Finally, procedures for identifying an optimal sampling strategy inside the choice set (case I1) are described.
Discussion
As illustrated by the numerical examples in table 2, a large ratio of between-subjects to within-subject variance generally implies that the optimal allocation principle is to collect data on one occasion from as many subjects as allowed by the budget. This also applies when between-subjects and within-subject variances are of similar size, unless the unit cost of recruiting subjects is large relative to that of setting up measurement occasions. In these cases, non-linearity in the cost functions does not influence the optimal allocation principle; only the eventual size of the data set allowed by budgets. However, at a large relative recruitment cost combined with a small between-subjects to within-subject variance ratio, and in particular if the total budget is also small, the optimal sampling strategy may consist in approaching only a few subjects on several occasions each, and the strategy is very sensitive to non-linearities in cost functions. Non-linearities in subject recruitment costs always have a clear influence on the size of the optimal data set, while non-linearities in costs for setting up measurement occasions are important only in cases when the optimal strategy includes multiple measurements per subject.
Sensitivity
The basic cost model
One important result of the present investigation was that for many combinations of unit costs and variance components, non-linear cost functions did not change the general principle stated by a linear model: to measure from as many subjects as possible on one occasion each (cf. table 2). Thus, under these particular circumstances, the principle of how to optimize exposure assessment was not sensitive to the cost model, even if the eventual size of the data set allowed by budget constraints was influenced by non-linearities in subject recruitment costs. At other combinations of variance components and unit costs, in particular when between-subject variability was small compared to within-subject variability and subject recruitment costs at the same time were large compared to costs for setting up measurement occasions, non-linearities did, however, strongly affect both the optimal allocation principle and the eventual statistical performance. While, as mentioned above, examples of small between- to within-subject ratios of variance are abundant in the literature, relative sizes of unit costs are largely unknown, and thus we do not consider it justified so-far to form an opinion on the actual occurrence of such sensitive scenarios.
Uncertainties in input parameters
The procedures developed in the present study for identifying optimal exposure assessment strategies, whether analytical or numerical, rely on known values of unit costs, exponents in the cost function, and variance components. However, in a specific epidemiologic study, all of these inputs need be based on estimates associated with some degree of uncertainty. Thus, the derived "optimal" exposure assessment strategy will, in itself, be uncertain. Similar to the issue of cost function sensitivity discussed above, the principle of how to optimize exposure assessment seem, however, to be very robust to changes in unit costs and variance components when between-subject variability is large compared to within-subject variability and subject recruitment costs are small or similar to costs for setting up measurement occasions (table 2). Even the size of the eventual data set is robust to changes in exposure variability, as long as recruitment costs are small (table 2). If, however, recruitment unit costs are large, both the allocation and size of the optimal strategy is highly sensitive to the size of variance components, especially if recruitment costs accelerate with the number of subjects (α>1).
Even when closed-form solutions are available for estimating the optimal choice of subjects and measurement occasions (equations (10) and (11)), a corresponding analytical expression of the uncertainty of these estimates may not be readily available. Optimization using numerical procedures evidently precludes any explicit mathematical representation of uncertainty. Thus, systematic analyses of the stability of optimized strategies to fluctuations in input variables need to be performed by numerical methods. Different approaches may then be viable, including Monte Carlo procedures (e.g. [73]), which will, however, require estimates of the distributions of input variables; and large-scale resampling from empirical distributions as in bootstrapping [74]. Bootstrapping has been used successfully to address uncertainty in several occupational studies addressing exposure sampling efficiency [27, 53, 75], and is especially useful in cases when analytical methods are unavailable [12] or when assumptions underlying the analytical models are probably violated [35, 54]. Bootstrap-based analysis of uncertainty has also been used successfully in health economics [76]. However, bootstrapping requires access to - preferably large - empirical data sets that can be used to represent the distributions of necessary variables. In the case of cost-efficiency optimization, this implies that extensive data, not available at present, are needed on unit costs, exponents in the cost function, and exposure variance components.
Deviations from the optimal strategy
For pragmatic reasons, exposure assessments in working life will rarely be carried out as planned (e.g. [37]). Thus, an intended optimal strategy may, in effect, be realized by collecting numbers of measurement units at different stages that deviate from the optimal choice, even if the total budget is still consumed. Presumably, the most likely deviations to occur appear in the form of slight departures from a completely balanced data set; for instance that some measurement occasions fail for some subjects but are compensated by more occasions from others. As noted from the numerical examples (table 2), statistical performance seems to be considerably more sensitive to non-optimal strategies at some combinations of variance components, unit costs and cost function exponents than at others. However, this result concerns only non-optimal strategies that are still balanced. The effects of unbalanced reallocations of measurements, which still consume the allowed budget, need to be determined in future studies. When facing scenarios that will be sensitive to deviations from the optimal strategy, we suggest, however, preparing for likely departures by designing an intentional oversampling.
Comparing cost-efficiencies
Comparing measurement allocations
Some previous studies on cost-efficient data collection have been devoted to comparing two or more alternative measurement strategies with respect to cost and efficiency, rather than identifying an optimal strategy. Thus, Armstrong compared the properties of two different instruments for retrieving the same exposure data [40, 41], while Lemasters et al. [38] and Shukla et al. [39] devoted their studies to comparing different allocations of measurements using the same instrument. In the two latter studies, probably none of the compared strategies were optimal, but they were meant to represent feasible strategies in terms of e.g. logistics and selection constraints. The comparison approach to cost-efficiency analysis is considerably easier to deal with from a mathematical viewpoint than optimization as addressed in the present paper. A mere comparison also allows for both cost and output variance functions that cannot be addressed by analytical optimization procedures. Abstaining from optimization may thus represent a pragmatic level of analysis in cases where the principal objective is to decide for one of a number of possible exposure assessment strategies rather than determining an absolute optimum.
Comparing measurement instruments
While, as mentioned, some previous studies have addressed the issue of comparing the cost-efficiency of two alternative methods for obtaining the same exposure variable(s) [40, 41], no attempts have been made on comparing two instruments in terms of their optimal performance under a constrained budget. This is an issue of obvious importance to a researcher or practitioner facing a decision on investments in new equipment or staff. For many occupational and environmental exposures, several alternative measurement instruments are available. For instance, working postures can be recorded using self-reports, observations and direct measurement tools [77, 78]; i.e. methods associated with different costs and different statistical performance [79, 80]. The procedures developed in the present paper can be used to identify an optimal measurement strategy for each method separately, including the resulting statistical performance, on which basis a comparison can be made. In this case, it is particularly important to acknowledge fixed costs with either method, since they determine the budget left for optimization.
Conclusion
In the present study, we demonstrated that non-linearities in costs functions can have a significant influence on the principle of how to optimally allocate measurements between subjects and occasions within subjects. This happens if costs for recruiting subjects are large compared to costs for setting up measurement occasions, and, at the same time, the between-subjects to within-subject variance ratio is small. If, on the other hand, the between-subjects variance is larger than or similar to the within-subject variance, non-linearities do not, in general, change the supremacy of measuring at one occasion from each of as many subjects as allowed by the budget. This principle applies in particular if the budget is large. Irrespective of the extent of exposure variability, however, non-linear subject recruitment costs will affect the eventual size of the exposure data sample, and hence the precision of the resulting exposure mean value.
We noted a remarkable scarcity of empirical data on appropriate approximations of cost functions in exposure assessment, as well as on the sizes of costs pertaining to different measurement stages, for instance subjects and occasions within subjects.
Thus, in epidemiologic research requiring reliable exposure mean values, we suggest that exposure assessment strategies are discussed a priori, using the procedures developed in the present paper on educated estimates of relevant variance components, unit costs, and cost function shapes. This should lead to informed decisions on measurement strategies that pursue an optimal use of monetary resources, with due consideration as to whether the obtainable statistical performance is sufficient.
Appendix
The conditions for the objective function to be convex if β ≠ 1 (case B), can be derived as follows:
This last inequality is equivalent to:
Thus, to summarize, the objective function is always convex for β ≥ 2. For 1 < β < 2 and β < 1, it is convex if inequalities A1 and A2 apply, respectively.
Declarations
Acknowledgements
The present study was supported by a grant from the Swedish Council for Working Life and Social Research (FAS Dnr. 2005-0183). The funding body had no influence on study design, analysis and interpretation of data, writing of the manuscript or decision to submit the paper for publication.
Authors' Affiliations
(1)
Centre for Musculoskeletal Research, Department of Occupational and Public Health Sciences, University of Gävle, Sweden
(2)
Department of Economics, Lund University,, Lund, Sweden
Copyright
© Mathiassen and Bolin; licensee BioMed Central Ltd. 2011
This article is published under license to BioMed Central Ltd. This is an Open Access article distributed under the terms of the Creative Commons Attribution License (http://creativecommons.org/licenses/by/2.0), which permits unrestricted use, distribution, and reproduction in any medium, provided the original work is properly cited.