Correspondence
Open Access
Open Peer Review
This article has Open Peer Review reports available.
"Best fit" framework synthesis: refining the method
BMC Medical Research Methodology
2013
13:37
Received: 12 September 2012
Accepted: 4 March 2013
Published: 13 March 2013
Abstract
Background
Following publication of the first worked example of the "best fit" method of evidence synthesis for the systematic review of qualitative evidence in this journal, the originators of the method identified a need to specify more fully some aspects of this particular derivative of framework synthesis.
Methods and Results
We therefore present a second such worked example in which all techniques are defined and explained, and their appropriateness is assessed. Specified features of the method include the development of new techniques to identify theories in a systematic manner; the creation of an a priori framework for the synthesis; and the "testing" of the synthesis. An innovative combination of existing methods of quality assessment, analysis and synthesis is used to complete the process. This second worked example was a qualitative evidence synthesis of employees' views of workplace smoking cessation interventions, in which the "best fit" method was found to be practical and fit for purpose.
Conclusions
The method is suited to producing context-specific conceptual models for describing or explaining the decision-making and health behaviours of patients and other groups. It offers a pragmatic means of conducting rapid qualitative evidence synthesis and generating programme theories relating to intervention effectiveness, which might be of relevance both to researchers and policy-makers.
Keywords
Systematic reviewQualitative researchMethodsFramework synthesisThematic analysisSensitivity analysisSmoking cessationCritical appraisalTheory
Background
The technique of "best fit" framework synthesis was described in a previous paper in this journal [1]. The "best fit" framework synthesis method offered a means to test, reinforce and build on an existing published model, conceived for a potentially different but relevant population. As with similar approaches, it involved an examination of existing relevant theories, "their testability, falsifiability, their internal logic and their fit with the evidence" [2].
"Best fit" framework synthesis begins by creating a framework of a priori themes and coding data from a review's included studies against that thematic or conceptual framework. This approach produces a relatively rapid, transparent and pragmatic process [3] when compared to more exclusively interpretative forms of synthesis because a substantial amount of the data to be included in the review is often coded against the a priori framework. Only data that cannot be accommodated within the framework requires considered, iterative interpretation using inductive, thematic analysis techniques. The approaches to synthesis are therefore both positivist and interpretive [4]; it harnesses the recognised strengths of both framework and thematic synthesis [5].
This methodology is different from other approaches to qualitative evidence synthesis in part because it employs a systematic method for identifying published frameworks, models or theories in order to create the framework for the synthesis. It is also different because it combines both framework and thematic analysis techniques to complete the synthesis. The potential value of the "best fit" method was quickly recognised, especially for qualitative evidence synthesis to address "policy-urgent" questions [3, 6, 7]. This was because "both thematic synthesis and framework synthesis – while … involving some interpretation of data – share a … less problematized view of reality and a greater assumption that their synthetic products are reproducible and correspond to a shared reality … directly applicable to policy makers and designers of interventions", while approaches such as meta-ethnography and critical interpretive synthesis are "generally more complex and conceptual, sometimes operating on the symbolic or metaphorical level, and requiring a further process of interpretation by policy makers and practitioners in order for them to inform practice" [5].
The previous paper described the first attempt at this form of framework synthesis. Subsequently its originators identified a need to specify and extend, methodologically, some aspects of the process. These include the identification of the foundation theory, the thematic reduction of this theory to create the a priori framework, and the transition from the resultant framework (based on the a priori framework plus new themes) to the final conceptual model. This paper therefore defines the processes for each of these stages, as well as providing a further opportunity to apply and evaluate the original data extraction, quality assessment and synthesis processes.
The aim is to provide complete transparency for all of these constituent stages and processes, a key characteristic of systematic review and evidence synthesis, but one frequently lacking for some qualitative synthesis methods. These methods often might fail to specify how to identify and select a relevant theory [8] or what method to apply to analyse data or evidence that do not fit into an a priori framework [9–13]. Such omissions have been noted previously, especially in relation to the conduct of meta-ethnography [9], which is the most frequently-conducted type of qualitative evidence synthesis [14].
The sample case study here is a qualitative evidence synthesis of the views and preferences of employees regarding workplace strategies or interventions to reduce smoking or facilitate smoking cessation [15]. Opportunism dictated this choice of case study, i.e. a piece of work was commissioned from two of the authors (CC, JR) focusing on an aspect of health behaviour change (smoking cessation) and this offered the opportunity to conduct a qualitative evidence synthesis.
Methods
"Best fit" framework synthesis requires identification of a relevant framework, theory or conceptual model for particular health behaviours. This is then reduced to its key elements or variables, which form the themes of the
a priori
framework. Primary research studies for inclusion in the review are identified and selected by applying conventional systematic review methods. Evidence from these included studies is then coded against the themes of the
a priori
framework and new themes are generated from evidence not captured by this
a priori
framework. These new themes are based on the reviewers' interpretation of the evidence and constant comparison of such new themes across studies. The principles of the method correspond to those for the thematic analysis of primary research data, e.g. transcripts of interviews, as described by Miles and Huberman [
16
], but are applied to the findings or results reported in published papers; hence, secondary thematic analysis. Relationships between the themes of the framework are then either recreated or generated based on the evidence from the primary research studies included in the review. A new model or theory of the particular health behaviour of interest in the population or setting of interest is thus created. The process is outlined in Figure
1
. Once the question is determined, the creation of the
a priori
framework for the synthesis is conducted simultaneously with but independently from the search for and selection of the primary research studies to be included in the review and synthesis. These two "strands" then join together at the framework synthesis stage. In the case study considered here, the resultant framework and model represented employees' views about, and their experiences of work-based smoking cessation programmes.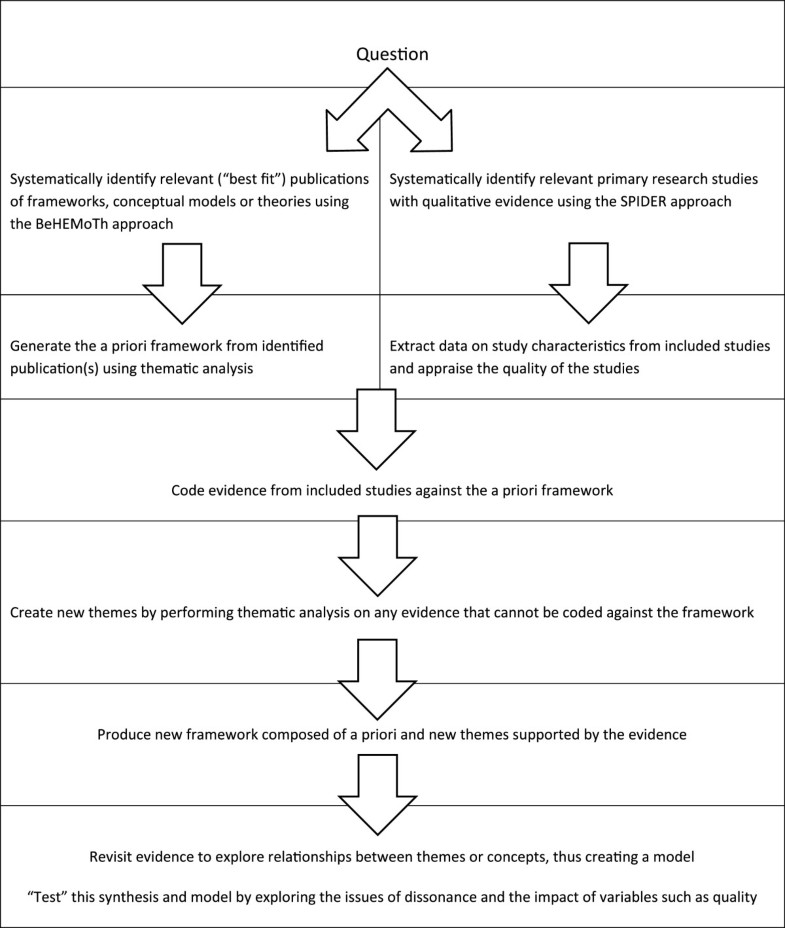 The method requires two separate sets of inclusion criteria, searches and study selection: One for identifying the models and theories to generate the
a priori
framework, and one for populating the systematic review of primary qualitative research studies (Table
1
).
Table 1
Inclusion criteria
| | Models and theories | Primary research studies |
| --- | --- | --- |
| Setting/Population | Workplace or employees | Workplace |
| Phenomenon of interest | Smoking reduction, cessation or restriction | Smoking reduction, cessation or restriction |
| Design, Evaluation, Research | Publications exploring, testing or creating frameworks, models, theories | Interviews, focus groups, or satisfaction surveys (that quantify employees' views, attitudes or preferences in terms of frequencies) |
Discussion
"Best fit" framework synthesis, as described and defined here, involves a series of distinct stages, each involving the application of a particular strategy or methodol. After the scoping of the question, common to all reviews, there follows two separate but simultaneous search and study selection processes. The BeHEMoTh strategy, described elsewhere (Booth A, Carroll C: Towards a simple transparent method for identifying theory for use in systematic reviews of behaviour change interventions: the BeHEMoTh Procedure. Submitted.), was used to systematically identify relevant models or theories relating to the behaviour and context of interest. Secondary thematic analysis of the model or models was then undertaken as a means of creating the a priori framework as the basis for the extraction and synthesis. In the previous worked example, this was based on a single published conceptual model, but in this present case study review there were five relevant models, which required reduction in order to produce the a priori framework. This process required more time to complete than for the single model, but was also worthwhile because the selection of only one of the adapted theories or models in the publications would have produced a more limited a priori framework. This can be deduced from the gaps in the matrix outlined in Figures 4. Indeed, this approach also enables an improved understanding of the ways in which existing theories might be lacking when it comes to answering certain review questions. Once the thematic framework was produced, the named themes were defined and conceptualised. A second search using the SPIDER strategy [21] was conducted to identify the primary research studies for the review. Like BeHEMoTH, this strategy was found to be fit for purpose for this exemplar review with the approach identifying 14 of the 15 included studies in the review.
Reviewers conducted data extraction rapidly and consistently using the
a priori
framework with its defined themes. The review team then used secondary thematic analysis to interpret and analyse that evidence not captured by the
a priori
conceptual framework. Individual reviewers independently conducted the initial analysis and interpretation of this evidence, but these interpretations and evidence were then reassessed by the review team and a final list of themes agreed. This led to the creation of a new, agreed conceptual framework. Relationships between individual concepts were then explored with reference to the evidence, which, in turn, led to clustering of concepts and the creation of a new conceptual model describing and reflecting the behaviour of interest. Within the specific context of this review the result was a conceptual model explaining the behaviour and views of employees in response to workplace smoking cessation interventions. The resultant synthetic product was a model and, with further consideration and interpretation, a programme theory, whichcould be used to develop potentially more acceptable and effective workplace interventions for smoking cessation. The process, outlined in Figure
1
, is described with reference to this particular review in Figure
6
.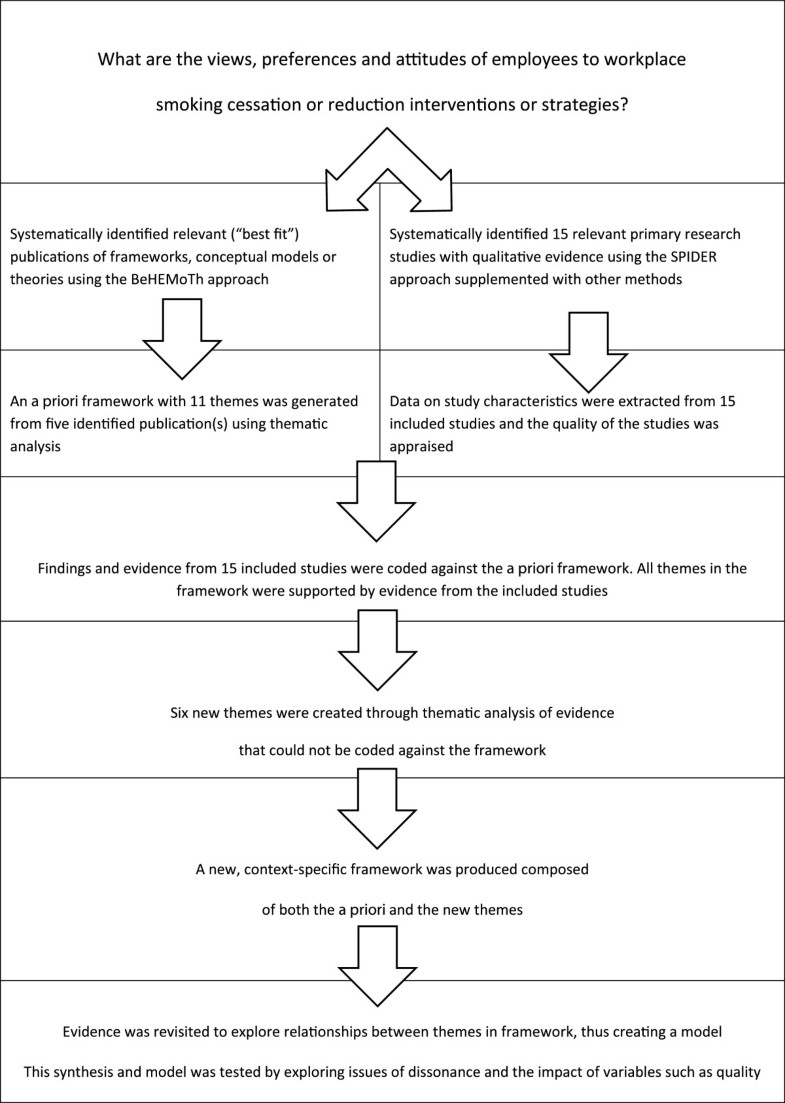 The quality assessment process, using the brief quality of reporting assessment criteria developed by the authors and used elsewhere [49], was also found to be fit for purpose for this review: The reviewers independently and consistently categorised each included study in the same way, as either adequately or inadequately reported. The final process elements of the methodology; the "gap analysis" with reference to the foundation models; the qualitative sensitivity analysis based on the relative quality of reporting of included studies; and the assessment of dissonance, all offer simple but important means of testing and evaluating the internal and external validity of the review and synthesis.
The "best fit" method does not apply any "saturation" criteria [62] and thus involves examination of evidence from all identified studies. It has been acknowledged that the threshold for saturation can be difficult to determine systematically [9, 55] and may potentially ignore the contribution of later studies. This can prove a particular issue when conducting updates to pre-existing systematic reviews, especially where more recent studies have been found to offer greater depth and contribute more to a synthesis [48, 63]. The two worked examples of "best fit framework synthesis" also suggest that it is not necessarily true in all cases to say that qualitative research linked to a specific intervention is of only "limited value" in generating conceptual models [62]: All of the included studies represented such research. The "best fit" method can therefore be useful, as it can test and generate theory, and in so doing solve problems in policy-making and health care, and answer those questions left unanswered by the quantitative paradigm. These are roles that are increasingly being recognised for qualitative health research [64–66] and, by extension, qualitative evidence synthesis.
The "best fit" method for systematic review and evidence synthesis, with its inductive approach to the testing, revision and supplementation of a foundation theory, satisfies some stated objectives of qualitative synthesis: To develop a precise view of theoretical knowledge within an area, as well as the gaps in that knowledge, and to provide an evidence-base for the future development of interventions [56]. This is because the method not only tests theory but can generate it. In this case study, it led to the creation of a "testable" hypothesis that the priority given by an individual to quitting smoking mediates the effectiveness of any relevant intervention [15].
Strengths and limitations of the "best-fit" method
"Best fit" framework synthesis is different from other approaches in that it is a theory-based qualitative evidence synthesis (akin to realist synthesis) but can employ more than one systematically identified model or theory for conducting framework synthesis, which might thus overcome the limitations of any one particular theory. It also employs a unique combination of framework synthesis and secondary thematic analysis. It is highly suited to generating context-specific models or theories of patient or client-behaviour or experience by utilising existing published models and theories..This is because of the existence of a large number of well-established theories and models explaining decision-making with regard to health and health care [67]. Consequently, even where there is not a "perfect fit" foundation model for a particular population and health behaviour, there will invariably be a generic model to act as a "best fit" and form the basis of the a priori framework. Such a framework will almost certainly accommodate a substantial amount of the evidence included in a review, given the universal traits of human behaviour and decision-making that influence health behaviours and are reflected in such models. As demonstrated here, specific workplace smoking cessation models were found and used, but all were based on more generic health behaviour models, such as the Health Belief Model (HBM) and the theory of planned behaviour (TPB). Generic models are likely to apply to most behaviours and are therefore likely to accommodate a large amount of the evidence from included qualitative studies, regardless of setting, population or intervention. The synthesis product should therefore be a conceptual model of value not only to researchers developing interventions, but also to policy and decision-makers. This is because it will not only be context specific and evidence-based, but also because it will draw heavily, and transparently, on existing theoretical foundations and traditions.
Another potential strength of the method lies in the inherent advantages of coding data by using both an a priori framework and the creation of new themes by applying inductive methods, where data cannot be accommodated by the framework. The approach therefore uses a framework but is not limited to it. Even though the specifics of the setting, population or intervention might fall outside of the scope of foundation models or theories, and therefore outside the a priori framework also, these aspects will be captured by the supplementary thematic analysis. This satisfies requirements of qualitative synthesis: "The researcher should … sort the data accordingly … be an active astute observer … so that … [they are] not forcing data … into prescribed categories … [but] rather … asking informed questions and checking the fit of established theory to see if it holds in a new situation" [68]. This dual role of qualitative researchers - to engage with theory but not be constrained by it – is acknowledged within the "best fit" methodology.
The value and utility of "best fit" for health services' problem-solving and policy-oriented questions has already been recognised because it offers a theory-based synthesis method focusing on health behaviour and health service use [3, 6], similar to realist synthesis [8]. However, this could be developed further were the technique to be used as a first stage in matrix-based synthesis methods to integrate qualitative and quantitative evidence to develop effective interventions [11, 69, 70]. This is especially the case with complex interventions and those where patient compliance (and thus the preferences and views of patients regarding services or technologies) are likely to be a mediator of optimal outcomes [11]. Health Technology Assessment is an obvious sphere for the application of "best-fit" [71]. It is even possible to generate context-specific, programme theory from this type of synthesis, which could then be tested in an empirical study. Further strengths, as identified previously, are the speed and consistency with which the process can be conducted and, unlike other more interpretive methods, such as meta-ethnography [9], the pragmatic requirement for a systematic review team to be technically competent but not necessarily to contain multi-disciplinary expertise. Consequently, the interpretive process of "best fit" framework synthesis, while more "mechanistic" than other forms of synthesis, is correspondingly more pragmatic and transparent.
However, the method is only appropriate for questions for which pre-existing frameworks or theories exist; the generation of completely new theory requires exclusively inductive methods, such as meta-ethnography or critical interpretive synthesis [5]. There is also the issue of the selection of relevant theory. A review team must make a decision on the relevance of any conceptual or theoretical papers identified based on the inclusion criteria and "best fit". This case study identified five theoretical or conceptual papers, all considered to be equally relevant to the question and synthesis. Indeed, no one paper could have generated all of the themes of the a priori framework, thus demanding thematic analysis of a larger amount of evidence. Another review might identify even more potentially relevant model or theory papers. Unless a rationale was applied for selecting a small number of such papers, then the process of generating the framework could prove burdensome, when the intention behind the methodology and approach is actually to facilitate and simplify this stage. The best fit method makes use of a range of novel, published process elements for the systematic review and synthesis of qualitative evidence, namely: Systematic search strategies for models and theories, as well as for primary qualitative research studies; the assessment of study quality using simple, brief criteria; the application of framework synthesis methods to code much of the extracted data; the application of secondary thematic analysis to create both the a priori framework and the new themes in the final framework; and the post-synthesis application of forms of sensitivity and dissonance analysis. The innovative nature of so many elements of the methodology will obviously require extensive testing and evaluation. This paper represents a second attempt to specify and to develop further each stage of the "best fit" framework synthesis process within a worked example. Although all of the techniques applied appear to be fit for purpose, the method needs further testing by different groups and for different questions and health behaviours. However, this paper also provides a second, more developed "worked example" of the "best fit" method, and satisfies the call, made in this journal, for the publication of more worked examples of novel methods of evidence synthesis [11]. As noted elsewhere, such case studies provide a specificity and transparency often absent from original descriptions of methods [9].
Conclusion
The "best fit" method of framework synthesis offers a pragmatic means of conducting rapid qualitative evidence synthesis and generating models and, potentially, programme theories, and is of potential relevance both to researchers and policy-makers. The method is suited to producing new conceptual models for describing or explaining the decision-making and health behaviours of patients and other groups and if effectiveness evidence is at all equivocal, then this method offers a means of exploring and explaining that ambiguity, and developing more appropriate interventions. The "best fit" approach applies new methods to identify theories in a systematic manner, and to create the a priori framework for the synthesis. Otherwise it uses an innovative combination of existing methods of quality assessment, analysis and synthesis to complete the process. The whole process was developed and tested within the context of a qualitative evidence synthesis of employees' views of workplace smoking cessation interventions and was found to be both practical and fit for purpose.
Declarations
Acknowledgements
The workplace smoking cessation case study was funded by the British Occupational Health Research Foundation (BOHRF).
Authors' Affiliations
(1)
Health Economics and Decision Science (HEDS), School of Health and Related Research (ScHARR), Regent Court, Sheffield, UK
(2)
Health Sciences Research Group - Primary Care, School of Community Based Medicine, University of Manchester, Manchester, UK
Copyright
© Carroll et al.; licensee BioMed Central Ltd. 2013
This article is published under license to BioMed Central Ltd. This is an Open Access article distributed under the terms of the Creative Commons Attribution License (http://creativecommons.org/licenses/by/2.0), which permits unrestricted use, distribution, and reproduction in any medium, provided the original work is properly cited.