Research article
Open Access
Open Peer Review
This article has Open Peer Review reports available.
Model-based estimation of measures of association for time-to-event outcomes
BMC Medical Research Methodology
2014
14:97
Received: 23 December 2013
Accepted: 25 July 2014
Published: 9 August 2014
Abstract
Background
Hazard ratios are ubiquitously used in time to event applications to quantify adjusted covariate effects. Although hazard ratios are invaluable for hypothesis testing, other adjusted measures of association, both relative and absolute, should be provided to fully appreciate studies results. The corrected group prognosis method is generally used to estimate the absolute risk reduction and the number needed to be treated for categorical covariates.
Methods
The goal of this paper is to present transformation models for time-to-event outcomes to obtain, directly from estimated coefficients, the measures of association widely used in biostatistics together with their confidence interval. Pseudo-values are used for a practical estimation of transformation models.
Results
Using the regression model estimated through pseudo-values with suitable link functions, relative risks, risk differences and the number needed to treat, are obtained together with their confidence intervals. One example based on literature data and one original application to the study of prognostic factors in primary retroperitoneal soft tissue sarcomas are presented. A simulation study is used to show some properties of the different estimation methods.
Conclusions
Clinically useful measures of treatment or exposure effect are widely available in epidemiology. When time to event outcomes are present, the analysis is performed generally resorting to predicted values from Cox regression model. It is now possible to resort to more general regression models, adopting suitable link functions and pseudo values for estimation, to obtain alternative measures of effect directly from regression coefficients together with their confidence interval. This may be especially useful when, in presence of time dependent covariate effects, it is not straightforward to specify the correct, if any, time dependent functional form. The method can easily be implemented with standard software.
Keywords
Survival analysisTransformation modelsPseudo-valuesLink functionsNumbers needed to treat
Background
Measures of disease frequency and measures of associations derived from them are among the basic building blocks of biostatistics and epidemiology. The appropriateness of the use of a specific measure of association may depend on the study objectives and design. Sometimes, however, the use of specific measures of association depends also on the statistical methods available for estimation. For example, in epidemiology, a debated subject concerns the use of odds ratios, estimated through logistic regression, in cohort studies of common outcomes [1, 2].
When time-to-event outcomes are analyzed, the presence of censoring calls for specific methods of analysis [3]. The evaluation of the effect of a treatment in a controlled trial can be performed through the graphical display and comparison of Kaplan-Meier curves at selected times, when adjustment is not required. Otherwise, the measure of effect generally considered is the adjusted hazard ratio estimated by means of Cox proportional hazard model, ([4, 5]).
However, the clinical literature in randomized controlled trials suggests the use of absolute measures of effect to assess the effects of a treatment, such as risk difference or the number needed to be treated, which are better suited than relative measures of effect for clinical decision support, see [6–10] among others. Schechtman highlights how relative measures are appropriate for summarizing the evidence while absolute measures for the concrete application in a clinical setting, [11].
The need for alternatives to hazard ratios, a relative measure of effect based on (instantaneous) incidence rates, is increasing in medical/epidemiological literature. In particular, the possibility to provide absolute measures of association computed using adjusted survival curves was explored in literature [12–14].
To precisely define the different measures of association in time-to-event applications, it is useful to distinguish between the risk of the event, F(t), i.e. the probability of a patient having the event over a defined follow-up time, and the event rate, λ(t), i.e. the number of events in a specified follow-up interval divided by the time at risk accumulated during the interval. The instantaneous hazard rate is obtained when the interval length approaches 0. The hazard rate at time t refers to the population survived until time t, while the risk refers to the whole population. The measures considered in this paper refer to ratios and differences between the risk of event of different groups of subjects. Let F 1(t) and F 2(t) be the event risk by t in two groups of subjects, (exposed and non exposed, standard treatment and new treatment), then we define the risk difference as R D(t)=F 1(t)−F 2(t). It is useful to translate R D(t) expressed as a percentage measure in a measure more sensible form a clinical perspective. To this end it is usual to use the number needed to be treated N N T(t)=1/R D(t) which is interpreted as the expected number of patients needed to be treated to avoid one additional death compared to the untreated. The measure has its roots in clinical trial literature and was extended in an epidemiological framework as the number needed to be exposed, N N E(t), i.e. the expected number of subjects to be exposed to have one additional event compared to the unexposed. In observational studies, an alternative definition of N N E(t) is the exposure effect among the unexposed, while the exposure impact number, E I N(t), describes the effect of removing the exposure among the exposed [15–17]. It is also interesting to define a relative risk, , to be contrasted with the hazard ratio, . The different measures of effect are in general time-varying. In certain situations, however, they are estimated as constant through follow-up, as it happens for example with the Cox proportional hazard model for the hazard ratio. When the measure is assumed to be constant during follow-up the time dependence is omitted (i.e., H R(t) is written as HR).
The purpose of this paper is to provide an outline of the methods generally adopted to estimate adjusted summary measures of associations, different from the hazard ratio, in time-to-event studies and to present a new method based on transformation models. The focus of this paper is not to provide guidance about which association measure should be used in different situations, but simply to provide an estimation method. Moreover, particular attention will be given to the estimate of adjusted R D(t). In fact, absolute measures of association are particularly advocated in survival analysis, to be combined with the generally used hazard ratio. A small simulation study is provided to show a preliminary evaluation of the properties of the different estimation procedures. Two examples are then developed. The first concerns literature data on a clinical trial on 506 prostate cancer patients [18]. The goal is to estimate the treatment R D(t) and N N T(t) with their confidence intervals. A comparison of the model based estimated R D(t) with that obtained with the classical corrected group prognosis method [14] is provided. The second application concerns an observational study of prognostic factors in primary retroperitoneal soft tissue sarcomas [19].
Results
The estimation of R D(t) through pseudo-values is evaluated through a simple simulation study. Moreover, two real examples are presented. The first example concerns a prostate cancer trial, well known in competing risks literature, to show a situation where proportional hazard fail to model the treatment effect during the whole follow-up. The second example regards the analysis of prognostic factors in an observational study of primary retroperitoneal soft tissue sarcoma patients. R software, [48], was used for the simulation and both the examples presented.
Simulation
Data are generated to simulate Cox regression model, according to [
13
]. Suppose 100 persons are exposed (
Z
=1) and 100 unexposed (
Z
=0). A confounder
X
is generated normally distributed with mean 40 for
Z
=0 and 45 for
Z
=1 (standard deviations is 8 for both). Event times are generated according to an exponential proportional hazard model
λ
(
t
|
X
,
Z
)=
λ
e
l o g(1.01)X+l o g(1.80)∗Z
. Censoring times are obtained in the same way adjusting the baseline hazard to have about 10
%
censoring. In such a situation the true exposure
R
D
(
t
) may be calculated integrating out the covariate
X
:
Pointwise confidence intervals for the CGPM are calculated using percentile bootstrap (200 bootstrap samples for each simulated data set).
R
D
(
t
) is estimated by transformation models using pseudo values and the identity link. The baseline cumulative risk is modelled using a restricted cubic spline with 5 knots at 5
%
, 25
%
, 50
%
, 75
%
and 95
%
quantiles of the failure time distribution. In the pseudo value model the Z covariate is inserted either without and with an interaction with the baseline risk (i.e. estimating a constant
RD
, and a time-dependent
R
D
(
t
) through follow-up time). The estimated
RD
and
R
D
(
t
) at times 200, 400 and 600 are collected and compared with the true values. Such times are chosen to be sure that they are between the first and the last pseudo-times in all simulations. The results are analyzed in terms of bias, root mean squared error, average length and coverage of the 95
%
confidence intervals. The results are reported in Table
1
.
Table 1
Event times generated according to a Cox-exponential model with a confounder X and an exposure status Z
BIAS

PV

PV

Cox

PV

PV

Cox

(Z td)

(Z const)

CGPM

(Z td)

(Z const)

CGPM

200

-0.0112

-0.0966

-0.0170

0.0756

0.1042

0.0580

400

-0.0047

-0.0681

-0.0145

0.0701

0.0785

0.0523

600

-0.0081

-0.0034

-0.0094

0.0528

0.0392

0.0376

Width

Coverage

PV

PV

Cox

PV

PV

Cox

(Z td)

(Z const)

CGPM

(Z td)

(Z const)

CGPM

200

0.2857

0.1527

0.2143

0.9430

0.3150

0.9480

400

0.2791

0.1527

0.1926

0.9560

0.5830

0.9340

600

0.1949

0.1527

0.1418

0.9350

0.9400

0.9320
R D(t) estimated through the CGPM using the Cox proportional hazard regression model (the model used to generate the simulation data) is used as the benchmark estimation method.
The method based on pseudo-values with Z time dependent appears effective especially in terms of bias. Confidence interval coverage is good, although the width of the confidence intervals with pseudo-values is fairly large. It is interesting to observe the results of pseudo-values with the covariate Z not time dependent. In this case the estimated risk difference is constant through time, namely RD, a situation which can result from lack of power to detect the time-dependence of the R D(t). The simulation results appear very interesting for late follow-up times. At time 600, results are very similar to that of the Cox proportional model. However, the PV method with identity link and without time dependence estimating a constant RD leads to a strong undercoverage demonstrating that the estimation of a constant RD may be misleading.
The same simulation is performed generating times from a Cox model with a time-dependent effect for Z according to the following formula:
λ
(
t
|
X
,
Z
)=
λ
e
l o g(1.01)X−l o g(0.95)∗Z∗log(t)
. In this second simulation the Cox model used with CGPM iss specified in two different ways. Specifically, the covariate
Z
is inserted with an interaction with log(
t
), the correct one, and with a restricted cubic spline of time with 3 knots. Namely the use of cubic splines for modelling time dependent effects was proposed by Hess, [
29
], allowing the study of possible covariate-time interactions without having to specify a specific functional form, using a limited number of parameters. The results are reported in Table
2
.
Table 2
Event times generated according to a Cox-exponential model with a confounder X and an exposure status Z with time-dependent effect
BIAS

PV

Cox

Cox

PV

Cox

Cox

r c s(t)

log(t)

r c s(t)

r c s(t)

log(t)

r c s(t)

200

-0.0290

0.0036

0.0151

0.0792

0.0689

0.1403

400

-0.0248

-0.0108

-0.0188

0.0730

0.0657

0.1119

600

-0.0185

-0.0134

-0.0242

0.0730

0.0657

0.1119

Width

Coverage

PV

Cox

Cox

PV

Cox

Cox

r c s(t)

log(t)

r c s(t)

r c s(t)

log(t)

r c s(t)

200

0.2899

0.2700

0.5162

0.9270

0.9530

0.9120

400

0.2747

0.2528

0.4211

0.9470

0.9500

0.9170

600

0.2158

0.1860

0.3256

0.9410

0.9410

0.9300
In this simulation the Cox model with the correct specification of the time dependent effect of Z, that is log(t), is used as benchmark estimation. When the time dependence of Z is modelled using the restricted cubic spline, the performance of the CGPM is less appealing, compared to the benchmark, regarding all the parameters considered into the simulation. The pseudo-value model is really a competitor in this situation. It is in particular interesting to observe the 95% confidence interval width. The transformation model using pseudo-values with identity link is a valuable alternative to the CGPM when the time dependent effect in the Cox model is unknown and modelled using a flexible method. Model checking is therefore very important and pseudo-values can be of help also in this case, see the work of Anderson and Perme, [46].
Prostate cancer
Literature data on 502 prostate cancer patients, publicly available at the web site http://biostat.mc.vanderbilt.edu/wiki/Main/DataSets, (Byar & Greene prostate cancer data), treated with different doses of diethylstilbestrol in a randomized clinical trial, [18], were used to estimate the adjusted treatment effect (high versus low dose) on overall mortality. Seven covariates were used for adjustment, namely: age (0, < 75 years; 1, 75−80 years; 2, ≥ 80 years), weight index (0, ≥ 100;1, 80−99; 2, < 80), performance rating (0, normal; 1, limitation of activity), history of cardiovascular disease (0, no; 1, yes), serum haemoglobin (0, ≥ 12 g/100 ml; 1, 9-12 g/100 ml; 2, < 9 g/100 ml), size of primary lesion (0, < 30 c m 2; 1, ≥ 30 c m 2), and Gleason stage category (0, ≤ 10; 1, > 10). 483 patients with complete information on the seven covariates available were considered. 344 patients died: 149 for cancer; 139 for cardiovascular causes; 56 for other causes.
The estimated
R
D
(
t
) according to the CGPM using a Cox proportional hazard model [
14
] is reported in Figure
2
. The estimated
R
D
(
t
) is increasing through follow-up time, from 1
%
to 5
%
. Correspondingly the
N
N
T
(
t
) is about 100 at the beginning of the follow-up time and about 17 after 6 years follow-up. The 95
%
confidence interval is obtained using 2.5 and 97.5 percentiles of the bootstrap distribution of the estimated
R
D
(
t
) (1000 bootstrap resamples). The
R
D
(
t
) confidence interval includes 0.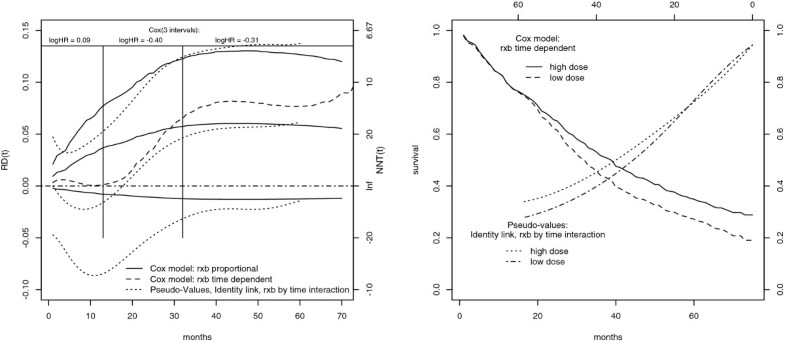 The estimated R D(t) is based on a proportional hazard model. In fact there is no evidence for time-dependent treatment effect in Cox model according to Schoenfeld residuals. However, Kay, [18], carefully investigated the fit of the Cox model, dividing the time axis into three time interval: [0−13]; (13−32]; (32−∞). The log HR for treatment has a positive sign in the first period (0.09), then becomes negative (−0.40 and −0.31). Comparing by likelihood ratio the model fitted on three intervals with an overall survival model, evidence is found against the proportional HR assumption. In fact, cardiovascular deaths are more frequent than cancer deaths earlier during follow-up while, later on, cancer deaths are prevalent. Accordingly, the beneficial effect of treatment appears evident only after the first year of follow-up. The estimates obtained with the CGPM appear therefore distorted due to the use of a proportional hazard model.
As a model with jumps in covariate effects at specific times is not biologically plausible, a Cox regression model with an interaction between the treatment and a function of time is used (specifically a B-spline with 1 interior knot at the median of the failure time distribution). According to the work of Hess, [29], splines are used to model flexibly the possible treatment time dependent effect. The estimated R D(t) according to this flexible model is reported in Figure 2. The harmful initial treatment effect is not yet captured.
A transformation model based on pseudo-values with identity link is used to estimate a possibly time-dependent treatment
R
D
(
t
). In order to have about 10 events between each pseudo consecutive times, 32 pseudo-times are considered at quantiles of the unique failure time distribution. In this case B-splines are used to model the baseline cumulative risk. One knot, placed at the median of the failure time distribution, seems to be sufficient to model the marginal survival function, see Figure
3
.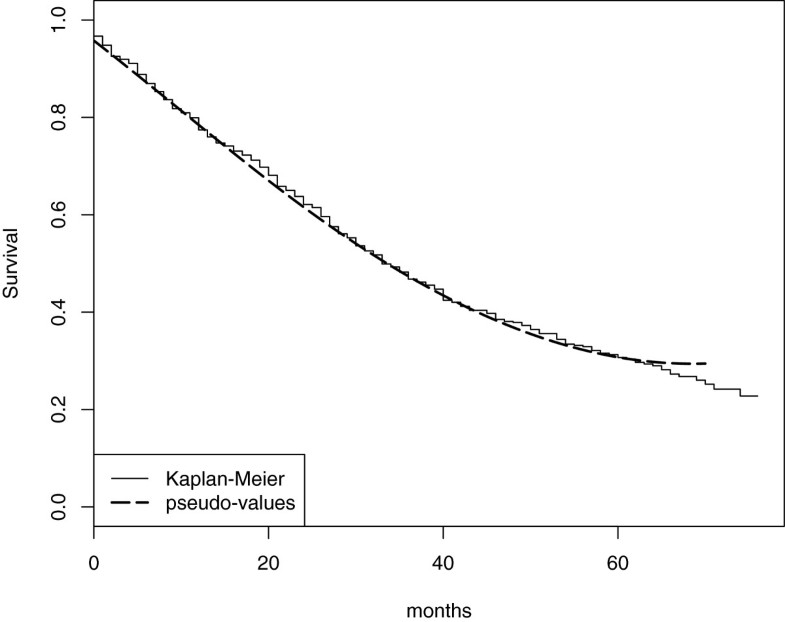 A backward selection procedure is used to select the time dependent effects for each covariate. The complete model has a total of 45 degrees of freedom, including the 8 covariates and their time dependent effects. The selected model exhibit a time dependent effect of history of cardiovascular disease, size of primary lesion and Gleason stage. There is no evidence for a time dependent treatment effect. The constant estimated RD is 2.2% with 95% confidence interval [ −3.5%;7.9%]. The corresponding constant estimate of NNT is about 45 patients to be treated for one patient to benefit with 95% confidence interval [ −∞ to −28;13 to ∞].
It is interesting, however, to compare the
R
D
(
t
) estimated by the CGPM, which is by definition time dependent, with the one estimated through the transformation model letting the treatment effect varying in time. The results are reported in Figure
2
and summarized in Table
3
. The treatment effect is harmful during the first year, while the benefits appear afterwards in agreement with the analysis of Kay [
18
] further refined using competing risks.
Table 3
R D ( t ) estimated with different methods at months 13, 32 and 60
RD

13

32

60

R D(t): Cox prop

3.7%; (−1.2%;7.7%)

5.7%; (−1.2%;12.3%)

5.8%; (−1.2%;12.7%)

R D(t): Cox TD

0.1%; (−6.8%;6.5%)

6.5%; (−1.5%;14.1%)

7.7%; (−0.5%;15.6%)

RD: PV identity Z const

2.2%; (3.5%;−7.9%)

2.2%; (3.5%;−7.9%)

2.2%; (3.5%;−7.9%)

R D(t): PV identity Z TD

−1.6%; (−8.5%;5.3%)

4.6%; (−3.2%;12.4%)

6.2%; (−1.4%;13.7%)
In the right panel of Figure 2 are also reported the averaged survival probabilities obtained by the CGPM using the Cox model and the transformation model both with the time-dependent effect of treatment. The plot of the averaged survival probabilities is an important completion of the R D(t) plot. In fact R D(t), as usual for the effect measures, is reducing two numbers to a single number.
The prostate cancer data outline a scenario in which the proportional hazard assumption for the treatment effect is not tenable during all follow-up times. Data on prostate cancer should be actually analyzed accounting for competing risks. When a non competing risks survival analysis is performed, CGPM applied to the Cox model without a time dependent treatment effect gives an estimate of the R D(t) increasing during follow-up until reaching a plateau. At the same time, the constant estimate RD obtained using PV provides a distorted estimate constant through follow-up. CGPM applied to the Cox model with a time dependent treatment effect provides an R D(t) estimate not yet capturing the initial harmful treatment effect. The time-dependent estimate obtained from the pseudo-value model is instead effective in describing the treatment effect during follow-up time: harmful at the beginning, when cardiovascular deaths are more frequent, beneficial later on when cancer deaths are more frequent
Primary retroperitoneal soft tissue sarcoma
Retroperitoneal soft tissue sarcoma (STS) is an uncommon disease. Histologic grade and completeness of macroscopical resection are considered to be the major prognosticators for survival, while histologic type, size and age are more debated. One hundred and ninety two patients with retroperitoneal STS admitted to National Cancer Institute in Milan, consecutively, between 1985 and 2007 are considered. Patients are without evidence of locoregional recurrence or distant metastasis. The median follow-up is 54.8 moths (IQR: 25-104). Among the 192 patients included in the case series, 78 died during follow-up. For a complete description of patients characteristics see [
19
]. Kaplan-Meier Survival estimates for resection margin and grading are reported in Figure
4
. The covariate resection margins is strongly unbalanced in this case series. No evidence for time dependent covariate effects is found using Schoenfeld residuals. A restricted cubic spline with 3 knots, for a total of 2 bases, is used to model the marginal transformed baseline cumulative survival. The fit and the monotonicity of the estimated baseline cumulative risk is controlled by visual inspection [data not shown]. A backward procedure is used for time-dependent covariate selection, fixing the significance at a conservative 0.01 level. Using the
cloglog
link function, no evidence for time dependent effects is found. Considering the
log
link, the effect of Grading appears time-varying, while using the
identity
link, Grading and resection margins are modelled varying in time. For the sake of completeness, the estimates of the association between resection margins and survival using the pseudo value model and a
cloglog
link are compared with the results from the Cox model. The cumulative constant
HR
is 2.4 (95%
CI
: 1.38−4.31) with pseudo-values. Such an association appears conservative compared to that estimated through Cox regression:
H
R
=4.19 (95%
CI
: 2.04−8.59). In general it is possible to note an attenuation of estimated effects using PV and the
cloglog
scale, compared to the Cox model: in the case of resection margins the attenuation is quite important. Clearly, the pseudo-value model with
cloglog
link is of no interest in this setting, while it has an interest for model checking in Cox regression, [
46
].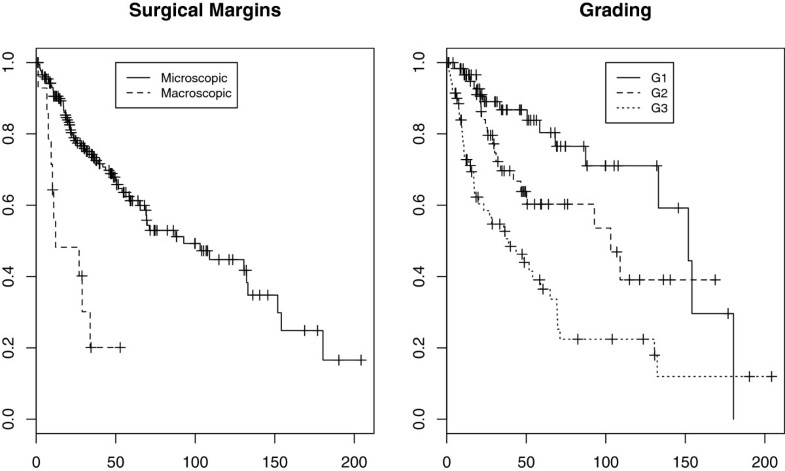 Also the constant
RR
estimated using pseudo values and
log
link appears conservative:
RR
= 1.3 (95%
CI
: 1.03−1.71). A comparison of the estimated
R
D
(
t
) obtained with pseudo values and
identity
link with the estimates obtained using the CGPM is reported in Figure
5
. Different averaging procedures are also reported. The estimated
R
D
(
t
) and point-wise confidence intervals using the different methods are in close agreement. The different averaging procedures yield quite similar results in this case. According to pseudo-values, the
R
D
(
t
) reaches a maximum value at 60 months and is about 40
%
.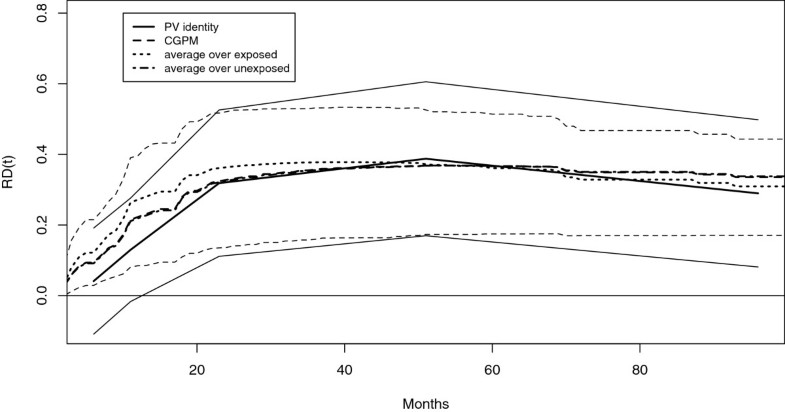 According to Cox regression the
HR
of grading 2 vs 1 is 2.56 (1.27−5.16). The estimate obtained through pseudo-values and
cloglog
link is 2.34 (1.27−4.32). There is still an attenuation but not as huge as in the case of margins. However, considering grading 3 vs 1 the attenuation effect is more evident: the
HR
from Cox regression is 6.49 (3.31-12.75), while using pseudo-values is 4.88 (2.54-9.39). The
R
R
(
t
) and
R
D
(
t
) are reported in Figure
6
. After 8 years the
R
R
(
t
) is 1.6 and 3.1, and the
R
D
(
t
) is 36
%
and 59
%
, for 2 vs 1 and 3 vs 1 contrasts, respectively. Also in the case of grading, the estimates obtained using pseudo-values and those obtained using different averaging procedures from the Cox regression model appear in good agreement. The quantification of effects through risk differences may be very important for the clinical management of the disease.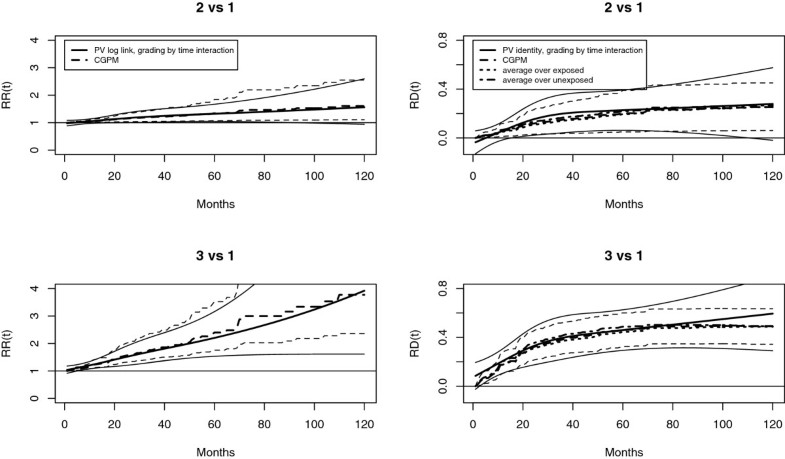 Discussion
In survival analysis the adjusted measure of association everywhere adopted is the hazard ratio. Although the efficiency of the hazard ratio makes it attractive for hypothesis testing, it may not carry the most useful information for clinicians/biostatisticians. Schechtman, [11], suggests using also absolute measures in conjunction with relative measures of covariate-outcome association. To provide adjusted measures of association different from the hazard ratio, a simple strategy is going through the calculation of the predicted probabilities of event for an "average" subject, the so called "average covariate method". Such a procedure estimates the measures of effect for an hypothetical average subject and not population averaged estimates. An alternative idea to provide adjusted summary measures of effect is the corrected group prognosis method [27, 28]. Extending this idea, using the concept of counterfactuals, Laubender and Bender [13] proposed methods for computing such population measures taking into account the confounder distribution. Bootstrap is then used to obtain pointwise confidence intervals. Such approaches are particularly appealing as they may adopt the Cox regression model which is widely accepted in medical literature.
However the Cox model may easily not be the best regression procedure to be applied, simply because of the assumption of proportional hazards. In fact, in presence of time dependent effects Cox regression may be less appealing. This is demonstrated here through a simple simulation. When time-dependent effects in the Cox model are specified using well-known flexible methods, [29], without committing to a specific functional form, the estimates are not optimal, especially in terms of efficiency. In these circumstances the results of the simple simulation presented here, suggest that the use of the pseudo-value model may represent a valid alternative to the CGPM. The simulation is not exhaustive and more work is needed to fully understand the properties and the relationships among the different estimation methods.
Considering a similar problem in the context of logistic regression, Gehrmann and colleagues, [49], concluded that the CGPM applied to logistic regression is the preferred method to estimate RD and NNT adjusted for covariates compared to binomial, Poisson and linear regression methods that directly estimates the RD (similar to pseudo-values with identity link) even if the fitted response function differs from the true response function. The context of time-to-event outcomes is more complex than that of logistic regression especially for the problem of time dependent effects. Whether similar results hold for the Cox model has therefore to be further explored thorough a series of simulation studies. In any case, when using the CGPM, the basic model used to obtain event probabilities during follow-up has to be adequate. This means, for example, that the proportional hazard Cox regression should not be applied if the proportional hazard assumption is not satisfied.
In clinical literature, results of statistical analysis are commonly reported in terms of regression coefficients and their confidence intervals. Applied survival analysis resorts entirely to the Cox model which is a particular case of transformation models. Transformation models include also the accelerated failure time models providing a variety of measures of effects to be considered.
It is to be noted that, additive and multiplicative-additive hazard regression models, [31] are not comprised in this class. The estimated coefficients are differences of hazard rates rather than ratios. These models were mainly proposed to improve the fitting where the proportional hazards model is not adequate or to check for proportional hazard assumptions. Moreover, the measures of impact provided are still based on hazards.
In this work a simple approach to obtain point and interval estimates of association measures, by using transformation models through suitable link functions, is presented. The general technique of estimation based on pseudo-values proposed by Andersen and colleagues [43] is used as it is simply implementable with standard software.
Other techniques could have been considered to estimate the transformation models. In this context, it is of particular interest the estimate of the baseline survival function to model time dependent effects. Therefore, semi-parametric techniques (see for example [50]) are not of interest here. Maximum likelihood (ML) estimation can however be conveniently used. Royston and Parmar proposed ML for transformation models with cloglog and logit links, [51], which are, however, the links of less interest here. Moreover as the pseudo-value is defined between the first and the last pseudo times (which are not the first and last event times) it still makes sense to have a constant RD model. In fact considering the whole follow-up time interval, and especially the beginning of the follow-up, R D(t) estimates should instead always be time-dependent.
From the methodological viewpoint, the only difference introduced in the presented examples with respect to standard applications of the pseudo-value model is the use of spline functions to estimate the transformed baseline survival. This modification is without practical efforts, considered the wide availability of software to compute spline bases. From the modeling point of view, care must be paid to the monotonicity of the estimated transformed baseline survival function. In general, provided the number of knots is limited, no problems of non monotonicity were observed.
Another issue concerns the possible simultaneous use of different association measures estimated through different link functions in a transformation model. In such a case, practitioners must be aware that, due to lack of power, not all time dependent effects can be correctly specified, and likely the different models cannot hold simultaneously. In such a case, if different measures are of interest, different models can be used simultaneously only if the results are in agreement with each other.
From a theoretical point of view, cloglog and logit links guarantee that the estimated probabilities are within the range 0-1 but this is not guaranteed if log or identity links are used with standard software. Research is in progress to face this issue.
Conclusions
The use of different link functions in transformation models has been studied by several authors simply investigating the goodness of fit of the different links [40, 41].
The alternative perspective considered here, evaluates the use of different links with the goal of providing suitable measures of association between covariates and outcome. As a consequence, when a specific link function is chosen, it should be expected the need to include time dependent covariate effects into the model.
Transformation models estimated through pseudo-values appear an easily implemented alternative to the available approaches mainly based on Cox proportional hazard model to obtain adjusted measures of association eventually time-dependent also for continuous covariates.
Declarations
Acknowledgments
The study was partly supported by the AIRC grant IG-2012-13420. The Authors wish to thank Dr. A. Gronchi for providing data about retroperitoneal soft tissue sarcoma patients.
Authors' Affiliations
(1)
Department of Clinical Sciences and Community Health, University of Milan, Milan, Italy
(2)
Fondazione IRCCS Istituto Nazionale Tumori, Milan, Italy
Copyright
© Ambrogi et al.; licensee BioMed Central Ltd. 2014
This article is published under license to BioMed Central Ltd. This is an Open Access article distributed under the terms of the Creative Commons Attribution License (http://creativecommons.org/licenses/by/2.0), which permits unrestricted use, distribution, and reproduction in any medium, provided the original work is properly credited. The Creative Commons Public Domain Dedication waiver (http://creativecommons.org/publicdomain/zero/1.0/) applies to the data made available in this article, unless otherwise stated.