Research article
Open Access
Open Peer Review
This article has Open Peer Review reports available.
A computational approach to compare regression modelling strategies in prediction research
BMC Medical Research Methodology
BMC series – open, inclusive and trusted
2016
16:107
Received: 28 January 2016
Accepted: 11 August 2016
Published: 25 August 2016
Abstract
Background
It is often unclear which approach to fit, assess and adjust a model will yield the most accurate prediction model. We present an extension of an approach for comparing modelling strategies in linear regression to the setting of logistic regression and demonstrate its application in clinical prediction research.
Methods
A framework for comparing logistic regression modelling strategies by their likelihoods was formulated using a wrapper approach. Five different strategies for modelling, including simple shrinkage methods, were compared in four empirical data sets to illustrate the concept of a priori strategy comparison. Simulations were performed in both randomly generated data and empirical data to investigate the influence of data characteristics on strategy performance. We applied the comparison framework in a case study setting. Optimal strategies were selected based on the results of a priori comparisons in a clinical data set and the performance of models built according to each strategy was assessed using the Brier score and calibration plots.
Results
The performance of modelling strategies was highly dependent on the characteristics of the development data in both linear and logistic regression settings. A priori comparisons in four empirical data sets found that no strategy consistently outperformed the others. The percentage of times that a model adjustment strategy outperformed a logistic model ranged from 3.9 to 94.9 %, depending on the strategy and data set. However, in our case study setting the a priori selection of optimal methods did not result in detectable improvement in model performance when assessed in an external data set.
Conclusion
The performance of prediction modelling strategies is a data-dependent process and can be highly variable between data sets within the same clinical domain. A priori strategy comparison can be used to determine an optimal logistic regression modelling strategy for a given data set before selecting a final modelling approach.
Keywords
Deep Vein ThrombosisWinning StrategyStrategy ComparisonBrier ScoreShrinkage Factor
Background
Logistic regression models are frequently utilized in clinical prediction research and have a range of applications [1–4]. While a logistic model may display good performance with respect to its discriminative ability and calibration in the data in which was developed, the performance in external populations can often be much poorer [5–7]. Regression models fitted to a finite sample from a population using methods such as ordinary least squares or maximum likelihood estimation are by nature overfitted and the prediction error can be unacceptably high in new populations [8, 9]. Failure to take this phenomenon into account may lead to poor clinical decision making [10–13], and an appropriate model building strategy must be applied. In the same vein, failure to apply the optimal modelling strategy could also lead to the same problems when the model is applied in clinical practice.
Despite great efforts to present clear guidelines for the prediction model building process [14–16] it may still be unclear to researchers which modelling approach is most likely to yield a model with optimal external performance. At some stages of model development and validation, several approaches could be taken. For example, different forms and combinations of predictors could be modelled, underlying probability distributions could be varied, and penalization could be applied. Each approach may yield a different model, with a different predictive accuracy. Uncertainty over which approach to take may arise even for generally accepted strategies if recommendations are based on simulated or empirical examples that may not be generalizable to the data at hand. In addition, it has been shown that for linear regression the success of a strategy is heavily influenced by a few key data characteristics, and in order to address this a framework was proposed for the a priori comparison of different model building strategies in a given data set [17].
We present an extended framework for comparing strategies in linear and logistic regression model building. A wrapper approach is utilized [18], in which repeated bootstrap resampling of a given data set is used to estimate the relative predictive performance of different modelling strategies. Attention is centred on a single aspect of the model building process, namely, shrinkage-based model adjustment, to illustrate the concept of a priori strategy comparison. We demonstrate applications of the framework in four examples of empirical clinical data, all within the setting of deep vein thrombosis (DVT) diagnostic prediction research. Following from this, simulations highlighting the data-dependent nature of strategy performance are presented. Finally, the outlined comparison framework is applied in a case study, and the impact of a priori strategy selection is investigated.
Methods
In this section, a framework for the comparison of logistic regression modelling strategies is introduced, followed by a description of the strategies under comparison in this study. The designs of four simulation scenarios using either entirely simulated data or simulated data derived from empirical data are outlined. Finally, the design of a case study in strategy comparison is described. All analyses were performed using the R statistical programme, version 3.1.1 [19]. All computational tools for the comparison of modelling strategies can be found in the "apricom" package, available within the CRAN package repository (http://CRAN.R-project.org/package=apricom).
Results
Strategy comparison in four clinical data sets
Table
1
shows the results of the comparisons for all five strategies against the null strategy, in the full Oudega data. Firth penalized regression (66.9 %), split-sample shrinkage (66.8 %) and bootstrap shrinkage (66.4 %) had the highest victory rates. The bootstrap shrinkage strategy had the distribution median furthest from zero (-0.3), and a relatively large interquartile range (1.0), indicating possible superiority in this setting, as well as inconsistency.
Table 1
A comparison of modelling strategies against the null strategy in the full Oudega DVT data
| Strategy | Victory rate (%) | Median | IQR | Mean shrinkage |
| --- | --- | --- | --- | --- |
| 1. Heuristic shrinkage | 56.9 | −0.2 | 1.5 | 0.97 |
| 2. Split sample shrinkage | 66.8 | −0.2 | 0.7 | 0.98 |
| 3. 10-fold CV shrinkage | 48.0 | 0.0 | 0.1 | 1.00 |
| 4. Bootstrap shrinkage | 66.4 | −0.3 | 1.0 | 0.97 |
| 5. Firth penalization | 66.9 | −0.2 | 0.6 | -* |
The distributions in Fig.
2
indicate that none of the strategies showed a clear superiority over the null strategy in the full Oudega data. For the Firth penalized regression strategy, the distribution is left-skewed, indicating that in some of the comparison replicates this strategy greatly outperformed the null strategy. Given these results, the Firth strategy might be considered to be the optimal choice, as it has both an equally high chance of outperforming the null strategy as compared to the split-sample and bootstrap approaches, and in trials where it had a poorer performance, the difference in -2 log likelihoods was minimal.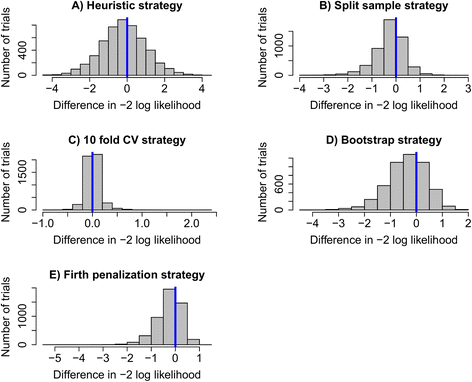 When comparisons were extended to additional DVT prediction data sets, a large degree of heterogeneity was observed in the victory rates for each strategy across the different sets. The results of these comparisons are summarized in Table
2
. The victory rates of the heuristic strategy showed the greatest variation between data sets, ranging from 3.9 to 63.8 %. This is reflected by the broad range in values of the estimated shrinkage factor, with poorest performance coinciding with severe shrinkage of the regression coefficients. Firth regression showed the greatest consistency between data sets, with victory rates ranging from 65.8 to 73.8 %, and good performance in the Oudega and Toll data sets, but relatively poor performance compared to the split-sample, cross-validation and bootstrap strategies in the Deepvein data set.
Table 2
A comparison of modelling strategies in three additional clinical data sets
Strategy

Oudega random subset

Toll validation data set

Deepvein data set

Victory rate (%)

Mean shrinkage

Victory rate (%)

Mean shrinkage

Victory rate (%)

Mean shrinkage

1. Heuristic shrinkage

63.8

0.93

60.8

0.93

3.9

0.71

2. Split sample shrinkage

61.9

0.92

42.0

0.94

93.8

0.98

3. 10 fold CV shrinkage

38.3

1.00

39.6

0.99

90.9

0.99

4. Bootstrap shrinkage

56.4

0.89

42.6

0.94

94.9

0.97

5. Firth penalization

73.8

-*

66.0

-*

65.8

-*
Simulation study
Figure
3a
shows that for each strategy, the victory rate decreased as the OPV increased, and the relationship was most apparent when the OPV was less than 10. Similarly, Fig.
3b
shows that as the explanatory power of the predictors in the model increased, leading to an increase in the model R
2
, the victory rates for each strategy decreased. However, not all strategies behaved similarly, for example, as the fraction of explained variance increased above 0.4, the performance of the heuristic approach declined drastically.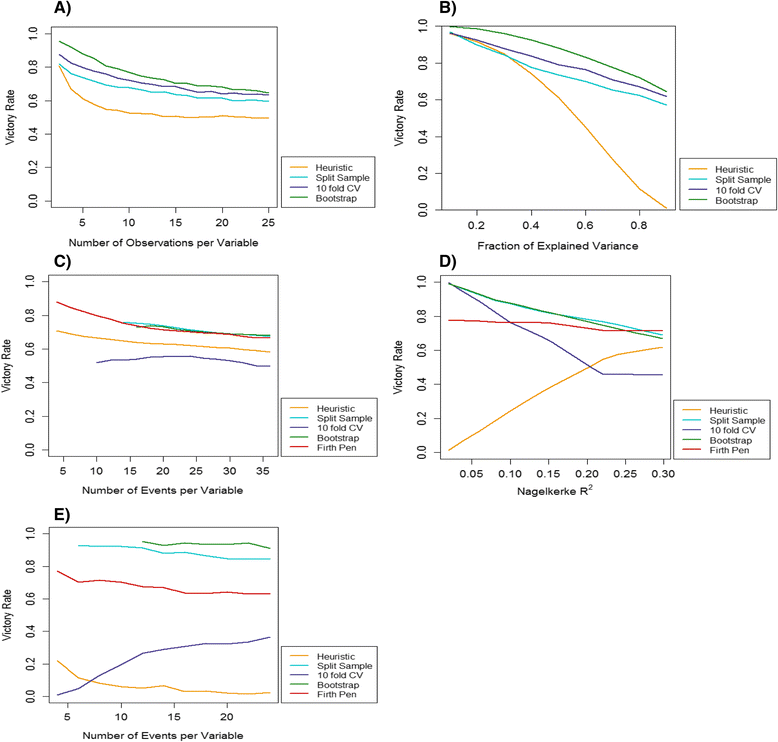 The performance of logistic regression modelling strategies was also dependent on the information in a data set. Figure 3c shows that in the full Oudega data set, the victory rates of shrinkage strategies declined slightly as the EPV increased, however estimation of the victory rates in low EPV settings was not always possible for the split-sample, cross-validation and bootstrap strategies. The fraction of explained variance of the model had a greater influence on strategy performance. Figure 3d shows that while most strategies show a general decline in performance as the model Nagelkerke R2 increases, the heuristic approach improves drastically, from almost zero, to over 50 % across the parameter range.
Comparing Fig. 3c and e highlights that the relationship between strategy performance and a single data characteristic may vary between data sets. While most strategies showed a similar decline in performance as the EPV increased, in the Deepvein data 10-fold cross-validation began to improve as the EPV increased, and both 10-fold cross-validation and the heuristic approach performed very poorly in all EPV settings.
Case study
Based on the victory rates and distribution medians from Table 1, and assessment of the graphs in Fig. 2, three potentially optimal strategies were selected: the split-sample approach, the bootstrap approach and the Firth regression approach. Differences between these methods were so small that no clear preference could be made between the three.
The winning strategies and the null strategy were applied to the full Oudega data and the resulting models can be found in Additional file 2. Application of the newly developed models to the Toll validation data found that the Brier scores for each model were almost identical, ranging from 0.125 to 0.126 and there was almost no difference in calibration. Calibration plots can be found in Additional file 3. This indicates that in this setting a priori strategy selection has little impact on the external performance of the final model.
Discussion
There are numerous approaches for developing a clinical prediction model, and in many cases no approach is universally superior. We demonstrate here that the performance of regression modelling strategies is data set-specific, and influenced by a combination of different data characteristics. We outline a means of conducting a comparison of modelling strategies in a data set before deciding on a final approach. A concept that was previously outlined for linear regression has now been extended to logistic regression, using the model likelihood as a means of comparing the performance of two strategies. The resulting distribution of comparisons can then provide researchers with evidence on which to base their decisions for model building. Three summary measures, the victory rate, the distribution median and the distribution interquartile range can be used to guide researchers in their analytical decision making.
As there are several available strategies for addressing the issue of overfitting, we used this as an example to illustrate how different strategies can be compared in a given data set using a computational framework. This article makes no recommendations for which shrinkage approach is more suitable than others; on the contrary our findings highlight that the optimal approach for model building using shrinkage or penalization largely depends on the data at hand, and it can be difficult to anticipate beforehand how well a method is likely to perform.
The comparisons that we conducted in empirical data clearly show that strategy performance is inconsistent and hard to predict across data sets. This is evidenced by the variability in the victory rates presented in Tables 1 and 2. Despite having a very similar case-mix, the victory rates of shrinkage strategies over the null strategy varied by almost 25 % across the three related DVT data sets. These differences between the different data sets may be partly explained by differences in outcome prevalence and the dichotomization of predictors. A detailed discussion of the performance and properties of shrinkage approaches is beyond the scope of this article and can be found elsewhere [7, 15, 37, 38]. Using the results of these comparisons, it is possible to select a winning strategy for each individual data set. However, it is not sufficient to base decisions for model building solely on the victory rate. For example, the victory rate of 90.9 % for 10-fold cross-validation in the Deepvein data set, shown in Table 2, suggests that this strategy is preferable to a strategy without shrinkage. However, the absolute amount of shrinkage being performed is on average negligible in this case, and the high victory rate for cross-validation reflects very small improvements in model performance. We therefore recommend that the median and shape of the comparison distribution should also be taken into account when using this approach for strategy selection.
In some settings, particularly the Oudega subset and Toll data, we observed problems with model convergence in logistic regression due to separation [39]. This problem was most apparent in data with only dichotomous variables in the models, and few EPV. The drop in victory rates for sampling-based strategies, from 66.8 to 61.9 % for sample splitting, 48.0 to 38.3 % for 10 fold cross-validation, and 66.4 to 56.4 % for bootstrapping could in part be explained by this phenomenon. We found that some strategies may exacerbate problems with separation, and that low victory rates, with extremely skewed comparison distributions may indicate the occurrence of separation. In such a case, researchers may wish to consider alternative strategies.
Several authors have previously noted that regression methods may perform quite differently according to certain data parameters [7, 40], and has been recognized that data structure as a whole should be considered during model building [41]. Our simulations in linear regression confirm the findings of others in a tightly controlled setting, and similar trends are seen upon extending these simulations to empirically-derived settings for logistic regression. Through assessing the influence of EPV on strategy performance in two different data sets, we find that while trends are present, they may differ between data sets. In combination with the findings from comparisons between strategies in four clinical data sets this supports the idea that strategy performance is data-dependent. This may have implications for the generalizability of currently existing recommendations for several stages of the model building process that were originally based on a small number of clinical examples.
The findings of our case study did not demonstrate any clear benefit of a priori strategy comparison. This can be explained in part by the similarity of the models produced using each approach, seen in Additional file 2, due to the minimal amount of shrinkage that was applied, and the similarity between the development and validation data. A greater benefit may be expected if the shrinkage strategies were applied first in a data set that would be more susceptible to overfitting, and if the validation data came from a wholly unrelated population. These findings also demonstrate the probabilistic nature of our comparisons. For example, the victory rate of 66.4 % for the bootstrap approach, shown in Table 1, implies that one third of the time maximum likelihood models developed in similar samples from this population of DVT patients will outperform models built using bootstrap-derived shrinkage. Therefore, it is essential to note that a priori strategy comparison may have a limited impact in some settings.
Our study provides a unique approach to decision making in regression model building for clinical prediction research. While similar approaches are used in other fields, they have not been adopted in clinical research and merit further investigation. In extending previous methodology for linear regression strategy comparison to the setting of logistic regression, our findings now have a much greater relevance to clinical research. We also suggest ways to interpret the results of strategy comparisons, providing summary measures and graphical displays that can be used in combination to select a strategy. Furthermore, we used multiple data sets to illustrate how a priori strategy comparison can be applied in practice, and provide open access tools in the R programming language for other researchers to further explore the comparison framework and apply it to their own research.
It must be noted that there are limitations within the current framework. Our study only focuses on comparisons within the domain of shrinkage, which is only one stage of the prediction modelling process. It may be that our approach is not suitable for certain aspects of model building that we have not explored. For example, strategies that yield models that use varying numbers of degrees of freedom should not be compared directly by their model likelihoods. Furthermore, we currently only provide a framework for linear and logistic regression problems, and while this is most useful for diagnostic settings, a natural extension would be to enable the comparison of survival models, such as Cox proportional hazards models, as these are the most commonly used methods in prognostic prediction modelling [42].
Furthermore, the interpretation of the results of comparisons warrants some caution when using logistic regression in sparse data settings. We encountered many difficulties with separation of logistic regression, especially when resampling or sample-splitting methods were used in the model building process. When separation occurs, the models may exhibit problems with convergence, and this complicates the interpretation of victory rates and other summary measures. While there is no straightforward solution to this problem, we argue that there may be some value in observing the frequency and severity of separation that occurs during strategy comparison.
Conclusion
Current literature provides several guidelines to aid researchers in selecting an appropriate strategy for clinical prediction modelling. Our findings highlight an insufficiency in such approaches due to the influence of data-specific properties on the performance of modelling strategies. A wrapper approach can be used to compare different strategies prior to the final model building process. Optimal strategies can then be selected based on a combination of comparison metrics, but the impact of this approach on the final external performance of a model may be limited.
Abbreviations
DVT:

Deep vein thrombosis
SSE:

Sum of squared errors
VR:

Victory rate
OPV:

Number of observations per model variable
EPV:

Number of outcome events per model variable
IQR:

Interquartile range
CV:

Cross-validation
Declarations
Acknowledgements
The authors would like to acknowledge the contribution of Prof. Karel G M Moons for providing access to the Oudega and Toll DVT data sets.
Funding
No funding was received for this study.
Availability of data and materials
Data sets 1–3 are not openly available, but further details have been previously published [27–29]. Summary information for data sets 1–3 can be found in Additional file 1, which can be used to simulate data for reproduction of the analyses. Data set 4 can be accessed in full via the R "shrink" package [30].
Authors' contributions
RP was involved in the design of all aspects of the study, conducted the analyses and drafted the manuscript. WP contributed to the development of statistical methods and the design and programming of statistical software. RG managed the project and contributed to the design of all aspects of the study. WP, ST and RG planned and carried out the study which motived these developments, and were involved in guiding the project. All authors read and approved the final manuscript.
Competing interests
The authors declare that they have no competing interests.
Consent for publication
Not applicable.
Ethics approval and consent to participate
The Medical Research Ethics Committee of the University Medical Center Utrecht approved the collection and use of the Oudega and Toll data [27–29]. The Deepvein data are a modified and partly simulated version of a previously reported study [31] and are available under a GPL-2 license [30].
Open AccessThis article is distributed under the terms of the Creative Commons Attribution 4.0 International License (http://creativecommons.org/licenses/by/4.0/), which permits unrestricted use, distribution, and reproduction in any medium, provided you give appropriate credit to the original author(s) and the source, provide a link to the Creative Commons license, and indicate if changes were made. The Creative Commons Public Domain Dedication waiver (http://creativecommons.org/publicdomain/zero/1.0/) applies to the data made available in this article, unless otherwise stated.
Authors' Affiliations
(1)
Julius Center for Health Sciences and Primary Care, University Medical Center Utrecht, Utrecht, The Netherlands
(2)
Catholic University of Leuven, Research Unit for Quantitative Psychology and Individual Differences, Leuven, Belgium
(3)
Scientific Institute for Quality of Healthcare, IQ Healthcare, Radboud University Medical Centre, Nijmegen, The Netherlands
(4)
Department for Health Evidence, Section of Biostatistics, Radboud University Medical Centre, Nijmegen, The Netherlands